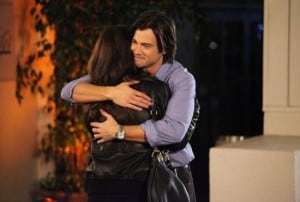 Private Practice returned last night with an episode focused on our resident neurosurgeon Amelia Shepherd. Now, for weeks I've read comments from viewers about her being 'missing' in previous episodes, but last night's episode shed some light on the reason for that.
The hour began with Amelia's speech at an AA meeting- her speech for achieving a year of sobriety. In traditional Amelia fashion, she spoke of her freedom, how nice it is to have a great apartment, how well she's doing, however, the clips we saw while she was speaking showed that that is not the case. Rather, she's alone, not yet unpacked in her new place, and definitely not working out as she says she is.
Of course, her frustrations with her life lead her to mention it to her co-workers, who as we all know just can't leave well enough alone. The doctors suggest that Amelia should be doing things for people her age, outside of her apartment, and offer to set her up on blind dates….that don't go so well.
Resigned to the notion that alone is just better, Amelia sets to treating a woman for a possible head injury. Everything seems fine until Kaye has a seizure in Amelia and James' presence. In the rush of taking their patient for tests, James casually mentions "Friday," to Amelia. If you remember, James had previously tried to ask Amelia out with a promise of "really really good fries" only to be shot down, but luckily for him, a commercial for a French fry maker taunts Amelia, pushing her into accepting his invitation.
However, the evening doesn't exactly end as she had planned — instead of James kissing her as expected, Amelia finds herself locked, awkwardly, in a hug. Normally under control, Amelia finds that the surprising turn leaves her thinking about nothing but the fact that James didn't kiss her.
In an attempt to move on, Amelia puts off James' request for another date while they study brain scans of their patient, though he catches her stutter and expresses his desire to see her again. And after compromising on what appears to be the best treatment for Kaye, Amelia lets James take her out again.
And again, he doesn't kiss her.
And again, Amelia tries to move on with another date set up by Violet. But this time, James shows up at her door in the middle of his shift, plants one on her and simply walks away. Confused, as she should be, Amelia goes to Charlotte who does her part as Amelia's sober-buddy to make sure she's not slipping with the stress of a new relationship(?) before handing over quite the assortment of condoms. It would seem that Amelia has reached the point of being ready for more with James, but just as he's about to undress her that night she flashes back to the last time she had sex, with Ryan, and has something akin to a panic attack. Though she had walked out on him the night before, James is still there in the morning, and is completely accepting when Amelia explains, albeit vaguely, about her tortured past year.
The entire next act sees the new couple in bed, playful and sweet, and surprisingly truthful given how private we know Amelia can be. They discuss their patient and Amelia's suspicions of how easy it was to treat her as dedicated doctors do, talk about their families — James even asks her to meet his parents — and even have a minor debate when she discovers that he's a republican. But what I found most touching about this entire sequence was Amelia's revelation to him about her addiction and her love of Ryan. She's actually skeptical of how much she really had loved him, but James tells her that she shouldn't let her present feelings tarnish how she had felt then if she truly did think she was in love.
And of course, the budding romance would not be complete without an awkward family dinner and a fight. It's the age-old overstepping mother issue when James' mother suggest Amelia eventually being a neurosurgeon part-time to raise a family for her son. While the actual moment passes rather fleetly, Amelia is outraged by how James smothered her attempt to speak up for herself and tries to break up with him. James, however, is having none of it, refusing to leave…so Amelia storms out, and heads yet again to her confidant, Charlotte (who at this point in the timeline is on bed rest at Saint Ambrose).
The next day James stops Amelia in the hospital to ask her what their fight was really about, and as we've heard before, all the men she cares about die, so naturally she's wary. Undeterred, he tells her that he loves her, and somehow this sparks Amelia to realize that the legions in the Kaye's brain are completely unrelated to any of their prior theories, but rather a tumor in her heart — completely treatable. In the final seconds, just as Kaye is taken into surgery, Amelia turns back, admitting to James that she loves him, too.
I was really thankful for this Amelia-centric episode, because as many have pointed out, she has been relatively absent from other storylines. And seeing as she and James spent an extensive period of time in bed, it now makes sense.
I have always really loved Amelia as a character and I thought this episode did a great job at tying off her character for the series. As I had mentioned way back at the beginning of the season, I was looking for some kind of closure for her, after her addiction and baby. Though her son wasn't mentioned, it was great to see Amelia open up more about herself and her past, including her own uneasiness over her romance with her drug addict boyfriend, Ryan. She has always been a very strong and opinionated character, which is great, but we never saw too much of her internal struggle, and this episode helped to soften her a bit.
I admit, I like James a lot more now. When we first met him, I thought he was a bit of a jerk. I'm glad it was shown that he's not just the close-minded doctor of "You Don't Know What You've Got Till It's Gone."
On a side note, I also thought it was great to see those side conversations with Violet and Sheldon — to have Violet trying to keep Amelia from ending up alone, like her, and having Sheldon actually tell someone about his prostate cancer. Sheldon and Amelia have always had this odd, close friendship, and I was pleased with their conversation in that scene.
Well, we're down to only two more episodes of Private Practice! Be sure to watch next week at 10/9c on ABC.
Tell us what's wrong with this post? How could we improve it? :)
Let us improve this post!