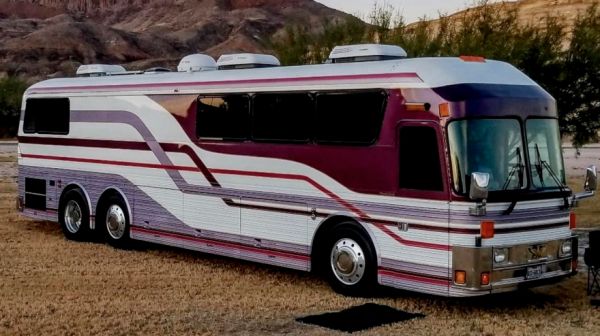 This is your chance if you're a Prince fan to dream and drool over something that probably won't be going for anything less than several million since it's a custom job and as the Purple Rain Tour Bus, it's bound to be highly-customized. Prince fans are likely already learning whatever they can about this RV since to be fair it is hard to doubt that it was Prince's considering that proof of ownership is pretty easy to trace. But the purple and the interior design is enough for a lot of people to see elements of their favorite star at a glance, though the one private owner the bus has had since Prince would indicate that a few things have been changed, which isn't too hard to conceive of since most RV owners try to put their own stamp on their vehicles to keep them distinct and unique to their own tastes. But one can only imagine what this bus is going to go for since anything having to do with Prince in a personal nature is bound to fetch a high price considering that his fanbase was enormous. There's also the interior to think about since the most average RV is still a luxury compared to tent camping more often than not since the appliances, the cushy surfaces, and the fact that most of them are sealed up tighter than a bank vault, okay maybe not that tight, makes an RV a true luxury when going anywhere.
From a flat-screen TV to a couch that folds out to a double bed and a king-sized bed in the bedroom this thing is loaded. It even has an office space if you can believe that, a space that someone can sit in and just ruminate on stuff or actually get some work done. Thinking about the hookups it likely has makes this RV worth even more since it's a rolling home for the most part and a place that a person could easily live while on the road, or just choose to live in entirely. Some folks do live out of their RVs since the comfort that some of them come with is hard to beat, and in some cases is even better than a lot of stationary homes. There are downsides to RV living obviously, such as having to empty the waste at some point and keep the freshwater tank filled. Then there are the issues that can come with the electrical system, the engine, and with the price of gas going up and down over the years it can cost a small fortune to keep the tanks filled on these monsters since they typically hold around 250 gallons of fuel, which weighs quite a bit and won't go as far as you might think. It's true that they can go about 600 miles or so on a full tank and still keep a healthy reserve in place for emergencies, but adding in terrain and inclement weather and anything else that can happen on the road can affect that mileage easily. But again, it's a rolling palace, and if one has the kind of money to afford this thing then gas prices might not be a huge issue.
The point here is that the tour bus is going up for sale and if a person can weigh the pros and cons of owning such a thing and has the money it might actually be in their interest, Prince fan or not, to maybe look at this thing if they're thinking of trying to find an RV that is suitable for their needs and will hold up on the road. Of course, the condition of the RV might be something that any person would want to take a look at in order to ensure that they're not buying a purple-coated lemon, but if the previous owners had even an inkling of what they had on their hands then it's likely that this beast was given the best care and attention whenever it needed it in order to keep everything running and in as good of shape as possible. After all, much like anything a person owns, an RV is only functional as long as a person is willing to take care of it. Anyone taking on this big, rolling purple responsibility on wheels would be wise to make sure that they have the resources, the time, and of course the patience, to make sure that the tour bus is kept in great condition and that everything is kept in tip-top shape. Just imagine what a dream it would be for a Prince fan that had the money and the desire to own such a thing. Of course, for a lot of others, it's just a dream and something to fantasize about. Just thinking of that price is enough to scare a lot of people off.