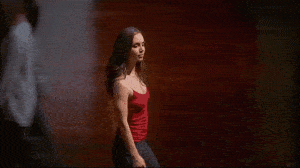 Joss Whedon fans are notoriously dedicated and passionate; I can certainly appreciate and relate to such fervor as an active member of the online Lost community. So I would like to state that although I love the genre and watch many similar shows, I have never been a Buffy, Firefly or Serenity person (but I LOVED Dr. Horrible's Sing-Along Blog!). To be honest…Lost, Fringe, Heroes and The X-Files occupy most of the sci-fi space in my wheelhouse. Regardless of my lack of Whedon experience, however, I have been anxiously anticipating the arrival of Dollhouse based on the original description of the series alone.
Before I begin and for what it's worth – I tend to avoid spoilers and news about any show I watch or would like to; for that reason, I was able to absorb and enjoy the first episode of Dollhouse without distraction or any real information about the cast, script, etc. My goal is to provide initial thoughts and perspective rather than a detailed analysis or full episode recap with potential spoilers.
To sum up Dollhouse in one (run-on) sentence: it is centered around a mysterious organization which funds and oversees a controversial lab and living facility (the Dollhouse) where recruited members receive "treatments" (memories are wiped clean) and are then imprinted with new personalities for each new "engagement" (mission). As a fan of vague, nefarious syndicates (The Dharma Initiative, SD-6 and Massive Dynamic come to mind), I was hooked almost immediately. Almost.
The first few minutes of Dollhouse were not as intriguing and seamless as I would have liked. Obviously the version of the first episode that I was given the opportunity to view is not final, but I did not find the opening sequence to be the best choice of scenes to introduce Echo (Eliza Dushku, who plays the lead character).
And to be perfectly frank, although she rocks the shortest mini-dress that I've ever seen with great success, Dushku and co-star Dichen Lachman need to eat a sandwich or three. The only reason it garners a mention is that I find it rather distracting; I'd much prefer to notice one's acting abilities than her collar or hip bones. I have the same issue with Rose Byrne on Damages. Perhaps it is that I prefer my she-spies more along the lines of Sydney Bristow (a nice balance of athleticism, emotion and intellect).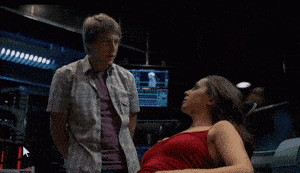 That being said…after ten minutes, I was riveted. As I am apt to do with Lost, a long list of questions started forming as the episode and intensity progressed; who funds the organization? If the Dollhouse project is top secret, how do potential clients make contact? How and where does the company recruit?
The only eye-roll inducing moment was a co-ed shower scene, reminiscent of the infamous Ally McBeal mixed gender bathroom. Did FOX decide that we were ready for such a concept again? I recently reviewed an in-depth interview with Joss Whedon for The Write Environment, and he did not strike me as the kind of show runner and writer who would write and include a scene simply to be gratuitous.
I have no doubt that my initial issues with Dollhouse will be resolved quickly. I love the concept and supporting cast, look forward to further character development and have no doubt that there will be improvement in the execution of what looks to be a very addictive mythology.
In my eyes, the series is TiVO Season Pass-worthy and I will be tuning in for the duration.