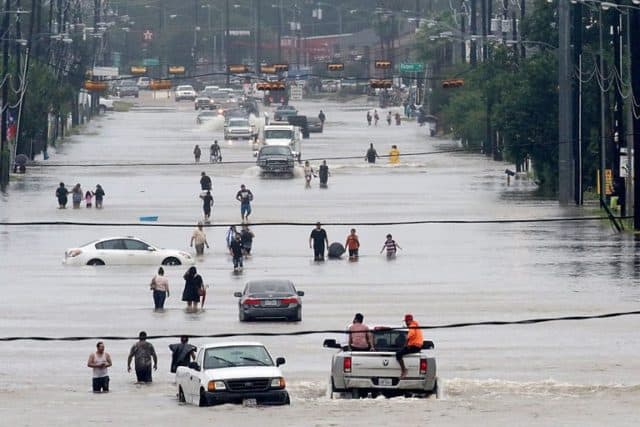 It is still much too soon for there to be an accurate assessment of the damage done by Hurricane Harvey. However, there are specialists who have ventured estimates of up to $100 billion, which is a staggering figure by any standard. Furthermore, it should be noted that Hurricane Harvey will have much longer-lasting impacts than just its effect on material possessions, meaning that these estimates are far from being sufficient for expressing the full scope of what it has inflicted on the people of both Texas and Louisiana.
Regardless, the passage of Hurricane Harvey means that there are a lot of people who need help. Fortunately, a wide range of parties have responded to said need, with examples including but not limited to businesses, countries, and private individuals. For example, more than 150 countries have offered help to the United States in the form of either cash, supplies, rescuers, equipment, or some combination of these things. Furthermore, businesses have donated hundreds of millions of dollars, which is not counting those that have helped out with the actual efforts in the affected states themselves. Still, the people who have been affected by Hurricane Harvey could use more help, while there will soon be people in the state of Florida who will need help as well because of Hurricane Irma. As a result, it should come as no surprise to learn that there are efforts to encourage people to donate, with an excellent example being the one-hour telethon that is coming up on September 12.
Who Will Be Participating in the Telethon?
Initially, the telethon was meant to help out the people who have been affected by Hurricane Harvey. However, as the true scope of Hurricane Irma became clear, it has been expanded so that it can help out the people who will be affected by Hurricane Irma as well. Regardless, the telethon is much the same as other events of its kind, which is to say, it will be broadcast over multiple TV channels such as ABC, CBS, NBC, Fox, and CMT so as to appeal to TV viewers for their help by using the star power of celebrities who have volunteered for the occasion. Afterwards, the sums raised through said effort will be handed over to a wide range of charities and other non-profits, which are dedicated to helping out the people who have been affected by Hurricane Harvey and will be affected by Hurricane Irma.
The event was started up by the music producer Scooter Braun via his SB Projects. However, it has since managed to secure the help of numerous celebrities from not just the music world but also acting as well as other fields. Some examples of the people who are set to help out with the telethon range from Beyonce and George Clooney to Julia Roberts and Oprah Winfrey, who will be appearing in a combination of both live and taped segments for the event. Furthermore, it is clear that the telethon is picking up more volunteers as it approaches the scheduled date, as shown by the recent additions of both Drake and Justin Bieber. Regardless, those who want to help out through the telethon should tune into one of the listed TV channels on September 12, which will be broadcasting the "Hand in Hand" telethon.
Save