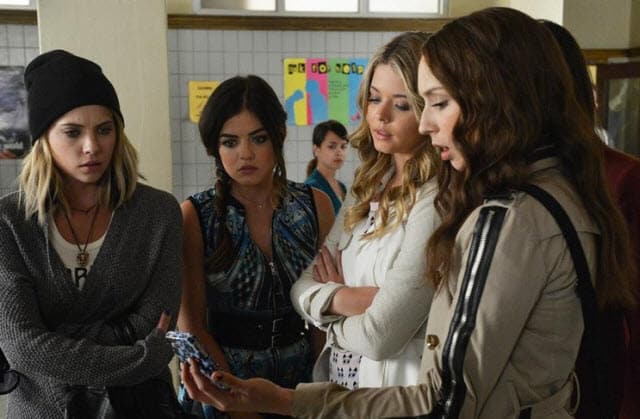 This week's episode of Pretty Little Liars has Ali all ready to skip town again. "A" is back throwing threats all over the place, convincing that Ali that she will never be safe in Rosewood. Spencer unsuccessfully schemes to get her parents back together, but her Mom is not having any more of her possibly murderous husband. Aria spends yet more time with Ezra (there really isn't ever anything new to say about those two). Emily convinces Paige to give up the names of Mona's army and Hanna deals with her lingering feeling for Caleb and helping Ali run away.
There are two important words this episode, "Bethany Young," the girl found buried in Ali's "grave." Aria and Ezra find a drawing of Mrs. DiLaurentis with Bethany's name on the back, Spencer starts her usual sleuthing and the girls convince Aria to take a volunteer position at Radley (Rosewood's mental hospital) to get on the inside and fish out more information about this girl Bethany.
This Bethany Young storyline is intriguing but only if it actually lead somewhere, anywhere actual, to an answer preferably to again anything. We are in the fifth season and deep into this web of confusing mysteries and have more questions than the writers can probably remember to answer, and Bethany should bring us to something familiar, something ties something together. In a sense, she is a new character, and although fresh faces can be welcome, their storylines should harken back to the characters that viewers have grown to know.
We also have the Lieutenant wandering around wanting to question Ezra and then Ali. I can't actually remember the last time her investigations were fruitful but I do like the actress and how the character unnerved Ezra.
Paige gives in to Emily's questioning and is rewarded with a rat in her locker. Because she ratted out Mona's people…in case the show thought we weren't clear on that. Emily grows more of her backbone confronting Hanna about helping Ali to run away again and when she goes to find Ali to talk some sense into her, Emily fends off a hooded person in the middle of attacking, possibly trying to kill, Ali. Ali immediately gets a text from A warning her not leave Rosewood. It's fun to know that "A" is back to being everywhere again.
What was lacking in this episode was the undercurrent of creepiness that existed in that scene from last week of Mona, Jenna, and new girl Sydney huddled together. The show left us hanging. Who is this Sydney girl? What is her connection to Rosewood, or Ali, or maybe even Bethany? I think we need to see more plotting and Mona getting the upper hand in her battle with Ali while the girls deal with an "A" who is up to his or her high standards of torture again. The show is more fun when the girls have to band together to figure something out and protect themselves rather than having them constantly involved in their own storylines, especially if those stories do not serve a purpose to the main mystery.
One last thing that I'm very biased on: Hanna and Caleb. I realize plot wise his return was largely decided by the cancellation of the actor's show, but I 'm excited to see them slowly find their way back to each other.
This season has left me feeling like the show is buying time until a big reveal or surprise, but in the meantime I think we deserve to be drawn in to the story each week. I know every episode can't have a moment like the Ezra reveal, but this show is built on the premise that anything can really happen, murder included, so I'd like to have at least one real good jump an episode.
[Photo via ABC Family]