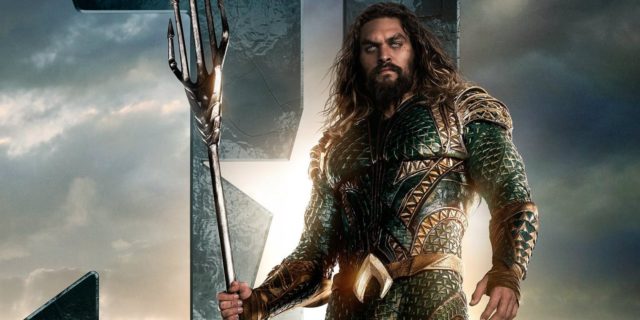 No one wants a movie to fail no matter how much they might not like it. But Aquaman is kind of destined for failure just because it's not the most interesting story to ever come out of the Justice League, sorry to say. The character looks cool, he's got cool powers, and with Jason Momoa as the lead role he could definitely pull it off, if a miracle happened and the writers and director didn't kill it the way they've been doing to most of the other movies. Personally he could be a much cooler hero than the rest of them just because in this representation he seems more unbound and more wild than he ever has in the past, and that's saying something considering how his character arc has been messed with. Unfortunately the sad truth is that as much as we might get hyped up for the standalone Aquaman movie the chances are that it's not going to do well.
I really hope I'm wrong, but here are five reasons why I might be right.
5. Jason Momoa is not quite ready for his own film.
Momoa has been great in the roles he's taken thus far, but one glaring piece of evidence stands out against him, and that his stint as Conan the Barbarian. Everyone thought that he was going to nail the role of a lifetime by taking up the reigns of a new franchise, but he missed by a long measure and has had to prove himself throughout many different parts since then. If he's ready it could work, but so far his comfort level seems to be as a costar.
4. The realm of Atlantis still hasn't been fully developed yet.
In the comics, yes. It's not nearly as developed as it needs to be in the movies, even if it was shown in Justice League. Keep in mind that for a standalone movie a lot of scenes would be shot near or within Atlantis most likely and it would require a set that would simulate an underwater city that would have to be something magnificent for people to enjoy.
3. Zack Snyder will most likely direct.
I'm not going to take a shot at Zack Snyder but the fact is that everything he's done so far is just dark, depressing, and ultimately has this doomed feel to it that is hard to enjoy for a full two hours or more. Everything from the most vibrant colors seem somehow dimmed and the attitude is almost one of harsh, borderline depression that everybody's just a step away from.
2. His story arc doesn't draw as many fans as the other heroes.
Aquaman has sadly never been as popular as the other heroes. He's got some cool powers that took a while for people to really get into. Even Affleck has to quip in the movie with "I hear you talk to fish", a power that went without much respect for many years in the DC universe. Aquaman is a lot tougher and a lot more complex than people think.
1. The correlation between the comics and the movie won't be what people expect.
This has happened with just about every superhero movie that has made the big screen since the idea first took hold. You simply know that somehow, some way, the director and the writers will take what you know and turn it on its head.
Like I said, I hope that I'm wrong.