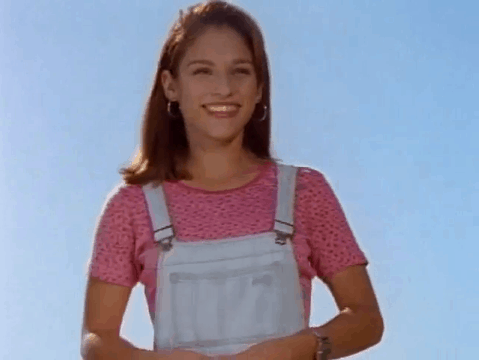 Amy Jo Johnson has made quite the name for herself after starring on the popular children's series Mighty Morphin' Power Rangers from 1993-1995. Johnson, who portrayed Pink Ranger Kimberly on the series, went on to star on such series as Felicity, Flashpoint, and Covert Affairs. Johnson has recently come to embrace the role that made her famous by appearing at several comic con events across the United States, including several with co-star Jason David Frank.
Like most Power Rangers fans, Johnson is pretty geeked about the release of the new movie Power Rangers, which will be released in theaters on March 24th. Several cast members were recently on a press junket in Toronto to promote the new film and Johnson decided to pull a prank on the new rangers. She pretended to be a reporter for the Daily Hive and surprised Naomi Scott (Kimberly), Ludi Lin (Zack), and Dacre Montgomery (Jason) when she entered the room.
Johnson was able to ask the actors some questions to give fans more insight on the film that is directed by Dean Israelite. The teenagers will not only need to deal with being superheroes, but will encounter problems typical 17-year-old's experience everyday. Johnson went on to ask if the teenagers in the reboot film have superpowers outside of wearing their ranger gear and the three actors wouldn't disclose any information to the original Pink Power Ranger.
At the end of the interview Ludi Lin asked Johnson about her directorial debut. The Space Between is a comedy drama that will also star Johnson about a father who discovers his child is not his and sets out on a trip to find out more information. The film is set to premiere in Canada later this year. You can check out Johnson's interview with the Power Rangers' stars here:
Power Rangers also stars Becky G as Trini, RJ Cyler as Billy, Elizabeth Bank as Rita Repulsa, Bryan Cranston as Zordon, and Bill Hader as Alpha 5.
Are you excited about the new Power Rangers film? Let us know in the comments section below.
Photo by: FOX