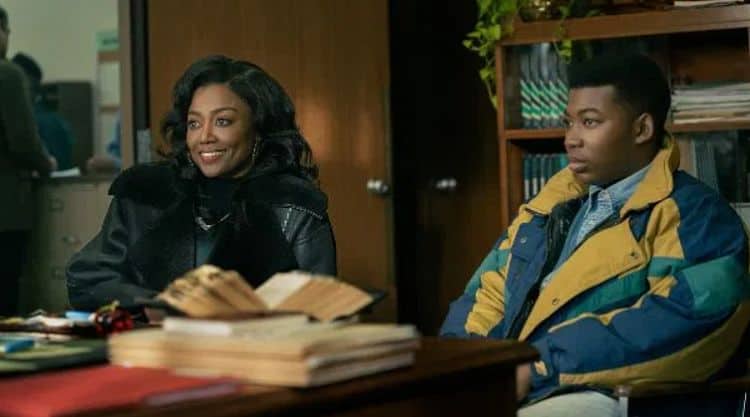 Raquel, "Raq" Thomas is one of the main characters on Starz's "Power Book III: Raising Kanan", portrayed by Patina Miller. Miller is best known for her role in Hunger Games: The Mocking Jay and the Broadway Production of Deloris Van Cartier. Patina does a great job at playing the beautiful, all-powerful queen pin on this prequel. Her character is refreshing since it's not every day we get to see a strong, black female lead on television.
Raq Is A Good Mom
If you've ever wondered how Kanan Stark became the coldhearted man he was in the Power series, you'll get to see exactly how the most influential person in his life; his mom, raised him to be. To Kanan, Raq is the warm and loving mother that's always there when he needs her to be. However, in the streets, Raq is known as a fierce woman that's about her business and taking no games in a world dominated by men. From the beginning, Raq makes it clear that Kanan is to focus on school so that he can get into college. Raq is serious about Kanan's education because she wants more for him. She doesn't want him anywhere near the drug business which is why she tries her hardest to keep that world separate. Raq also does what she has to do to keep Kanan safe even if it means making a deal to have one of his close friends killed in exchange for her son's safety.
Raq Is A True Leader
Whether you agree with some of her decisions or not, it's hard to deny the fact that Raq is a true leader. She's the head of her family's drug business and her two brothers work for her. Many people question this dynamic, but it's clear that Raq should be in charge rather than the men in her family. Raq knows how to strategize, she knows when to negotiate and exactly when to be ruthless. For instance, Raq had to make the decision to strike a deal with Unique and his crew over the territory where his men could sell. While some people would have gone ahead and waged an all-out war, Raq knew that neither side could afford a war and that it would be best to come to a truce rather than ensue a bloody war. Marvin could never be the head of their organization because he makes poor choices. In episode 8, she warns Kanan about scheming with Marvin because he used to be an addict and it lead to him doing serious jail time. Raq heavily relies on Lou Lou her older brother who's level-headed and loyal. However, Marvin is focused on his new record label which he hopes will make his family rich so they can retire from the drug business. Raq is the perfect one to lead her family because she has her head on straight and she sticks to what pays the bills.
There's No Better Person To Teach Kanan
From the opening scene, we get a glimpse of Raq's determination to teach her son to be strong. Instead of comforting her then ten-year-old son after being beaten and robbed by the bullies in their neighborhood she puts batteries into a sock and takes Kanan back to the playground to confront the bullies. By doing this she's teaching Kanan a valuable lesson; always take up for yourself. When it comes to shielding Kanan from the street, Raq does a complete three-sixty. She realizes that Kanan is indeed her son and that he's determined to get involved in the business whether she likes it or not. So who better to teach Kanan the game than his own mother? Raq teaches Kanan how to cook crack cocaine. She also teaches him how to use a Glock, which she warns him is for "people who came to take care of business" since it doesn't jam.
Raq Has Secrets
In recent episodes, the viewers discover that Detective Howard is Kanan's father. We see that Raq is good at hiding secrets because no one would have ever thought she once had an intimate relationship with the detective. Although Kanan deserves to know who his father is it seems like she doesn't have any plans on telling him. In fact, in episode 9 she tells Kanan that the detective is a threat to their family and she sends Kanan to kill him. Raq is a well-rounded character and in this series, we've seen so many different sides of her including; the nurturing aunt, the loving mother, and the sensual lover.
Tell us what's wrong with this post? How could we improve it? :)
Let us improve this post!