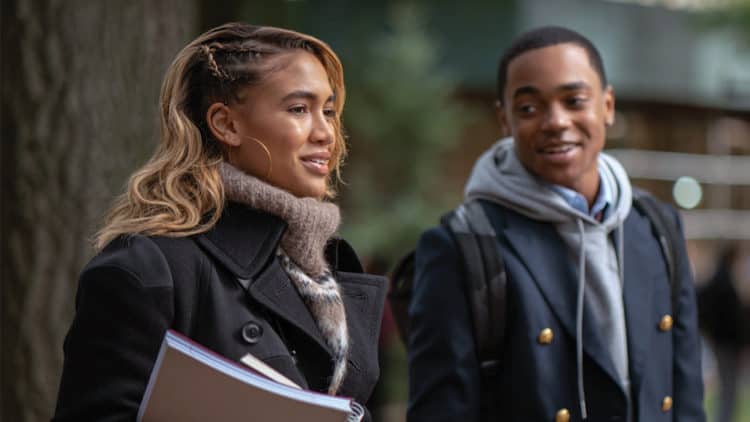 Power Book II: Ghost Season 2, picks up right where things left off in Season 1 season finale. Only a few days have passed since Tariq put a bullet in Professor Reynold's head and since he saved his mother from being murdered by Tommy. How in the world does one kind handle so much craziness, we just don't know.
Yaz Looks Like A Teenager
Although the storyline picks up where things left off last season, it seems like Yaz, Tariq's little sister has a growth spurt overnight. The episode begins with Tariq waking up in his grandmother's house to Yaz nearly burning down the house trying to make breakfast. Tariq puts out the fire with baking soda, saving the day like always. Estelle, his grandmother wakes up pissed at all the noise in the kitchen and berates Yaz for burning the bacon. Really?! Yaz tells Tariq that Estelle has been drinking again and this time it's getting worse. Tariq doesn't know how to handle this situation and he needs to get into contact with his mom.
Casa Tejada
To say that things are tense at the Tejada household would be an understatement. Monet is having nightmares about killing Rico and she's worried about her family's safety if Rico's crew decides to get retribution. She hears a glass break in the kitchen and goes to check out the noise with her gun drawn. But it's only Dru. Whew! Dru is still pissed at Monet for her role in him getting shot. His arm is still in a sling and he can't even draw which is a huge bummer since that is his main outlet.
New Connections
Now that Cane is a free agent, he's desperate to find a new home. Cane makes friends with a powerful connect named Mecca. Mecca and Cane briefly encounter some trouble, but fortunately, they are able to get up out of it, barely escaping with their lives.
Exit Plan
Monnet and Diana go shopping at designer boutiques and cash out. After their shopping spree, they make a beeline to Monet's bar where they fill up the boxes with product. The ladies load up the car and is making their way home when the police pull them over. Diana is behind the wheel and she handles the situation like a pro. "Smile a little, flirt a lot, and make them feel like they can get it, " Diana recites just what Monet taught her. Monet is a proud mama. Something is different about Monet this season. After almost losing Dru in the shootout last season and coming close to getting caught with Diana, she's starting to think harder about her family's future. Monet tells Diana that she's going to have Zeke sign up for the draft this year as opposed to in the future as they had planned. Monet's confident that Zeke will get drafted and within the 2-3 years he will be raking in some sweet endorsement deals. Monnet will be his manager, Diana his publicist, and Dru will serve as his bodyguard. The future of the Tejadas is riding on Zeke's back. Diana and Dru aren't necessarily excited about this plan.
Davis and Cooper Saxe Is A Duo
Tariq calls Davis his mom's lawyer and asks him to find Tasha in the witness protection program because he needs to talk to her. When Davis gets the call he's with Cooper Saxe his new partner in crime. Cooper Saxe is now working with Davis at his private practice law firm and he's taking him on a shopping spree so that he can look the part in his new role. Davis asks Saxe if he could locate Tasha. "What is he going to do, kill his other parent?", Saxe sarcastically asks. Although Davis isn't a fan of Tariq, he assures Saxe that Tariq loves his mother and would do anything in the world for her.
Jabari's Body Is Found
The police discover Jabari's body and his murder makes headlines. Cane immediately calls Tariq and wants reassurance that they won't be linked to the murder. Tariq used Detective Ramirez's gun to kill the professor and he assures that as long as they both keep their mouth shut no one will ever be able to trace them back to Jabari's death. Monet on the other hand is curious. She invites Tariq over to see if he knows anything about the professor's murder and Tariq tells Monet that he has no idea what happened. "You know what will happen if you're lying, right?", Monet asks. Tariq knows that Monet finds out that he killed Professor Reynolds that he would be a dead man walking, especially since it puts Zeke's future at risk.
Revenge
Cane gets a chance to prove himself to Mecca so that he can move weight for the big-time drug lord. Mecca has Cane's exact revenge on the GTG guy that tried to kill them earlier in the episode and Cane kills the man with his bare hands. Cane visits Monet to tell her that he has a new connect, but Monet still wants nothing to do with Cane. Unbeknownst to Cane, Mecca was following him and witnessed the brief exchange between him and Monet.
What's Going On With Rashaad Tate?
Rashaad Tate the grimy politician is sulking after his political aspirations were flushed down the drain. His brother gives him some tough love and tells him to find another way to get back on. That's exactly what Tate does. He makes a deal with Ott to dig up some dirt on Sweeny so that he can take the racist politician congressional seat.
Tell us what's wrong with this post? How could we improve it? :)
Let us improve this post!