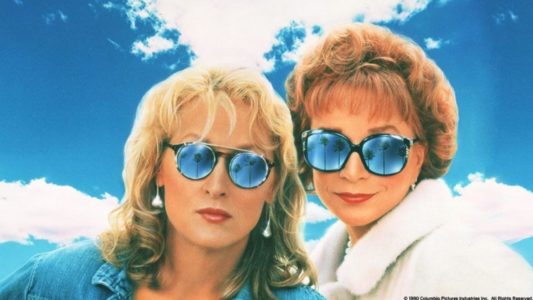 Postcards from the Edge is a 1990 comedy-drama film directed by Mike Nichols and starring Oscar winners Meryl Streep and Shirley MacLaine. The screenplay is written by Carrie Fisher which is based on her semi-autobiographical novel of the same title. The film is about the story of Suzanne Vale, a Hollywood actress who is a recovering drug addict. As she exits from rehab, she has to stay with her mother Doris in order to be part of the movie that she wants to be in. Now, she has to maintain her sobriety and sanity as she stays with Doris, who is a drinker herself. Does the story sounds familiar to you?
The film received two Oscar nominations: Best Actress for Streep and Best Original Song for "I'm Checkin' Out" which was sung by Suzanne during the ending. It was also number one at the box office during its opening weekend and received mostly positive reviews from critics (it is currently 90% on Rotten Tomatoes). When Fisher and her mother Debbie Reynolds passed away last December, the film went on a spotlight again as their mother-daughter relationship was rumored to be the inspiration for the film's story and the novel where it is based on. I recently watched the film for the first time and the experience was a bit odd for me since I'm aware that Suzanne and Doris' relationship in the film is based on Fisher and Reynolds. Most of the times when I was watching it, I see Fisher on Suzanne and Reynolds on Doris.
Personally, I love the film because it tackles an important issue of drug addiction and it channels a very relatable parent-child relationship. Whether it's your mother or father, there is no doubt that you can see yourself and your parent whenever you watch Suzanne and Doris arguing in the film. I think the film is such a great classic. It should be remembered by film enthusiasts for years or decade to come as one of the films that tackle an important issue that is still timely until today. The film tackles the struggle of being a recovering drug addict in a wonderful way and you can see Fisher's touch on the story. It's also clear that this is Fisher's story and the mother is based on Debbie Reynolds. Oddly enough, I read a trivia that Nichols said to Reynolds that she is not the right actress for Doris. I also read a trivia that Liza Minnelli approached Fisher once and told her that Suzanne and Doris' relationship was also like hers and her legendary mother Judy Garland.
I don't think a film has tackled a serious issue like drug addiction or tackled a relationship between a parent and child in show business during the time when the film was made. Fisher is brave enough to tell her story in this way and we can feel what is it like to be recovering from a drug addict or being a daughter of a very popular actress. It's a great mother and daughter story that will forever be timeless and a great tale of drug addiction recovery. It's also a great film set in Hollywood. I wonder who is the inspiration behind Gene Hackman's character or the one played by Dennis Quaid. If you haven't seen the movie yet, go watch it. If you have seen it already, I hope you'll try to watch it again and see what I mean by calling it a "classic".
Postcards from the Edge deserves to be remembered as a one great classic film. I can't help thinking about how great the film tackled the two themes that I discussed. Also, we should remember how great Streep and MacLaine were in this movie. Fisher's writing is also undeniably a flair. Nichols directed the film wonderfully just like his other works. Someday, I will check out this film again and you should too.
Tell us what's wrong with this post? How could we improve it? :)
Let us improve this post!