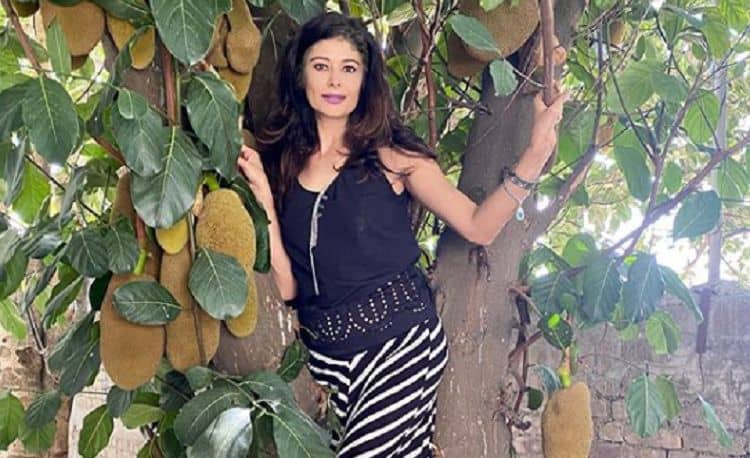 Indian actress and model Pooja Batra has been a familiar name (and face) ever since she claimed the title of Miss India International all the way back in 1993. Since those early days, Batra has enjoyed continued success as a Bollywood star and the face of various Indian and international brands. As much as she's made headlines for her professional career, Batra's tumultuous love life has also seen her hit the news on more than just the odd occasion- as you'll learn if you carry on reading these 10 fast facts about the talented star.
1. Her mother was a beauty pageant contestant
Given that we know Batra best as the winner of the Femina Miss India International 1993, it's probably no surprise to learn she comes from a line of women known for their attractiveness (and for their confidence in having it judged). Batra's mother is Neelam Batra, a local beauty of the town of Ludhiana and a participant in the Miss India beauty pageant of 1971. Unfortunately, Neelam didn't manage to achieve quite the same success as her daughter did, finishing as a runner up to eventual winner Tara Anne Fonseca.
2. She placed third runner up at the Miss Asia Pacific
In 1993, Batra was crowned Femina Miss India International, but that wasn't her only attempt at pageantry success that year. She also tried her luck at the Miss Asia Pacific contest, but this time, narrowly missed out on the title after placing third runner up overall. Batra is clearly more than just a pretty face, however — shortly after scoping the Feminia title, she enrolled in Fergusson College in Prune, graduating with a degree in economics before rounding off her education with an MBA in marketing from Symbiosis, Prune.
3. She was the first Indian to be the face of Head and Shoulders
After starting her modeling career at a young age, Batra made history when she became the first Indian face (and head, and shoulders) of anti-dandruff shampoo brand, Head and Shoulders. For a brief period, she was also known as the Liril Girl from Liril soap's famous series of commercials, joining the likes of Karen Lunel, Preity Zinta and Deepika Padukone as some of the brand's best-known faces.
4. She made her film debut in Virasat
After turning down multiple film roles in order to complete her education, Batra finally made it to the big screen on the 1997 feature Virasat, an Indian Hindi film directed by Priydarshan and starring Anil Kapoor, Tabu, Amrish Puri, Milind Gunaji and Govind Namdeo. The story revolves around Shakti Thakur (played by Anil Kappor) who gives up his own ambitions and dreams in an effort to bring peace to his troubled village. Batra plays Thahur's girlfriend, Anita, a role that earnt her the Sansui Award for Best Supporting Actress.
5. She's starred in over 30 films
Since her film debut in 1997, Batra has displayed her talents in more than 30 films, including 'HaseenaMaanJayegi', 'Bhai', 'Chandralekha', 'Megham', and 'KahinPyar Na Ho Jaye'. In 2006, her stellar performance in Taj Mahal — An Eternal Love Story earned her a nomination for best actress at the Sansui Screen Awards. She was also nominated for best actress in 2016 for her role in 'Mirror Game' at the Newark International Film Festival, while her star turn in Anybody Can Dance 2 helped it become the highest grossing movie in India in 2015.
6. She has her own production company
In addition to her stellar work in front of the camera, Batra has been developing an equally successful career behind the lens. In 2009, she launched her own production company, GlowBellinc, which specializes in Hollywood/Bollywood productions. One of the company's biggest successes to date was Kambaqth Ishq, a Bollywood movie that managed to achieve a crossover appeal by enlisting the talents of Sylvester Stallone and Denice Richards. The company has also been instrumental in launching the LA Casting and Model Wire in India and pulling in Nicole Kidman as a brand ambassador for Four Leaf Luxury housing in London.
7. She's a philanthropist
Batra is almost as well known for her philanthropy as she is for her career in entertainment. As well as being an active supporter of AIDS (Mukti Foundation), Batra has contributed her time, money and energy to such charitable causes as the homeless, the Bombay Police Department and the veterans of the Kashmir war. In 2000, Batra capped off her good deeds by doing pro bono work in the film My Little Devil (Bas Yari Rakho) to help raise money for India's poorest children.
8. She was married to a doctor
In 2002, Batra wed orthopedic surgeon Dr. Sonu S. Ahluwalia in Los Angeles, California. The pair remained together for 8 years, but their happy-ever-after ended in acrimony in 2011 when Batra filed for divorce, citing irreconcilable differences. As Mid-Day.com (https://archive.mid-day.com/entertainment/2011/jan/280111-Dr-Sonu-Ahluwalia-Pooja-Batra-divorce-Los-Angeles.htm)reported at the time, the divorce didn't come as much of a surprise to onlookers, who had thought trouble had been brewing for some time thanks to Batra's frequent absences from the family's home in LA.
9. She's dating Nawab Shah
In June 2019, Batra's love life hit the headlines once again when it was revealed she was dating actor Nawab Shah, best known for his work in Tiger Zinda Hai, Bhaag Milkha Bhaag, Don 2, and Lakshya. Apparently, things have gotten serious fast, with Batra even going so far as to call Shah her soulmate. "Life's a party when you are with your soulmate," she captioned one Instagram picture of the happy pair, while under another, she simply wrote"Happiness."
10. She's a multi-millionaire
Thanks to her many endorsement deals, her wide-ranging film career, her success as the owner of a profitable production company, and as the star turn at over 250 catwalk shows, Batra has earned a considerable amount of money over the past 3 decades. As of March 2019, Idol Net Worth estimated the multi-talented actress to be worth in the region of $77 million. If you ever needed proof the former Miss India is more than just a pretty face, then there you have it.