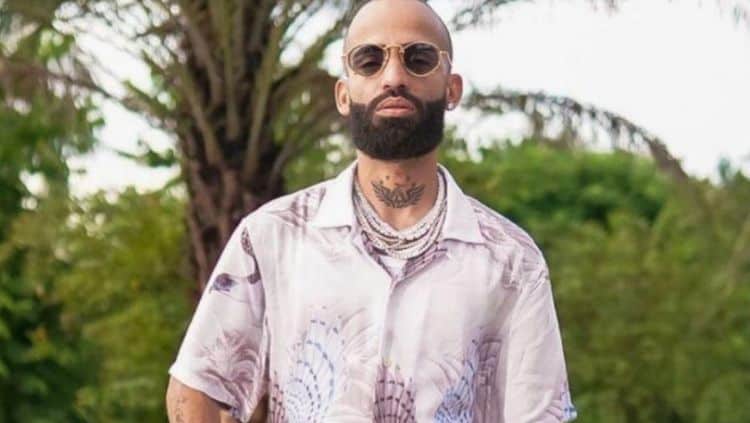 For more than a decade, Arcangel has been taking the music world by storm with his immense creativity and unique sound. The talented singer/songwriter released his debut album, El Fenómeno , in 2008 and it quickly became clear that he would be one of the next big things and music. Although he is most commonly considered a reggeaton artist, he truly has a style that combines the best of multiple genres, Arcangel brings something special to every song he works on. Although the last few years haven't been easy for Arcangel, he is committed to bringing his fans more music and they're excited to hear what he has in store for them. Continue reading to learn 10 things you didn't know about Arcangel.
1. He's A Harlem Native
Arcangel was born Austin Santos in Harlem, NY. He was raised primarily in Puerto Rico during the early years of his life. He was heavily exposed to music thanks to his mother, Carmen Rosa, who was the member of a successful merengue group called Las Chicas del Can.
2. He's A Big Robi Draco Fan
Even before Arcangel started making songs of his own, he's always loved music. One of his favorite acts growing up was the Latino boy band, Menudo. His favorite member of the group was Draco Rosa. During an interview with El Nuevo Diario, Arcangel referred to Rosa as the "best composer of contemporary music".
3. He's Had Some Trouble With The Law
When you live your life in the public eye and mistakes you make will be amplified and this is something Arcangel has learned from firsthand experience. In 2019, Arcangel found himself in the middle of some legal issues when he was arrested for misdemeanor domestic battery. There were not a lot of details on the incident, but it looks like the charges were eventually dropped.
4. He's Dealing With Some Health Issues
In December 2020, Arcangel took to social media to share a vulnerable moment with his fans. He shared that he has been dealing with some serious health issues. He didn't go into the specifics of exactly what he's dealing with, but he did reveal that it has something to do with his brain.
5. He's Worked With Some Of The Biggest Names In The Business
Arcangel has had a successful career on his own, but like any other form of art, there's always something extra special when multiple artists come together. Throughout the years, Arcangel has gotten to work with some of the most-well known Latin artists in the game including Bad Bunny, Wisin, and J Balvin.
6. His YouTube Channel Has Billions Of Views
Latin music is popular all over the world which has helped Arcangel becoming an international celebrity. While most people get hung up on his large social media following, what's even more impressive is the fact that his YouTube channel has gotten so much attention. To date, his videos have brought in more than 3.2 billion views.
7. He's A Father
Arcangel has never been the type of celebrity who shares his every move with the public, so there isn't a lot of information about his personal life floating around out there. One thing we do know, however, is that he is a proud father of two. He loves spending as much time with his kids as he can. He wants to get his health back on track so he can be here for them as long as possible.
8. He Wants To Focus More On Producing
Most people know Arcangel as a singer and songwriter, but he can do more than that. He told the Miami New Times, "From now on, you'll see an Arcangel who is more of a producer than a singer. I have so much passion for this that I can listen to a raindrop and find rhythm in it."
9. He Is Passionate About Venezuelan Politics
Arcangel doesn't appear to have any Venezuelan ancestry, but for some reason he is still invested in the country's politics. While talking to El Nuevo Diario, he shared that he hopes to one day become a citizen of Venezuela so that he can participate in the political elections.
10. He's Dominican
Arcangel is typically associated with Puerto Rico, so many people will be surprised to find out that he is actually of Dominican descent. According to Fox News, Arcangel said, "I don't deny that I am Dominican. My mother is Dominican. But I grew up in Puerto Rico since I was four. A large part of my family is Puerto Rican. My children are Puerto Rican born to Puerto Rican mothers. I can't deny my Puerto Rican side."
Tell us what's wrong with this post? How could we improve it? :)
Let us improve this post!