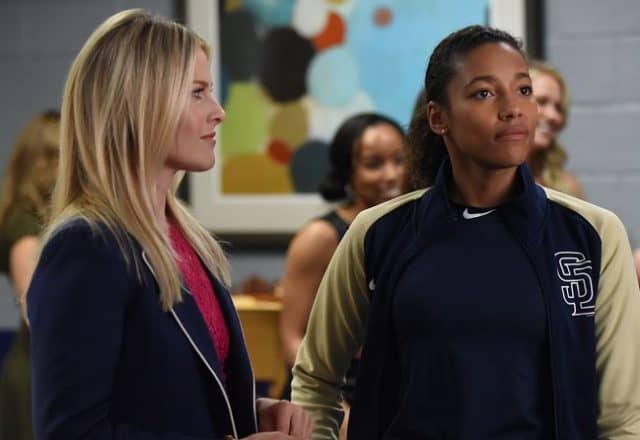 Although I love diving deep and writing over 1,000 words every about the newest episode of Pitch every week, things are a little too crazy and hectic for me this week to write a full-length review of last night's episode, "Unstoppable Forces & Immovable Objects." However, I still want to share my thoughts with all of you, so in the interest of time, here are my quick, bullet-point thoughts on this week's episode, which, overall, I really enjoyed. And don't worry: I promise to write full-length reviews for the final two episodes of the season.
One of my favorite things about the first season of Pitch has been the different ways the series structures its episodes. Whether we see the ceremonial commitments of the All-Star Game, the intense stress players have to deal with during the trade deadline, or, in this week's case, how the Padres handle one of their rare rain delays, it's always entertaining and unique. It's smart of the Pitch creative team to structure its episodes around these different events/situations, because it constantly keeps the show feeling fresh in a way that focusing on "the big game" every week wouldn't.
Ginny's brother, Will (B.J. Britt), returns in this week's episode, as we discover that he's had some major financial problems since we first met him back at the beginning of the season. We also learn that Amelia has been aware of Will's issues and hasn't told Ginny, instead paying off Will to stay away from his sister so that she can keep herself focused on the game. I'm still very conflicted about this storyline. The Will that we were presented with earlier this season seemed to genuinely want the very best for his sister, no matter what it meant for him, which is why he pushed her to sign with Amelia; however, him coming to San Diego purely to get Ginny to invest in a sports bar/grille feels pretty sleazy. The one thing I do like about this new story is that it creates more off-field conflict for Ginny.
I really like what Pitch is doing with Oscar and Charlie's relationship. Charlie truly is an outsider trying to come into this organization and do things his own way, but as Oscar points out to him many times throughout "Unstoppable Forces and Immovable Objects," Charlie's way is very rarely the right one. It makes sense that Oscar, who has experience both as a player and now as a GM, would be able to navigate these baseball waters more easily than Charlie and give him some pointers.
Speaking of Oscar, it turns out he's dating Al's daughter (played by Sarah Shahi). Pitch first presents their romance as something illicit, suggesting that Oscar may be having an affair with one of the players' wives, but that would not fit with his character at all. I'm excited to see where this storyline goes and how it will affect the already complicated relationship between Oscar and Al.
At the center of this week's episode, much like last week's, is Mike, who is pressured by Oscar and Padres management into deciding whether or not he wants to be traded after he clears waivers. As Mike contemplates leaving the team and city he's called home for the past 15 years, he and Blip call a Kangaroo Court in the clubhouse, which provides him with at least one final opportunity to be the leader of the clubhouse. Ultimately, Mike tells Oscar that he wants to be traded to Chicago, but will he actually end up being moved? I'm guessing not, but this decision from Mike should cause some great emotional conflict in the season's final two episodes.
One other thing that's also sure to cause some major conflict in the upcoming episodes: Mike's feelings for Ginny, which seem to be full-on romantic if the look he gives her near the end of this week's episode is any indication. Mike falling for Ginny also appears to be a main motivator for why he wants a trade, and while I know there are many Pitch fans out there that hate the idea of a Mike/Ginny romance, I'm actually totally for it. Call me crazy but the chemistry between the two of them is just too damn good for nothing to happen. The only issue I have with this is that Ginny will be Mike's third love interest this season, and since the season's only 10 episodes, that is kind of a lot.
For all my fellow Chuck fans out there, how great was it seeing Mark Christopher Lawrence, aka Big Mike, as Russell, the groundskeeper, in this episode?
When Mike is listing the many details he knows about Ginny, he mentions how she hums Katy Perry songs while she stretches (which we see her do in one of the episode's final scenes). "If you listen carefully," he says, "it's the worst rendition of 'Firework' you've ever heard."
I really wished we had gotten to see Ginny interact with the rest of the players' wives. Do they all treat her as friendly as Evelyn does? I'm guessing not, and it would be very interesting to see what her relationships with them are like.
Pitch has been and always should be Kylie Bunbury's show, but Mark-Paul Gosselaar has been absolutely killing it the past two weeks. Whether Pitch gets renewed or cancelled, he's really, really impressed me with his work in this series, and I'll be sure to tune in to any and every show he's in from now on.
Pitch is off next week for Thanksgiving but will be back with Episode 9 on December 1. Hopefully, these final two episodes of the season really deliver!
What did everyone think of this week's episode of Pitch? Comment below and let me know.
[Photo credit: Ray Mickshaw/FOX]
Pitch Season 1 Episode 8 Review: "Unstoppable Forces & Immovable Objects"
Summary
Will clashes with Amelia when he surprises Ginny, and Mike makes a major decision in another strong episode of Pitch.