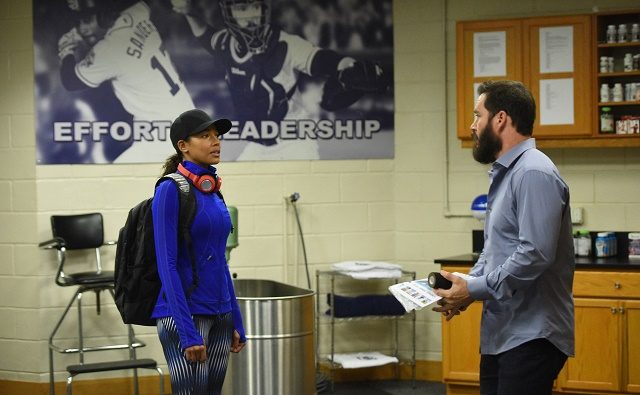 Throughout its first season, Pitch has done an incredible job of creating an entire cast of real, vibrant, and believable characters. From Blip to Amelia to Mike, every single character that surrounds Ginny feels fleshed out and lived-in in a way that supporting players on most freshman shows never do. However, despite how much attention Pitch has given Mike Lawson over the past couple of weeks, or Blip and Evelyn earlier on in the season, this show has always been Ginny's story, and it reaffirms that with tonight's season (and hopefully not series) finale, "Don't Say It," as Ginny pushes back against everyone and everything in her life as she gets on the mound and tries to throw the best game she's ever thrown: a no-hitter.
Similar to last week's episode, "Don't Say It" is fairly predictable. As soon as Oscar brings up the possibility of Ginny getting injured and potentially ruining her career, it was only a matter of time until she got hurt somehow. Having it happen on the biggest stage of her career, as she tries to become not only the first woman but the first Padre in history to throw a no-hitter, adds a tragic tinge to the events, but it also makes the injury even more inevitable. Pitch was never going to have Ginny achieve that momentous of a goal during its first season; for as much as she's been challenged mentally this year, things on the mound, for the most part, have come pretty easy for Ginny, and having her be able to throw a no-no in her rookie year, during her last game of the season, would be pushing it too far, turning Pitch into a more cliched series than it has been or should be.
So tragedy strikes Ginny at the worst possible time, as she's only one inning away from making her dream come true, and even though this first season of Pitch ends with that sadness and uncertainty, it doesn't feel like too much of a downer ending. By suffering that injury and having to go into the MRI machine in the finale's final scene, Ginny is facing her greatest challenge yet, and she's doing it without the support of her brother or Amelia, both of whom she tells off during this episode. But she's also dealing with this obstacle after her great moment with Mike on the mound, as Pitch smartly changes course from the romantic tension between the two teammates to an empowering moment for Ginny (and I say this as someone who is a fan of the Ginny/Mike romance). Sure, she's not able to complete the no-hitter, but she does take ownership of the mound and of the field; as soon as she begins to waver, throwing four straight balls, she tells Mike that she doesn't need his help or anyone's help–this is her time, this is her story, and she's going to be the best version of herself that she can be. The fact that Ginny then follows up that conversation with Mike by not only recording three straight outs but also making a daring, fully committed play to get the final one (ultimately the play that injures her) solidifies everything that Ginny says: she is the star of this story, and she can achieve amazing things all on her own.
But should she? Ginny's performance during her final game proves her talents on the field are no joke, but we've seen that Ginny rarely needs help with her baseball skills. It's in her off-the-field life that she needs support from her friends and family, and there's a reason why the finale ends with that closing shot of a frightened Ginny heading into the MRI machine instead of the shot of her on the mound after her speech to Mike: despite how much she can do on her own, Pitch still acknowledges that Ginny needs people in her life, people that will listen to her and provide advice and cheer her on from the stands. Amelia was Ginny's biggest supporter, and "Don't Say It" recognizes just how big of a deal her quitting as Ginny's agent is. And while the finale doesn't do that strong of a job of building up to Ginny and Amelia's parting of ways (nor did the season as a whole), the episode does impressively illustrate that both women are right and wrong for different reasons in their fight. Amelia may have overstepped with her conversations with Will, but it was only because she cares about Ginny; meanwhile, Ginny and her family should be entitled to their privacy, but for her to try and say that she got to where she is today all on her own, without Amelia's help, is complete and utter nonsense.
The conflict leading up the Ginny and Amelia fight represents one of the weaknesses of Pitch's finale and its first season as a whole: the show always wanted to go for big moments but didn't always earn them. Another, even stronger example of that is in Blip and Evelyn's storyline, in which we see Blip act out-of-character as a controlling and selfish husband when Evelyn tells him that she doesn't want to have more kids. While Blip sitting alone on his coach, deciding whether or not to take off his wedding ring, is a powerful and heartbreaking final image to leave him and Evelyn on as the season closes out, it also feels very forced. The two of them went from being television's most honest and authentic couple (even giving me slight vibes of Mr. and Mrs. Coach from Friday Night Lights) to a pair that appears to be on the verge of divorce, and it all happens within the span of two episodes. That's not good writing, and despite how terrific Mo McRae and Meagan Holder are in these roles, even they can't turn this manufactured drama into something real.
Much more believable is how Mike and Rachel find their way back to each other in "Don't Say It." Although I could complain about just how sudden and convenient Rachel and David's break-up is, I can look past it because of how Pitch handles the rekindled romance between Mike and his ex-wife while still dealing with the awkward tension that exists between him and Ginny. Once Mike learns of Rachel and David's break-up, it makes complete sense for his character that he would go back to her instead of trying to see where things go with Ginny, but I appreciate that Pitch doesn't try to act like all of Mike and Rachel's past problems have disappeared overnight. While she ends up coming to the game, a good first step for the two of them, her initial hesitancy shows that she hasn't forgotten about how baseball ruined their marriage before, and how it could very easily come between them again if they're not careful. That's the type of sharp, realistic writing that we typically see for Blip and Evelyn's relationship.
With Pitch's future on FOX still very uncertain, I won't say that "Don't Say It" is a perfect finale for the show. It possesses some of Pitch's major weaknesses, and it leaves viewers off with a major cliffhanger (how will Ginny come back from her injury?) that still needs to be resolved. Furthermore, the episode hardly wraps up any major storylines at all, other than Mike's romance with Rachel and Ginny and Amelia parting ways.
Still though, "Don't Say It" also showcases the very best of Pitch, from Oscar and Al's back-and-forth to Amelia continually fighting for her client (and more importantly, her friend) to Ginny and Mike's final conversation on the mound. Pitch's first season wasn't perfect television, but it was very compelling and entertaining television from start to finish, featuring some of the best new TV characters I've seen in a long time. Here's hoping FOX renews the series for Season 2 because I'm not ready to say goodbye to Ginny, Mike, Blip, and the rest of the Padres just yet; even though I'm a Phillies fan, they've quickly become my new favorite baseball team to watch.
Other thoughts:
Much better than Blip's fighting with Evelyn is his conflict with Mike, which finally leads to a physical altercation in the dugout during Ginny's no-hitter bid. I understand Blip's feelings of anger and betrayal towards his teammate and captain, and if Pitch returns for Season 2, I look forward to seeing how the show would explore their complicated relationship. I just don't want to see Blip take this crap out on his awesome wife. Evelyn is the best; she doesn't deserve that.
I've like Tyler Hilton a lot in the past on shows like One Tree Hill (Chris Keller, y'all!), but I really cannot stand the character of Noah. Also, he and Ginny have absolutely zero chemistry.
My one issue with how the Ginny/Mike/Rachel triangle is handled is Al's speech to Mike about how the Cubs are like the new girl that makes you laugh while the Padres are like the woman he knows he's supposed to be with. That's way too on-the-nose for a show as good as this.
Throughout its first season, I loved how Pitch showed the very real superstitions that exist in baseball, and the creative team does another great job here in "Don't Say It" with how Ginny's teammates react to her during her no-hitter.
It can't be stated enough just how good both Kylie Bunbury and Mark-Paul Gosselaar are in this show and how electric their chemistry is. Even at Pitch's weakest moments, they always made it worth watching.
"Besides, the Cubs will never win it." I see what you did there, Pitch writers, and I'll admit that it made me laugh.
Thank you to everyone who has taken the time to check out and read my reviews for this show over the past couple of months. It's been so much fun writing about it every week, and I really, really hope that FOX renews it for a second season. I love having a baseball-centric television show to watch, and I just need more of these awesome characters in my life.
What did everyone else think about Pitch's finale and Season 1 as a whole? Comment below and let me know.
[Photo credit: Ray Mickshaw/FOX]
Pitch Season 1 Episode 10 Review: "Don't Say It"
Summary
Ginny tries to make history as she pitches in her final game of the regular season in Pitch's strong finale.