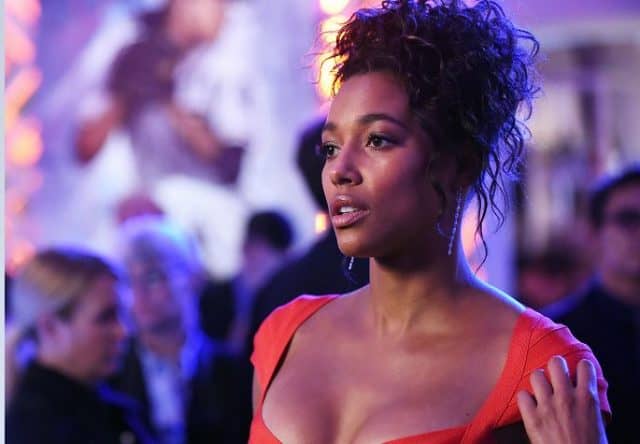 It's easy to get caught up in the highlights of Ginny's life on Pitch and sometimes forget just how much pressure she's under, not only as a baseball player but as a 23-year-old woman. Sure, she's getting paid a ton of money through her contract and endorsement deals (like the one she signs with Nike in this week's episode), but all the wealth in the world can't cure stress and anxiety, which Ginny has constantly felt throughout the first five episodes of Pitch. She's not just a pitcher on a team that's hoping to make it to the playoffs; she's a role model for women and African Americans, someone who gets compared to Reggie Jackson and Barack Obama, a person who has to always say the right thing at a press conference, or smile for a photo when the cameras are flashing. The world around Ginny doesn't allow her to make mistakes, and it causes her to have full-blown breakdown in tonight's episode, "Wear It."
The structure of this week's Pitch is different than most of the episodes that have come before it. Instead of getting flashbacks to Ginny's life back when she was younger, the show provides us glimpses into her past 48 hours while also thrusting us into the present, where Ginny meets with a psychiatrist (played by Rita Wilson) that the Padres require her to see. Throughout most of "Wear It," viewers are left wondering what exactly happened to cause team management to step in and make Ginny do this; there's references to a video, but we're not sure exactly what this is until the end of the episode. Is it just the video of Ginny jumping into the pool, in her $10,000 dress and a pair of New Balance sneakers? Is it a video of her and Trevor being intimate together (the "Previously On" segment before the episode reminds us that his computer was hacked)? That mystery adds a nice element of suspense throughout the hour, as we piece together the past couple days along with Ginny, and it all leads to an emotional gut punch.
While photos and videos of Ginny partying it up with college kids (finally, she's around people that are actually her age) end up online, it's not the drinking or the pool diving that has anyone at the Padres concerned. What does worry Al, Oscar, and Charlie, though, is Ginny's drunken, tearful confession that she doesn't want to be baseball player anymore, that it's all too much for her and that she wishes she could leave it behind. The raw, real emotions on display during the video don't make the Padres management fear that they might lose their most buzzed about pitcher; they're not afraid of losing Ginny as a player–the three of them, along with Amelia, want to make sure that Ginny is alright both mentally and emotionally. The concern on Al's face says what they're all thinking, and Dan Lauria's expression perfectly showcases Al's worry and serves as a reminder that he has daughters of his own; he's treating Ginny in the same way that he would treat them.
With mental health being a topic that doesn't get enough exposure in media (and not enough attention in real life, either), I appreciate the care and respect that Pitch treats Ginny's panic attacks and subsequent breakdown with. The show could have easily waved off her self-destructive behavior as "blowing off steam," but Pitch isn't satisfied in doing that. Throughout the series' first six episodes, we've seen so much trauma in Ginny's past, so much heartbreak and loss, and we rarely see her open up about it. She works through these painful recollections in her own way, but between the hurt she's experience in her life before, along with the constant pressure she now faces on a daily basis, it was only a matter of time until she said something to someone. Fortunately, she opens up to Lyndsy Fonseca's Cara about her issues; instead of posting the video online or trying to blackmail Ginny with it somehow, Cara simply hands it over to Amelia and the team, ensuring that they know that Ginny has some demons that she needs to deal with.
It remains to be seen how Pitch will handle this arc in future episodes. Will Ginny's breakdown be forgotten next week while she deals with the fallout from the photos of her and Trevor being leaked? Will this only turn out to only be a one-episode storyline? I certainly hope that a show as impressive as Pitch has been throughout its young run continues to tackle Ginny's emotional issues in a realistic and respectful way, and that the series dedicates the time to this storyline that it rightfully deserves.
On the surface, Pitch may be a sports drama, but in only just six episodes, it's created living, breathing characters that I fully connect with and am emotionally invested in, none more so than Ginny Baker. She might be a mega-star on the Padres and an inspiration to young girls across the world, but she's also a 23-year-old woman, a person who has dreams, goals, and anxieties just like the rest of us. I'm looking forward to seeing Pitch explore this more vulnerable, human side of Ginny. "Wear It" was a strong first chapter in what could be a really special story.
Other thoughts:
Elsewhere in this week's episode, Amelia breaks up with Mike, leading him to drunkenly crash a dinner party at Rachel's house. The exes still have some crazy chemistry, and the whole ordeal does allow for a pretty terrific Major League reference. However, the most important part of this story is Rachel calling Mike out on his BS and telling him that he needs to figure out what exactly he wants. Amelia obviously knew his head wasn't fully in their relationship, and there's the big elephant in the room that is his possible feelings for Ginny. Should be interesting to see how he sorts everything out in the coming episodes, and if Rachel's words cause him to take any action when it comes to his and Ginny's relationship.
Also, Elliot shows more confidence and determination than we've ever seen from him before in "Wear It." Not only does he ask out the Nike assistant (which, unfortunately, doesn't seem like it will work out), but he also demands a raise and an official position title from Amelia for everything he does for her. Some nice, surprising moments that really added a lot to his character.
As someone who is a huge Lyndsy Fonseca fan and as a viewer who believes that Ginny could always have more female friends, I hope this isn't the last we've seen of Cara. Between leaving the party with Ginny, making sure she got to Petco Park on time, and handing over the video, she's clearly a good person.
Kylie Bunbury has been consistently fantastic since Pitch's pilot, but she elevates her performance to another level in "Wear It." Outstanding work from her (she also looked incredible throughout the entire episode) and also from Mark-Paul Gosselar, who was tremendous yet again tonight throughout Mike's misadventures.
What did everyone else think about this week's episode of Pitch? Comment below and let me know.
[Photo credit: Ray Mickshaw/FOX]
Pitch Season 1 Episode 6 Review: "Wear It"
Summary
After landing a major endorsement deal with Nike, Ginny reaches an emotional breaking point in another strong episode of Pitch.