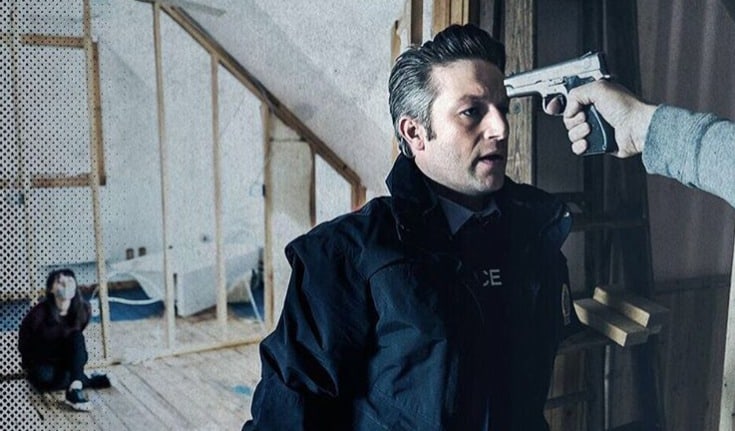 Peter Scanavino is an actor who is best known for his role as Dominick "Sonny" Carisi Jr. on NBC's long-running series "Law & Order: Special Victims Unit." Fans are always interested in learning more about their favorite stars so we looked into his career and history to become better acquainted with him. We made some interesting discoveries and here are 10 things that you didn't know about Peter Scanavino.
1. He has an interesting birth date
Scanavino has a youthful appearance which makes it possible for him to play a variety of characters. he was born in Denver, Colorado on February 29, 1980. As of 2019, he was 39 years old, and he has a birthday coming up soon. Scanavino is one of those rare individuals who only really gets to celebrate his birthday on the day that he was actually born because he was born on a leap year. February 29 only happens every four years.
2. He is a family man
Peter met his bride Lisha Bai and the couple married. They have two children together. When he isn't busy with his acting career he is spending time with his wife and children. Their second child was born at the beginning of 2016, so Peter and Lisa's kids are still very young.
3. He has a passion for cooking
Peter Scanavino has an active interest in cooking and his love of the art is so great that he actually took time away from acting so he could pursue this passion. In 2010, he earned his certificate in Culinary Arts from New York's French Culinary Institute. He spent time working in Dan Barber's Blue Hill restaurant in Greenwich Village. The restaurant is a Michelin-star establishment. Scanavino is a chef in addition to being an actor so he has a choice of two different careers to choose from, or he could combine them both at the same time and have his own culinary show if he desires.
4. Peter returned to acting in 2013
After being away from acting for three years, Peter returned to the craft as a guest star on SVU. This was during the fourteenth season in the 13th episode and he played the part of Johnny Dubcek. He also starred in the movie "Mutual Friends" the same year. It was a romantic comedy film. The following year he joined SVU for another role as the new detective Carisi with a recurring role.
5. His acting career launched in 2005
Peter Scanavino has only been an actor since 2005. He has 31 credits in his portfolio so far. His debut role was a minor part in the television series "Jonny Zero" as Travis. The same year he appeared in the series "Third Watch" for 2 episodes, as well as in "Law & Order: Trial by Jury" for one episode, and also in "Law & Order: Criminal Intent." We can see that he fit very well into the "Law & Order" franchise as he has made appearances on several of the franchises.
6. There haven't been many gaps in his acting career
With the exception of Peter's hiatus from acting to pursue his cooking interests, there haven't been many gaps in his acting career. The majority of the roles that he has played have been small supporting roles with few recurrent ones, with the exception of his most recent role as Carisi. It could be that he is finally getting a breakthrough that will more solidly launch his career as an actor, but only time will tell.
7. Peter's approval ratings are mixed with viewing audiences
Not all of the roles that Peter has portrayed have been assessed, but there are several that have on Rotten Tomatoes. This is a site that polls viewing audiences and asks them to complete a survey to assess their approval of actors and the films and series that they appear in. The highest approval rating for Peter Scanavino was for his performance in the role of Adams in the 2011 film "Person of Interest" with a 92%, followed by a decent rating for his role as Carter in "The Cold Lands" in 2014. He received a 64% approval rating which isn't bad at all. The next highest was a 55% as an actor in "Zenith." in 2011.
8. Some ratings for his performances were low
Other scores which were on the low end include a 42% for "Happy Thank You More Please," as Ira in 2011, 40% for his role as Czapinczyk in "Watching TV with the Red Chinese" in 2012, 12% for his role as Leon in "The Informers" in 2009, and 11% approval for his role as Rhiga Desk Clerk in "Deception" in 2008.
9. He's alive and well on social media
Peter Scanavino can be found on social media for fans who want to keep up with what's trending in his career. Although he hasn't made a lot of posts on Instagram, he does have about 15 really great photos. It's a good resource and he has a total of 122,000 followers so far on the site.
10. He is a private person
Peter Scanavino doesn't put a lot out there when it comes to social media. He does have an Instagram and Twitter account, but he keeps his personal and professional lives separate. He appreciates his fans and does what he can to keep some great photos posted, but he prefers to keep his home life private and away from prying eyes. This shows us that he is concerned about making sure that his wife and children can carry on with normal life without disruptions from media and fans. He doesn't share much information about Lisa and the two kids which is probably for the best. His net worth is estimated at around $700,000 and while he isn't rich, he's not poor either.
Tell us what's wrong with this post? How could we improve it? :)
Let us improve this post!