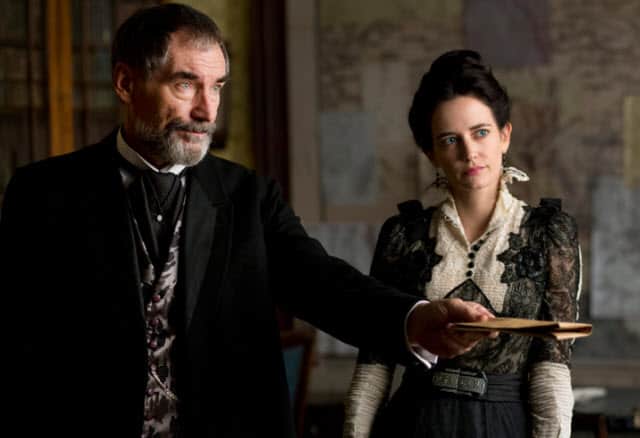 For viewers who haven't seen much of Eva Green's impressive body of work in film, "Seance" should be an individual performance that puts her front and center on everyone's radar. What she brings to Penny Dreadful is multifaceted, but her biggest contribution is seamless integration into this world without it feeling like she's either over- or under-acting. The more film actors and directors who have been working in television lately, the less I'm surprised by any casting announcements. But Green is a truly exceptional talent, and it's thoroughly satisfying to see that on display in a role and tone that come off completely natural for her. The titular seance is far more entertaining that it has any right to be, and that's not just to say that watching Green go to town on being possessed is impressive in its range of acting. What pushes the scene over the edge into a magnificent kind of quality is how emotionally driven it is from the perspective of Sir Malcolm. All the rest of the actors can do is watch as Green starts working, but Dalton infuses that silence with an uncanny amount of heartbreak as Vanessa is forcing Malcolm to deal with the loss of his daughter. If you didn't get the chance to watch this live and in the dark, try and find a way of recreating that experience, because Penny Dreadful is proving more and more just how tight a grasp it has on its horror roots–and putting yourself in a position that's as close to isolation as possible is the right way to see this sequence.
Life is not easy for Vanessa when getting possessed during a seance and fighting creatures of the night are not the biggest of her concerns. Fate would have it that, based on the hieroglyphs she and Malcolm have encountered, the devil is chasing after her. So, that's fun…? Although we don't get a whole lot of information about this version of Dorian Gray, his interaction with Vanessa in "Seance" is probably more important than it initially seems. Both have a sense about each other and are drawn in ways that elicit something new out of Vanessa–new to us, in any case. Reeve Carney is fine in the role as introduced in this episode, but among an already impressive cast, he has the biggest uphill battle ahead of him to demand the same kind of attention that some of these other characters demand.
After just two episodes, Victor Frankenstein and his creation are, to me, the ones that demands the most attention. If Green's performance during the seance is the most impressive, the scenes we get with Harry Treadaway and Rory Kinnear as Frankenstein and Proteus are the most engaging. Thinking about it, it's actually incredible how well director J. A. Bayona visualizes the world as seen through Proteus and how the de-familiarization is utterly convincing. It's beautiful, to be sure, but it's also technically superb, which I think is its biggest accomplishment. We, as viewers, really shouldn't be able to experience Proteus' walk through town from a state of innocence, because that's almost like being able to remove some of the faculties and knowledge we possess, but the sequence isn't shot from a perspective that watches Proteus as he encounters everything about life. It's shot as Proteus, and those faculties and knowledge seem to momentarily drop by the wayside somehow. That kind of filmmaking is something I sometimes can't quite wrap my head around, because it's so engrossing that I almost miss it while watching. But it is thing that makes "Seance" as gorgeous and engaging as it is.
Slightly less engaging is the treading water that's going on with Josh Hartnett's Ethan Chandler. He gets a fun ally this week in Brona Croft, but theirs were some of the least memorable scenes, despite the fact that the acting elevated the material beyond being boring. It's good to see that he's not jumping at the chance to join Vanessa and Malcolm without weighing his options, but watching him sit at the pub and drink while keeping one eye on the boats can only work as transitional story. Maybe it's a testament to the other storylines, though, which have already been developed enough that I'm expecting more out of this one–even this early. In any case, "Seance" certainly works overall, structured around its central piece and surrounded by threads that range from having potential to already possessing legitimate stakes. I'd hesitate to mourn the loss of Proteus right now, since Victor must have the ability to put him back together, so I can just remain interested to see what happens now that Victor's first creation has come back to him for some sort of reason. That kind of cliffhanger in this kind of horror series is something worth waiting around for.
[Photo via Showtime]