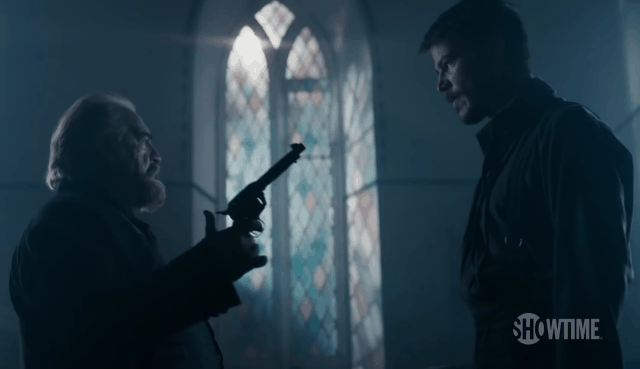 Can you believe we're already halfway through this season of Penny Dreadful? I can't either. Time goes by way too fast and it looks like a reunion between our friends is nigh. This is the episode where Sir Malcolm, Kaetenay and Ethan are bound to meet. Last episode set the pace pretty well and now it's time to use the momentum to give us the best season of Penny Dreadful yet. So far, everything we've seen has been flawless. Every episode's been a shocker, every character has managed to awe us. The different approach that the show's taken appears to be working quite well.
But this time our heroes are battling demons within rather than without. Like Vanessa in 'A Blade of Grass', Ethan and Victor are being tormented by their inner demons. We see Frankenstein preparing to torture the same guy they were trying to cure. I don't really think there's much science to this process. You just stick a needle into him and hurt the bejeezus out of him. Of course, Frankenstein can always count on his loyal friend Mr. Hyde Dr. Jekyll to tell him that he's not capable of doing this. Doesn't Victor get suspicious that his good friend Dr. Jekyll is only giving him terrible advice?
Meanwhile, Hecate and Ethan are on the run. From Ethan's father and the Americans with Rusk. Those cowboys that you see riding are Inspector Rusk and his good friend since, if you look closely enough you'll easily be able to distinguish the good inspector. Now, obviously the question is who gets to whom first? The photo above sees an old man pointing a gun at Ethan. Of course, he could be the father, but I find it hard to believe that Ethan isn't ripping his guts out or tearing him to pieces in this scene. But Ethan says that his father wants him to answer for what he's done. That would be the hundreds he's killed.
Then of course, Sir Malcolm and Kaetenay are seen with Kaetenay saying pretty much the same thing he said before. Except for the visions that follow. We see Ethan with someone's blood on his mouth. How the hell can a wolf end the world I ask you? Interspersed between this shots are vampires eating someone and some shambling creatures as well.
Then Ethan tries to intimidate Hecate by telling her that he betrayed his family, murdered his friend and will send his father to hell. Well, Hecate tried to betray you, murdered a baby and is already in hell. Gotta try harder, Ethan.
Then there's the classic action shots. Everyone seems to be shooting at each other, there's a fire and people fall down. Look closely and you'll see…no one. Seriously I can't identify anyone expect Ethan in this shot.
Missing from the preview are Vanessa, The Creature, Lily and Dorian. I'd be ok if Vanessa would sit this one out but I won't be okay if Lily and Dorian were to be missing. As for the creature, well his story isn't quite as interesting.
The synopsis for the episode titled "The World is our Hell" reads:
Hecate (Sarah Greene) and Ethan struggle to survive in the harsh desert wasteland.
Penny Dreadful airs Sundays at 10:00 PM on SHOWTIME.