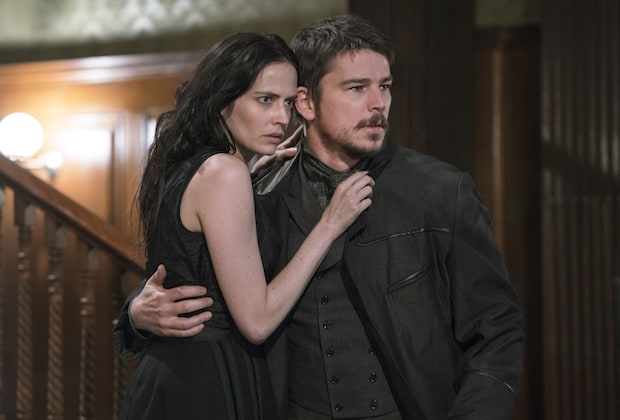 Warning: The following article contains major spoilers from Sunday's Penny Dreadful finale.
If last night's season finale of Penny Dreadful, which ended with the death of Eva Green's Vanessa Ives and the words "The End" flashing onto the screen, felt more like a series finale to you, that's because it was. As the show's creator, John Logan, has confirmed to several news outlets, Penny Dreadful's Season 3 finale will be the show's final episode and serve as its series finale.
"[The decision] was made a while ago," Logan told TVLine. "The show, to me, has always been about Vanessa Ives and her struggle with faith. I knew, sooner or later, it would get to a point of apotheosis, where she would either accept her God or deny her God. Midway through [Season 2] — so, two years ago – as I was planning a third season, I realized, 'Oh, I see exactly where this is heading. She's going to have that moment, and the only way she can truly have it is at the moment of her death.' So, in my mind, I began shaping the third season thinking about all the characters and how I could lead them to a place that felt like a fitting conclusion. And it was very difficult to do as a writer. I'm deeply attached to these characters. I feel like I created them, even the ones I didn't, like Victor Frankenstein and the Creature; they're real parts of me. That's particularly the case with Vanessa Ives. I felt like it was the graceful, perfect way to end her story and therefore the story of all the characters."
Despite the fact that Penny Dreadful has such a rich group of supporting character, Logan couldn't an envision a version of the show without Vanessa Ives and without Eva Green's portrayal of her. He called both the actress and her character his "muse" for the show.
"[Vanessa's] story had to end exactly as it ended for me," Logan explained. "Would I have loved to keep telling her story for 10 years? Yes. But that would've been an act of bad faith. Vanessa's struggle had to end, and it had to end in peace. That's what the series was about for me. And as much as I love the other characters and the other actors and running this show, the central ticking clock of it was always Vanessa Ives."
And if you're wondering why Showtime didn't promote Penny Dreadful's third season as the show's final season, Showtime president David Nevins has somewhat of an answer for you. While he considered letting know fans at first, Nevins ultimately decided that it "wasn't in the spirit" of the show to do so.
"I considered it," Nevins said to TVLine. "But it seemed like the wrong way to do it. It wasn't in the spirit of Penny Dreadful. I'm sensitive about it, because I think the show has a really passionate fan base. And [they're] going to be very emotional."
Penny Dreadful fans, what are your thoughts on the series finale, and do you think the show could have continued on through Season 4, even without Vanessa? Comment and let us know. Also, check out the video below to hear more from Logan, Eva Green, and Josh Hartnett about the show's series finale.
[Photo via Showtime]