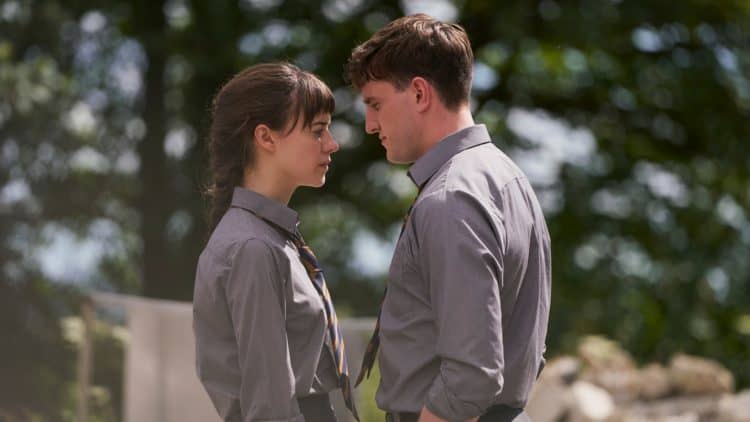 A few months ago, Paul Mescal was a name that most people had never heard. That all changed when he was cast in the new Hulu series, Normal People. Now, he's officially on the brink of stardom. Paul plays the lead male character, Connell, and he's already got the blogs buzzing. Initially, his good looks were the focus of many conversations, but don't be fooled, Paul can really act. Now that the show has finally debuted, he has shown that he's just as talented as he is handsome. Keep reading for 10 things you didn't know about Paul Mescal.
1. Normal People Is His First TV Role
Although Paul has quite a bit of acting experience under his belt, his role as Connell is his first time working on TV. Although he is very excited about the opportunity, he admits that it was a little weird to see himself on TV at first.
2. Connell Taught Him About Privilege
Every good role is like a two way street for an actor. In exchange to getting to learn all about a new character, they also get to learn more about themselves. For Paul, playing Connell taught him some very interesting lessons. He says, "I think I've got a good understanding about the power that I have as a young, white man in this world where it's a very privileged position. And it's not something that I take lightly. If that makes sense. It would be naive to say that's not a power that is handed [to] you in a society that not everybody is afforded. But that doesn't mean that there are not struggles to be had."
3. He Got A Late Start In Acting
Unlike lots of other actors, Paul isn't someone who always planned on being an actor. Although he's loved to act since he was a kid, acting wasn't something he considered a career path until he was a little older. Instead, he envisioned himself having a career in law.
4. He Was An Athlete
Paul grew up playing Gaelic football and continued to do so throughout his teenage years. Gaelic football is similar to rugby. Paul played all throughout his first two years of college, but decided to stop after he broke his jaw and realized continuing the sport could potentially hurt his acting career.
5. He Loves The Show True Detective
Just because Paul Mescal now has his own show to start in doesn't mean that he can't enjoy other people's work, too. He's a big fan of the first season of the HBO True Detective and has watched it more than once. In fact, watching shows he enjoys can often serve as inspiration for his own work. He told GQ, "I'm obsessed with that kind of … I call it filmmaking, because it's great actors stepping up to the plate, matching the writing. And the whole aesthetic of the show. When you see that kind of symbiosis happening on your screen, it's the most satisfying and exhilarating and also terrifying because that's the level that you want to constantly be out or want to be engaged with and that can sometimes be scary."
6. He's Using His Quarantine Time To Read
There's lots of debates about how people should use their new found free time. While some people argue that this is the perfect time to be extra productive, others say people should take some extra time to relax and focus on self care. Paul is doing something in the middle. He has been using this time to read and is currently reading Just Kids by Patti Smith.
7. He Likes To Run
As a former athlete, it's no surprise that Paul still has a big interest in staying active and fit. One of the things he really likes to do is go running. He says that going for runs, especially with everything that's going on in the world right now, is a great way to help him maintain a routine.
8. He Watched His Sex Scenes With His Family
If you've ever set through a movie or TV sex scene with your parents, you can prolly agree that it was a little uncomfortable. But can you imagine how much more awkward it would have been if you were actually in the sex scene? You probably odon't even want to think about it. That scenario became a reality for Paul Mescal when he sat down to watch Normal People with his family. Although the whole situation sounds bizarre, Paul said his parents played it cool.
9. He Got Stage Fright In High School
When Paul was 15, he he got the lead role in his school's production of Phantom of the Opera. He was so nervous about performing in front of large crowd that he got stage fright during rehearsal. Paul said he was so terrified that he couldn't een more.
10. He Was Nervous To Meet Sally Rooney
The show Normal People is based on a book of the same name by Sally Rooney. When Paul met Rooney, he admits that he was very nervous. However, he said he felt instant relief when Rooney told him that he looks exactly how she imagined Connell.
Tell us what's wrong with this post? How could we improve it? :)
Let us improve this post!