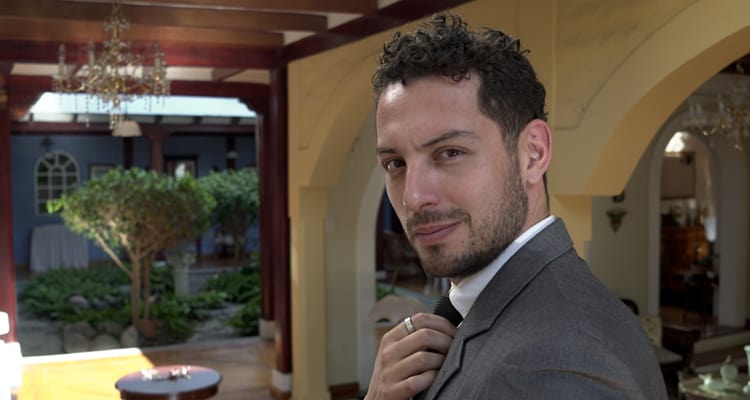 Paul Guerra is a charismatic Ecuadorean born actor and television host. He has an up and coming career spanning the last seven years, which includes work as a TV Host for Univision as on-air talent for shows like Despierta America and A Primera Hora, among others. Paul has worked with Comedy Central (for the comedy show on Enchufe.tv), Telemundo (Milagros de Navidad alongside ex-Miss Universe Alicia Machado, and El Señor de Los Cielos with star Jesus Moré), PBS, and more. He gained national acclaim in his country for TV shows like Combate, Prende la Tele, and El Club de la Mañana. He has a YouTube show podcast named CineDharma, where he speaks about film, acting, personal development, and trying to make it in Hollywood including, conversations with fellow guest actors. Paul currently resides in Los Angeles, California.
Below you can read about and learn ten interesting facts about Paul, including the challenges he faces.
1. He was born with a vision defect
Paul lived a couple of years of his early life in Medellin, Colombia, that was until his mom was told by a doctor that Paul was born with a vision defect and was blind from one eye. They moved back to Ecuador to look for a second medic's opinion and start treating his eye. Paul grew up wearing an eye patch on his "good eye" (the right eye) to force the left one to see. Wearing thick eyeglasses caused Paul to be called names and be mocked and bullied by other children at school.
2. He was "The Hulk"
Paul had a blast at the 2018 Film Independent Spirit Awards as The Hulk. Andy Samberg made a skit about the superhero genre taking over Hollywood, thus threatening the spirit of independent cinema and some of its iconic actors who might "sell" to the machine. That day, with a hilarious "choreography" that included dance moves from The Breakfast Club, Paul Guerra performed in front of some of Hollywood's biggest stars from that year like Frances McDormand, Timothée Chalamet, Greta Gerwig and Ethan Hawke, who fought Paul's Hulk intention to bring him to the dark side. Here is a video of that moment.
3. He moved to the U.S. to pursue acting
Paul moved to the United States in 2015 to pursue an acting career. Stella Adler Academy of Acting & Theatre Los Angeles offered him a full Scholarship to study its two-year full-time Conservatory program.
4. He was the first Ghostbusters franchise Latino actor
Paul Guerra became the first Latino actor to be involved in the Ghostbusters franchise. He was the hero on their Ghostbusters World campaign next to internet celebrity Greg Miller.
5. He battled health issues
From the years 2010-2013, Paul was facing health issues at obesity level 1. He weighed 230 pounds at the time, and it took him one year to finally drop more than 50 pounds to live a healthier life.
6. He played music
Paul has a deep love for music. He started studying guitar when he was twelve years old at the local Conservatory in his hometown. Paul's passion grew with time. He started playing music with friends at friends' birthdays and parties until eventually he also started doing it at local bars.
7. He survived a car accident
Paul survived an intense car accident on Halloween night in the year 2012, just a few months before graduating as an attorney. That moment changed Paul's life forever. He realized he needed to give a shot at his true passion and purpose, which is the arts, acting, and telling stories. After graduating from college, Paul immediately started going to auditions back in Ecuador and started working on national TV.
8. He studied Law
In the year 2007, Paul studied Law in his country. Ecuador has a different legal system; its curriculum takes six years of study. In 2011, Paul immersed himself into Human Rights and International Humanitarian Law, to the point that he was part of his university legal team that represented Ecuador in Washington DC for the inter-American Moot Court Competition. The competition was held at American University, Washington College of Law. This is where he eventually studied a few classes that also were part of his Law degree.
9. He does theater performances
Paul's acting roots come from the theater. He was cast as Proteus, the protagonist in Shakespeare's The Two Gentleman of Verona. The play was directed in Los Angeles by Bruce Katzman in late 2016.
10. He sold everything to pursue his dream
In order for Paul to make a move to the United States, he had to get a bank loan (which he's still paying on). Next, he sold everything of value that he had, including; guitars, amplifiers, guitar pedals, clothes, and even film memorabilia he collected at home.
Paul Guerra is on Instagram, Twitter, and Facebook with username @paulgrra
Photographer credit: Sebastian Luna