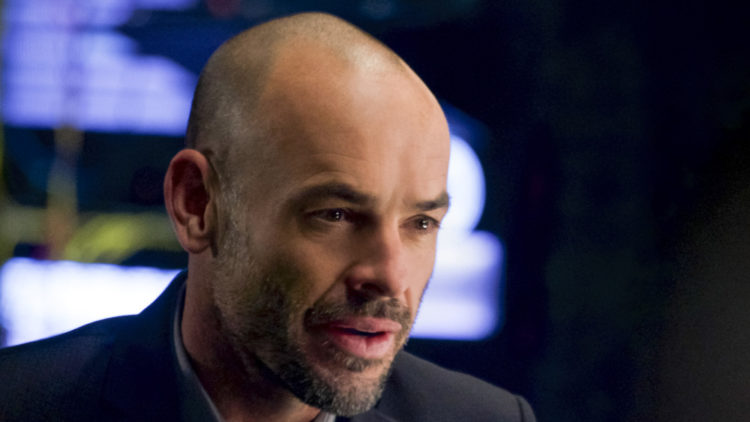 Since making his name in the 2001 hit, Lagaan, Paul Blackthorne has become one of TV's most bankable stars. After enjoying huge success in the likes of ER, the Dresden Files, Lipstick Jungle and Arrow, he's been wowing his fans yet again in 2019 with his performance as Detective Tom Hackett in the (now sadly canceled) NBC hit, The inBetween. To learn more about the talented actor, keep reading.
1. He spent 6 months learning Hindi
After picking up a few minor film roles on film, Blackthorne landed his breakthrough role as the sadistic Captain John Russel in Aamir Khan's 2001 epic sports film, Lagaan. Blackthorne spent 3 months learning Hindi for the role, an experience he recalled to Hindustan Times in 2017. "I spent three months learning Hindi. I had a VERY patient, brilliant teacher!" he explained. "The night before shooting the scenes, I would sit with Aamir and Ashutosh and go over the Hindi scenes – they helped me to polish it up… The first Hindi scene I shot was in front of about 100 villagers – after the first take, they all cheered, and this imbued me with some confidence!"
2. He made his directorial debut in 2013
After spending several years building up a reputation for his work in front of the camera, Blackthorne decided to test the waters behind the camera in 2013. His directorial debut was This American Journey, a documentary that followed Blackthorne and Australian photographer Mister Basqua as their traveled across America, interviewing the nation's countrymen and women about how they felt about the state of their nation and what they hoped for from its future.
3. He's an accomplished photographer
Outside of his TV and film work, Blackthorne is an accomplished photographer and has displayed his work in several exhibits. In 2009, he displayed a selection of photographs chronicling his travels through India, entitled Delhi To Manhattan, at Tibet House US in New York City from April to June. All proceeds from the exhibit were used to benefit the Tibetan children of the city of Dharamsala. In 2001, he also made a special exhibit of his work in London to assist the victims of an earthquake that devastated the same area in India that Lagaan was shot.
4. His Net Worth
At 50 years old, Blackthorne has over 20 years of acting credits to his name- something that's no doubt helped along the enormous wealth he's currently sat on. According to Celebrity Net Worth, the actor is now worth a hefty $3 million.
5. His first TV appearance was on Jonathan Creek
In 1999, Blackthorne made his first-ever appearance on TV on the mystery drama, Jonathan Creek. Although the role was a fleeting one, it opened up the door to numerous other TV projects, including Holby City (2001), Presidio Med (2002-03), 24 (2004), The Dresden Files (2007), Lipstick Jungle (2008-09), The River (2012), Arrow (2012-19), The Flash (2015-17), Legends of Tomorrow (2016), and The InBetween (2019).
6. He found the scripts to The Arrow ridiculous
Blackthorne has admitted he occasionally found the scripts he was sent for the Arrow ridiculous — although as he went more into them, he would come to realize what the scriptwriters were trying to create. "Reading these scripts is always hilarious because the first time you read them, it's ridiculous," he told Collider. "It's always mind-boggling, what they come up with next and the ways in which they develop the stories. As soon as you think it's built as much as it's ever going to build, you sit there and realize, "Oh, my gosh, they're building it more and more and more".
7. He's the mastermind behind the hat
Thought the jazzy hat Blackthorne wore on The InBetween was decided on by the wardrobe mistress? Then think again. According to an interview the actor gave to Collider, it was actually all his own doing. "When you're dealing with an English guy, who's living in Seattle, I started feeling the character out in my mind, and I felt an English sartorial sense that was combined with the darker tones of Seattle, and I suddenly felt this hat thing happening in my mind," he explained. "We're in Seattle in the rain, and I just started seeing an overcoat and the rain dripping off the hat. It had that certain noir-ish kind of feel. I didn't want to contrive that, in any way, but it just felt like he was the kind of guy that wears a hat. Also, the guy has a shaved head, so it keeps you warm when you're outside. It's good to be wearing a hat, when you've shaved off the hair on your head. And then, I put that particular hat on, and I was like, "That's it. Let's run with this one." The producers felt great about it. The costume department on the show is absolutely fantastic and never failed to blow my mind with all of the beautiful combinations that they came up with, with the waistcoats and the hats, and all that good stuff. He's a nicely dressed character."
8. He's played the same character three times
Some actors never like to repeat themselves. Blackthorne is clearly no such creature. As IMDB notes, the actor has now played the same character (Quentin Lance) over three different series: Arrow (2012), The Flash (2014) and DC's Legends of Tomorrow (2016).
9. His native accent comes as a surprise to many
Those who are used to hearing the fluent American twang Blackthorne has used in the vast majority of his film and TV roles may be slightly taken aback to hear that the actor hails from another part of the world entirely. The actor was born in Shropshire, England, and spent the majority of his childhood traveling around Military bases in England and Germany with his father's work.
10. He got his start in commercials
Like many actors, Blackthorne didn't make it to leading man roles overnight. Before making it big with his breakout movie Lagaan, Blackthorne worked mainly in commercials, with the Grim Reaper commercial for Virgin Atlantic being the one that most of us will remember him for.