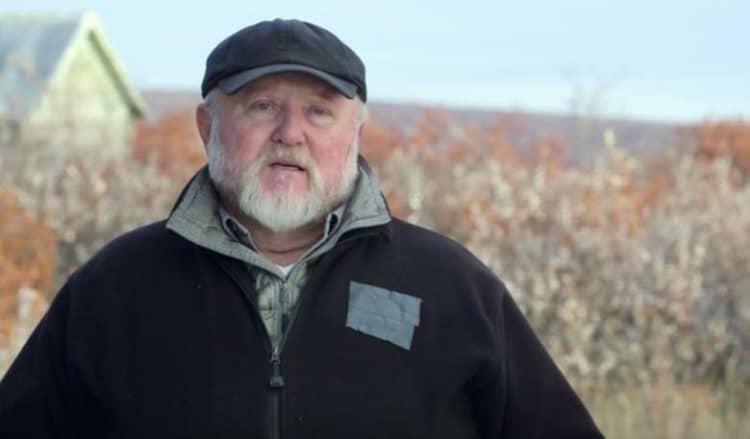 Vernon Adkison is best known for his appearances on "Bering Sea Gold." He's a reluctant reality television personality who has gained a great deal of attention recently because of rumors circulating about his death. One of the most frequently asked questions is whether he passed away or is still alive. Will the upcoming season of the Discovery Channel's "Bering Sea Gold solve the mystery and answer these questions once and for all? There is so much mystery surrounding this cast member. We've been searching for answers and learned some very interesting facts about him. Here are 10 things you didn't know about Vernon Adkison.
1. Discovery confirmed his return for the upcoming season
The Discovery Channel has announced that Vernon Adkison is going to make his return to the series "Bering Sea Gold" which will air shortly. Fans of the old-timer will get to see him doing what he does best once again. Adkison had made significant contributions to the show a few seasons back, but he left the show for a period of time, to pursue other options.
2. He left the show in 2016
Vernon Adkison went on hiatus from "Bering Sea Gold" in 2016. He wasn't seen on the camera again until the September 11th release of the current season. Fans wondered what happened to him and why he left. Inside sources shared that Vernon was off on his own mining for gold, but he was just doing it off-camera.
3. Vernon didn't like recording failures
One of the reasons why Vernon Adkison didn't come back to the set of "Bering Sea Gold" was because he was not fond of being on television. When he experienced a failure, it was captured and preserved forever by the camera. This is understandable and it makes sense as a possible explanation of what happened to Adkison during his hiatus.
4. There is still an ongoing debate about whether he's dead or alive
Even though fans are seeing Adkison back on the series, it really doesn't confirm whether he's still alive or not. The episodes that we're all enjoying now were shot late last year and earlier in 2019. Some fans choose to take this as evidence that he's alive and well while others are not so sure. Although a concentrated search has not turned up an obituary, there is still some doubt about his well-being.
5. He hasn't always been a miner
Adkison has spent a lot of years operating his dredges adn mining for gold, but he hasn't always been a gold miner. Prior to his current career, he was a Merchant Marine. It was after this career that he decided to become a commercial ship pilot. He got a taste of gold mining and has made a significant investment in his business, but it hasn't brought him a lot of success on a financial level.
6. His daughter was arrested
Vern Adkinson's daughter Yvonne became a member of his crew during the fourth season of the show. She was 22 years old at the time that she was arrested for substance abuse in 2014. When the case finally went to trial, Yvonne, Adkins' youngest daughter was sentenced to two years in prison. Since she had already served a year of the time, she was only sent to prison for one year. Some fans speculated that Yvonne's legal problems were part of the reason why Adkison took a leave from the show. The family had a lot to deal with during that period of time.
7. He made a June 24th post on Facebook
Vernon Adkison has been active on Facebook. He made a post that gave everyone a heads up on his return to "Bering Sea Gold" this fall. For those who are still wondering about his fate, this seems like yet one more strong indication that he is alive and well. There are still some who are skeptical of this, but it's like any other good rumor… it continues to be perpetuated until solid evidence dispels all possibilities of its truth.
8. Vern duked it out with Meisterheim
A real-life brawl broke out when "Bering Sea Gold" hosted a reunion show. We've discovered that while some fans of the show believed this to be a staged event, it was not. Vern Adkison and Scott Meisterheim began with a verbal disagreement that quickly escalated into blows being thrown. It was a real fight that resulted in the need to call in the police. In the end, nobody was charged and neither of the men was seriously injured. Each ended up with a few cuts and bruises from the event.
9. You can find some great photos on his Facebook page
While searching for any new information about Vernon or news about him, we looked through his Facebook page. We discovered that he has a lot of photographs uploaded to his page in the photos section. Fans who want to see some of his personal pictures can browse through the site. This gives you an idea of what he does when he's not out mining for gold.
10. He's one of the most popular characters on "Bering Sea Gold" for 2019
Although everyone has their favorite cast member on "Bering Sea Gold," Vernon Adkison certainly has been the focus of attention lately. There are still those who are not certain if he's really still alive, although we see him out mining for gold aboard his vessel. He's not one for calling attention to himself, so we seriously doubt that this was an elaborate hoax on his part. If Vern is still with us, and we hope that he is, the rumors were likely the work of someone with a very big imagination. It certainly does sound like a conspiracy theory in the making, because it would be one of the biggest cover-ups in the history of the show. Let's hope that the Discovery Channel addresses the rumors with some solid proof about Vern soon.