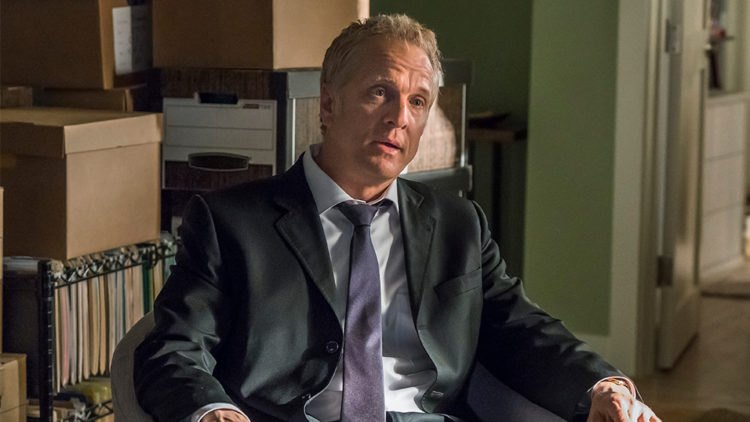 One of the best spinoffs to come out of television programming was Better Call Saul, which was birthed from the award-winning series Breaking Bad. The spin-off focuses on the beginnings of attorney Jimmy McGill before he became Saul Goodman on Breaking Bad. The talented cast of the show will have you glued to the screen, and one actor who brings his best is Patrick Fabian. He takes on a leading role as Howard Hamlin, the main antagonist to Jimmy McGill. Aside from his role on Better Call Saul, he has several projects to his name that gives him an impressive acting portfolio. Other than being an actor, if you have no idea of who Patrick Fabian is then you are in the right place, as we present ten things you probably did not know about him.
1. Early Life
Patrick is a native Pennsylvanian, having been born in Pittsburgh and spending his early life in New Cumberland in Pennsylvania. He was born on the 7th of December 1964, which makes him 55 years old. Not much info is available about his family, though according to his Wikipedia page, we get the idea that his dad worked for the Pennsylvania student loan program.
2. Education
For his education, Patrick attended Cedar Cliff High School in Camp Hill, Cumberland County in his native state of Pennsylvania. Upon completion of his high school studies, he proceeded to Penn State University to pursue his undergraduate education where he graduated with a bachelor's degree in fine arts – performance. The then ventured west to California State University for his postgraduate studies. The immense studying he got in performing arts added a boost to his acting career thus cementing his path to being a standard figure in the entertainment scene.
3. Career Beginnings
Patrick Fabian made his acting debut in television. This was in 1992 where he made an appearance on an episode of Bodies of Evidence. The feature would make room for him to feature in several episodes of many shows such as Silk Stalkings, Murder She Wrote and Melrose Place among many more. His acting prowess in television paved the way for him to venture into the competitive film sector in 1998. He played the character of the Riverdancer on the Jim Abrahams directed Jane Austen's Mafia. At the moment he has a solid name in the entertainment scene with an over 20 years long career.
4. The King Of Guest-Starring?
Guest-starring is where a popular actor appears on a show where they have no definite role. According to IMDB, Patrick has had guest-starring roles on many popular television shows. Some of the shows he has appearances include Friends, NCIS, CSI Miami, Criminal Minds and many more. The high number of guest roles make him a person of interest when the question of who is the king in such roles comes up. Being part of many such projects give him an edge when it comes to the adaptability factor as he can take up comedic and also drama roles.
5. His Theatre Work
The actor has also taken part in theatre work, and this works for him as it makes him an all-rounded performer. He has featured prominently in the New York scene in projects such as The Food Chain, Six Degrees of Separation, and Humpty Dumpty. In the Los Angeles scene, he took part in Dinner with Friends, Diva and also was in two seasons of Los Angeles' Shakespeare's Festival.
6. His Relationships
There is no much information on the past relationships of this actor. However, at the moment he is married to Mandy Steckelberg, who is a comedian and writer. The couple has two daughters, Abbey Ray Fabian and Delilah Grace Fabian. He loves his family, though he rarely lets them out to the public eye. It is probably a move to maintain his privacy, which is essential more so if you are in the entertainment industry.
7. Social Media Presence
Patrick has a substantial presence on social media and is present on popular platforms such as Twitter and Instagram. On Twitter, he has 1333 followers at the moment, and he regularly tweets. On Instagram, which seems to be his favorite, he has over 43,000 followers and presently, he has over 1800 posts. He posts photos of the different places he visits, his dogs, his family and also his associates. Social media is a great tool for entertainers as it gives them a hub to interact with their fans and also get an idea of what is trending.
8. His Hobbies
When he is not in front of the cameras, Patrick loves spending time with his family, travelling and exploring new places. On his social media posts, you can see he has a lot of photos on the beachfront, and he likely loves such relaxing environments. He also enjoys hiking and a tin of water sports such as swimming and surfing. He is a dog-lover, and he keeps two fuzzy friends as evident on his Instagram posts.
9. His Net Worth
According to Celebs Trending Now, the 54-year-old has an impressive net worth of $67 million. The asset base comes mainly from his work in the entertainments sector. He also works events, where he charges a minimum of $75000-$150000 for US dates according to Celebrity Talent International.
10. Screen Actors Guild Membership
The actor is a member of the Screen Actors Guild, and he received his membership card during a Showcase of the Shakespeare Festival in Los Angeles. He served on the local board of directors of the entity in Los Angeles.
Conclusion
Patrick Fabian is a name that should come up in your mind when looking at actors with plenty of guest appearances. He has had a sturdy career running for over two decades, and he features prominently in both television and film. Above are ten things about him; you probably did not know and gives you a hint of who he is away from the cameras. Catch him on Better Call Saul as he plays the main antagonists to Jimmy McGill.
Tell us what's wrong with this post? How could we improve it? :)
Let us improve this post!