"Calzones are like pizzas but they're harder to eat."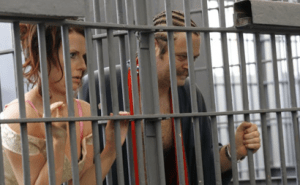 "Ron and Tammy" is one of my favorite episodes of the series, so as soon as I heard that Tammy (Megan Mullally, real-life wife of Nick Offerman) was coming back to the show, I knew it would be another great episode. I wasn't the least bit surprised to see that it was the best episode of the young season.
Ron and Tammy getting together is, to borrow a line from Saves The Day, like when fire and the ocean floor collide. It's always chaotic, it's always highly entertaining. Mad that Ron began dating his ex, Wendy, Tom decides to date Tammy. Tammy, mad that Ron is dating someone else, takes a library book out on his behalf, forcing a collection agent to pay Ron a visit at work. Ron and Leslie pay a visit to Tammy, and Ron tells her to "clear the late charges and cut the crap." War is a-brewin'…
They have another encounter later that day at an event for the Pawnee police, in which Ben and Leslie plan to ask the officers to volunteer to work the Harvest Festival. "I'm sorry, is seeing your ex-wife on my arm making you uncomfortable?" asks Tom, as he walks in with Tammy. Ron was down after Wendy told him she was moving back to Canada, and he warns Tom that he doesn't know what he's getting into. Soon after that, Tammy slaps Ron, and then each officer there describes the scene ("real piece of work," they all say) in what turns out to be a simple yet hilarious bit. Ron and Tammy then decide to get coffee and talk it out once and for all. They do many things that night, but coffee doesn't appear to be one of them. They get into a screaming match outside the restaurant, make out on a cop car, goof around with a cart in a store, get married and get thrown in jail. Somewhere in there, Ron even got cornrows and a kimono. Quite a night. It was hard to take notes during the episode, because everything was just so well done and funny that I couldn't keep up. The episode was consistently right on and really never let up.
April begins working for Chris, who really enjoys her working under him and even says that he'd like her to go back to Indianapolis with him when he returns. Ann, who had a nice date with Chris earlier, is shocked by this. April agrees, though I have a feeling she won't be going anywhere. Andy, missing April, writes a fake letter to Chris, who brings back his FBI name (Bert Macklin) to do so. Chris sees right through it, however.
The gang has an intervention for Ron, and everything everyone said was perfect, from Andy's confusion to Jerry bearing gifts. Especially funny was Ron's video to himself, where he warns himself "she's a monstrous parasite who entered through your privates and launched herself in your brain" and says that he needs to choose between getting rid of her and lobotomy and castration. He leaves with Tammy anyway. Later, Leslie tells Tom that he is responsible for whatever happens to Ron with this situation. This was a nice human moment, reminding him and us that although it's funny, someone needs to do something to stop Ron.
Speaking of nice moments, there was one here for Ben as well, as he goes to the police chief to ask for the favor they need. Upon learning that Leslie dated a former officer, he is taken aback and begins to pry for information before the chief asks him if he's a pervert. I think this is our biggest hint that Ben and Leslie just might happen. We'll see.
Tom goes to talk sense into Ron, who is opening gifts in the library (which he hates!) with Tammy, and Tom ends up bruised when she throws him through a bookcase. This startles Ron and wakes him up from the Tammy coma. "You almost had me again," he tells her.
"Ron and Tammy" episodes are now two for two. Here's hoping we get a third installment next year. Grade: A+
More funny moments:
"Whale tale. Abort!"
"I don't want him within 500 feet of the library." … "That's good advice for all of us."
"It rubbed off…from friction."
"Sippin' on joy juice and trippin' on Tammy."
"You used to be a man!"
10 cases of Gatorade and a 40-pound bag of peanuts.
"Tammy Swanson Swanson."