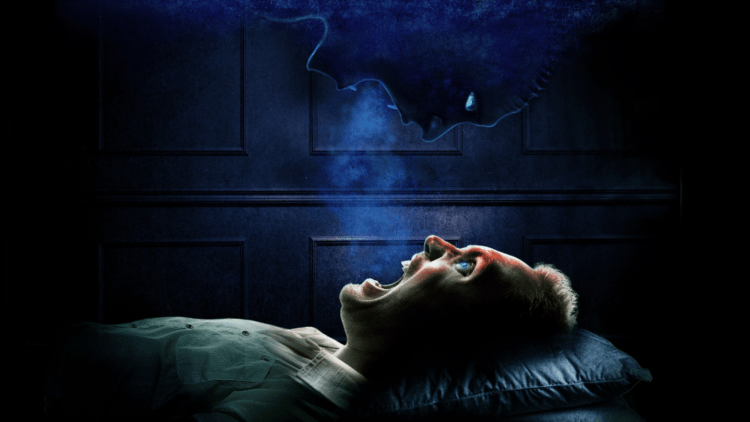 "Paranomral Survivor" is a Canadian produced paranormal docuseries that airs on The Travel Channel and Netflix. The show premiered in 2015 and just wrapped its sixth season. One of many paranormal realty shows, "Paranormal Survivor" doesn't rely too much on gimmicks with teams and equipment investigating haunted locations. Instead, "Paranormal Survivor" shows real people describing past experiences with the paranormal. Actors partake in re-enactments and while there are some spooky gimmicks for affect, the stories can be interesting to hear. Here are 10 things you didn't know about Travel Channel's "Paranormal Survivor:"
1. It's one of many popular paranormal programs
Paranormal docuseries and "ghost hunter" shows have been popular throughout the past two decades. Series like "Ghost Hunters" and "Paranormal State" and "Ghost Adventures" are just some of the first to air that show teams of ghost hunters going into haunted sites, interviewing witnesses and gathering evidence of the paranormal. Other popular shows like "A Haunting" and "Paranormal Witness" focus more on telling the stories of paranormal phenomena people have experienced and re-enacting events from the past. "Paranormal Survivor" falls into to the last category.
2. It's similar to "Paranormal Witness"
"Paranormal Survivor" is basically the Canadian version of the popular "Paranormal Witness". "Paranormal Witness" is an American production that has aired on the SyFy channel since 2011. The show has a spinoff series "Paranormal Witness: True Terror". Both shows focus on witnesses talking about their past paranormal encounters. Both feature narration, actors re-enacting events" and paranormal experts' opinions.
3. It's a Canadian production
"Paranormal Survivor" is a Canadian production and airs on the Travel Channel and Netflix. The series premiered in 2015 and is currently in its sixth season. Although the show took a while to improve its production, by the second season, it gained many followers, and now that it's on Netflix, more people are watching. Most of the early episodes looked at events that took place in Canada, but the show has expanded to include paranormal events across North America.
4. Samantha De France
Samantha De France has been the supervising producer of "Paranormal Survivor" since the show premiered. She's worked on several television documentary shows, most of them paranormal in nature. This year, Samantha De France is also producing "Murder in Amish Country". Other paranormal documentaries she's worked on include "Welcome to Waverly (the famous haunted Louisville, Kentucky abandoned Sanatorium), "Scariest Night of My Life" and "Haunted Case Files". Other documentaries De France has worked on include "Broke and Famous" and "US Weekly's Famous Feuds".
5. It didn't start off well
It's clear that in the beginning, "Paranormal Survivor" did not have a large budget. It was basically just people who survived paranormal phenomena telling their stories in front of a camera. It included low budget re-enactments and a lot of eerie music and sounds. Many early viewers noted that often the locations were re-used in the series, adding to the suspicion that the show is completely faked. Eventually a narrator and actors were added to the show's production.
6. Why it improved
As the series progressed into its second and third seasons, it notably improved. The production value seemed to get better. Despite the honesty of the guests simply re-telling the paranormal events that they experienced in the past, it helped to include professional actors in the re-enactments and to bring in paranormal experts for their take on what happened when the paranormal events took place.
7. Is it fake?
Many paranormal documentaries are criticized for being fake. This is particularly true with ghost hunting shows like "Paranormal State" and "Ghost Adventures". In order to attract viewers and increase ratings, some drama obviously needs to be added to shows like this. However, in some cases, people have claimed that much of the filmed footage and gathering of evidence was completely faked. At least a show like "Paranormal Survivor" has a sense of honesty about it. It's mostly just people telling a story of something paranormal that happened in their life. They don't seem to have wished to experience it and are clearly upset by it.
8. Meet some of the actors
Several actors have appeared on "Paranormal Survivor" to re-enact the paranormal events that the "Survivors" are telling". To some viewers, this makes the series seem fake, but it also intensifies the drama. One recurring actress is Morgan O'Dwyer. She's also appeared in 2011's "Kill" and this year's "Camp Vamp" and "Taco Dick!" Hannah Kelderman is a young actress who has portrayed children in "Paranormal Survivor". Mark Brambacher has appeared in several episodes of "Paranormal Survivor". This year he also appears in "Guru", "The Kingdom of Var" and "Paperboy".
9. Notable episodes
Throughout its six seasons, "Paranormal Survivor" has featured many interesting and scary stories. Each 1 hour episode feature 3 survivor stories. These include ghost experiences, haunted objects, poltergeists and demons. Throughout the seasons we've heard stories about ghosts attaching themselves to people, places and objects. There have been haunted pictures, haunted cars and haunted houses. Some of the more frightening episodes have featured stories about experiences where children have been hurt and demons are encountered.
10. Will it be back?
"Paranormal Survivor" has wrapped taping season 6. Will the show return in 2020 for its seventh season? It does remain popular and its availability on Netflix has helped increase the show's popularity. The producers of "Paranormal Survivor" have been reaching out for more stories in Canada and the United States, so its likely the paranormal docuseries will return. The show does seem to relate paranormal experiences without too much hype which makes it appear more real than other paranormal shows. The stories are interesting, and although sometimes a little far fetched, they mostly seem to recount actual experiences whether real or imagined. Fans of the show will be happy to see "Paranormal Survivor" return.