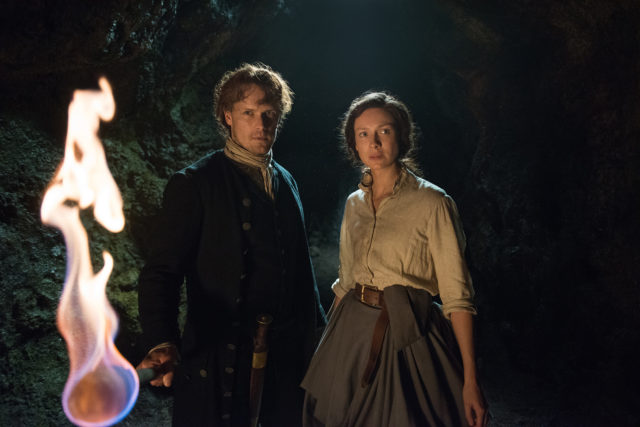 Outlander is the kind of show that has significance in everything it does. Every piece of dialogue and every way a scene is shot, has meaning. It could take immediate effect, or it could take a whole season to make sense of one scene that seemed small at the time. Outlander's third season finale delivered on both accounts. It may seem small to focus on such things considering the massive scale of what season three accomplished. This is the same show that successfully covered not two, but four different decades across two different centuries, and traveled two different continents! I cannot oversell the enormity of what this series has accomplished this year. You almost have to laugh when you realize that the beautiful, epic parting shot of "Eye of the Storm" is far from the end of the story. It's the shock of realizing that after such a sweeping, monumental season, the story isn't even halfway done! The end of this season, based on Diana Gabaldon's third book in the Outlander series, Voyager, looks ahead to the future. In closing several chapters of the Fraser's past, we look ahead to the Drums of Autumn.
From the first shot of the season finale, you knew two things. The first was that Claire does not have good luck on ships. The second was that she was separated from Jamie-again. Not to worry, it didn't last more than a few minutes, but we'll get to that. The final hour of season 3 found Claire and Jamie trying to get back to each other after Jamie's arrest, so that they could rescue Young Ian from Geillis's clutches. Thankfully, John Grey stepped in one more time to save Jamie, so that's one problem down. We've met a lot of new characters this season, but John Grey may well be my favorite of them. Though many of his actions are fueled by his unrequited love for Jamie, his commitment to his station and his family comes from a place of honor. That is something he grew up with, that is something that has remained constant from his first meeting with Claire and Jamie. He's proven to be the type of man that would sooner die than break his promises, and he does the very best for who he is, never claiming to be perfect. Someone like that doesn't just command respect, he's earned it.
Geillis on the other hand, is the living, breathing nightmare who, despite having lived across two centuries, just won't end. Her hysteria and obsession over putting a Scottish king back on the throne only grew with time, so much so that she thought Claire had followed her to try to stop her quest. Yes, because Claire is just that obsessed with Geillis. Talk about blind obsession. We already knew that Geillis was bloodthirsty, willing to sacrifice anyone, including Young Ian, for her precious cause. That was motivation enough for Claire and Jamie to go after Geillis full-force, helped along at the urging of Margaret Campbell and her prophecies. (By the way, kudos to her and Yi Tien Cho on their new start together). The absolute last straw was Geillis threatening to go back in time and kill Brianna. Don't ever threaten a mother's child and call it a sacrifice for the greater good. Yes, Claire was definitely shaken upon realizing that the bones she would see in 1968 were Geillis's. That is very jarring, and definitely goes to Geillis's theory that the two of them were fated to be around each other. However, Claire is completely justified in killing Geillis. Like Jamie said, they already lost one child. They were not going to lose another.
Now back to that scene in the water. First of all, I give full praise to Caitriona Balfe and Sam Heughan for showing so much emotionality amid those grueling underwater scenes. It explains a lot about why they were promptly put into jacuzzi's in the final days of shooting. Their bodies have been put through a lot, and the over cooling of their body temperatures definitely qualifies in the top ten list. After being knocked around on that ship, Claire and Jamie land much farther away from home than they ever intended to go: America, more specifically, Georgia. And in the same way that we pulled away from Scotland, we push into what will become the United States. It's a whole new start for Claire and Jamie, and they have no idea of the special visitor who will be joining them on this adventure.
Also, the utmost congratulations to Caitriona Balfe for her well-deserved Golden Globe and Critic's Choice nominations! Outlander fans across the globe are rooting for you.
After such an epic season, we must suffer through yet another Droughtlander. Click below to view a tease of what to expect next season with Drums of Autumn. Hit the comments to sound off on your favorite moments from Season 3. Outlander returns in 2018.
Outlander Season 3 Episode 13 Review: "Eye of the Storm"
Summary
Outlander closes the epic tales of its astounding third season, and looks ahead to the future the Frasers will have by the "Drums of Autumn".