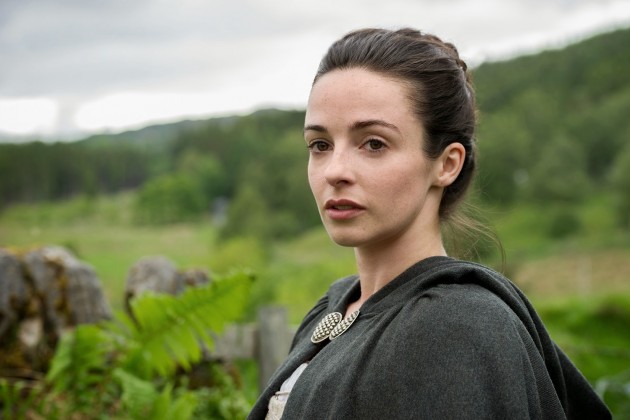 One of my main complaints about this half season of Outlander is what kind of character Jamie Fraser is. He's veered more than a little wildly between sainthood and the seventh circle, and it's frankly dimmed some of my enjoyment of the show. They couldn't seem to find the right balance; was he Good!Jamie, the one who lives and breathes progressive, feminist ideas? Or is he Bad!Jamie, the man who blames Claire for her near-rape, and his sister for hers as well?
I've always been on the side of making him a Superman-like figure; have him be the beacon of light in a time of true dark and be done with it. But this episode, after a bit of a slow start in that department, really did good work finding the right light-dark balance. They did so by comparing him to Jack Randall, whose depth as a character was expanded tenfold.
What changed my mind about Jamie is that he's truly stuck between two worlds; he's still young enough to be influenced (especially by a woman he loves) but imbued with the idea of honor that his father instilled in him. His anger and discriminatory practices are less indicators of a darkness and more a sign of social conditioning; he may say something horrible and cruel, but he immediately understands that it's horrible and cruel. Jamie, who I believe is just 21, is still learning. His cruelty is one of a child, not of an adult.
That kind of cruelty is reserved for men like Randall.
I've been growing tired of the Randall character. His villainy felt two-dimensional, and that he served almost as boogey-man or Jason-like figure; he existed as a shadow and a jump scare, and less as a fully functional and independent character. But he's much more, and much sadder, than that. I had previously assumed that Randall hated women, and used sexual abuse to punish them for whatever misdeed he believes they committed. But it's more than that. It's so much more than that.
He rapes because he feels powerless; he rapes because he believes he can reclaim that power by asserting his dominance. But at the moment in which the deed comes, he can't get it up. Randall loves violence. He needs his victim to thrash and attack and scream for mercy, or else there's nothing there for him. He baits his victims, trying to make them angry so they fight; if they comply, he has no interest. He wanted Jamie to offer up his body to him as a way of gaining his freedom, which seems to go against this theory, but I think that Randall would've raped Jamie and then humiliated him in front of his family even if he decided to actually let him go. Randall needs that violence to get going; otherwise, the world has nothing for him.
That's why Randall is so dangerous. There is no rhyme or reason to his actions. Just animalistic pleasure that he seeks in every town and port he passes through. He can't be reasoned with, or bought, or stopped even by a pardon. He wants to hurt people. He wants the blood. That's the only thing that makes him feel alive. His biggest humiliations were by people who rejected him. Jenny laughed in his face, and was beaten for it, but not raped. Jamie refused his offer, preferring to be lashed and possibly killed over letting Randall touch him. Randall, even as he beat Jamie and found clarity, only found it for a moment.
The Randall character is much more interesting now.
Stray Thoughts
– Shorter review tonight. Sorry, friends.
– Tobias Menzes is an incredible actor.
– The Jenny character is really awesome, though I took a minute to warm up to her.
– I am glad to be away from Colum and Dougal and the rest, even if it's just for a little while.
[Photo via Starz]