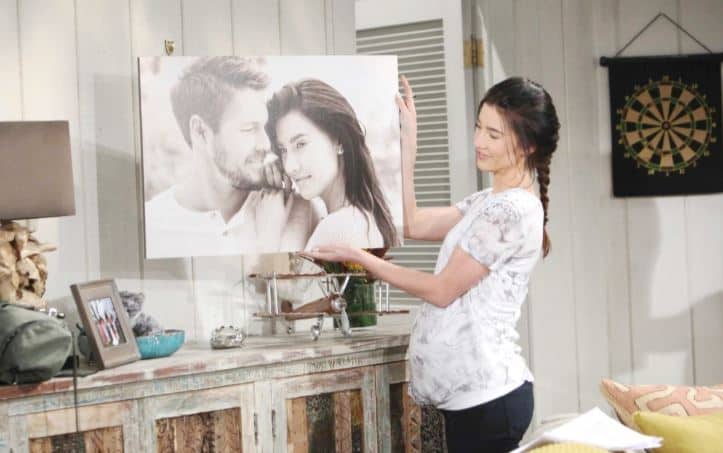 The Bold and the Beautiful fans might know a thing or two about love triangles. Really, we are talking about a show in which some of the characters have been married more than 10 times — and just to one another. There is so much here that might make us all cringe in real life, but it makes for excellent television. The only problem with this show is the fact that the love triangles are always happening with the same people, and we are just over here wondering if there is no lesson here that anyone has learned about anything that is going on. Really, though, there are so many people who are unhappy with their lives and unhappy with the way things are going, but they aren't happy with their lives enough to make better decisions that work for them in any way. However, we can say that these are our favorite love triangles. Are they yours?
Hope, Liam, and Steffy
They might still be young, but they've been going at it for years. Hope and Liam were married twice, he and Steffy were married a few times, and he's always torn between them. We do have to say that we do feel that the great love of his life is Steffy, though. He's always chosen her on his own, but he only seems to choose Hope when Steffy messes up or when she's not available to him. In fact, he's married to Hope right now because Steffy made it her mission in life to tell him that she's not interested in spending another day of her life being someone he has to decide if he wants to be with more than another woman. He's done with all that, but only because she made that decision for them. And that's why he's with Hope, but Hope is too emotional and too needy for him. But they make a great couple, too. She's much sweeter and loving than Steffy, but she's also less exciting, and we do think that is another issue by itself. We don't know how this will work out, but we assume just like this for the rest of their lives.
Brooke, Ridge, and Bill
This is one that's been around for a while, too, and she's a lot like Liam. She has a hard time choosing between these men and what they have to offer, and she literally cannot ever be alone in her life to make sense of anything. She's a mess, too, and there is nothing that anyone can do to change this. She's someone who makes poor choices in her own life, and she's someone who is always not going to stop with this behavior. She's definitely the woman who belongs with Ridge, but Bill is always that back of the mind kind of man she feels got away. No matter how many times she's with him and he ruins it, she's not going to give him up. There's a lot on her mind in this situation, but it's always her fault. She never makes a good choice, but it does keep us interested in what she has going on, so there is that.
Ridge, Brooke, and Taylor
It's been a while since they were a real love triangle, but they are a good one. Taylor is a doctor, and Brooke hates her since she was her doctor when she was ill so many years ago before they had any children. And now she hates her simply because she was a woman who was always on the back of Ridge's mind. She is to Ridge what Bill is to Brooke. The one that got away. The one that will always been there if they need them. The one who will always have a bit of their heart, and that makes things good. The bigger problem here, though, is that Ridge has a child with this woman. Brooke, on the other hand, has nothing tying her to Bill quite like that, so it's not as serious. However, she might just be the kind of woman who will do anything she can to make sure she stays mad at this woman forever — which is usually how it goes for her. She's a mess.