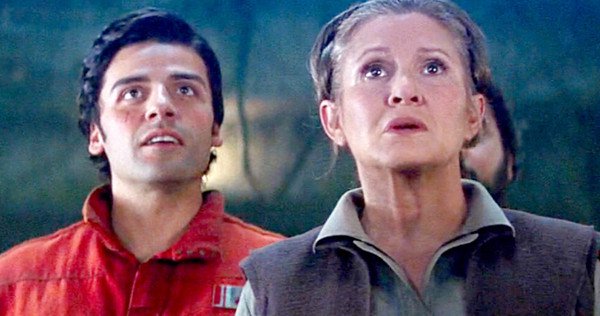 As most Star Wars fans know, this week celebrated the 40th anniversary of the release of the film Star Wars: A New Hope in 1997. In honor of the anniversary we've been getting more snippets of information about the upcoming 8th episode The Last Jedi. Earlier in the week we were also treated to some new photos from the movie as well as a shoot from the cast in Vanity Fair. One of the newest stars of the Star Wars franchise, Oscar Isaac, stopped by The Late Show with Stephen Colbert last night to talk about his experiences on the films.
Before she tragically passed away last December, Isaac filmed a "large amount [of] stuff" with Fisher. "I remember the first day of shooting was a scene with Carrie," the Inside Llewyn Davis star told Colbert. "I'm still… often times that first day, the filmmaker's, everybody's trying to get the tone and figure it out and I remember it was a scene where I come up and talk to her and she's very upset with me and slaps me, and [director] Rian [Johnson] kept doing it over and over… It ended up being like 27 takes of Carrie just leaning in and every time she'd hit like a different spot on my face."
Check out the full clip below:
Tell us what's wrong with this post? How could we improve it? :)
Let us improve this post!