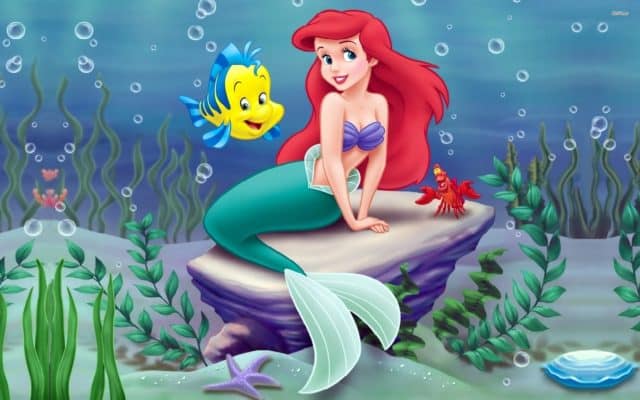 In the original Little Mermaid novel, the mermaid's legs constantly feel as if she is walking on sharp knives. The prince likes to watch her dance, which she does for him, despite excruciating pain. Then he marries someone else and the mermaid kills herself.
Yeah, I think Disney was wise to not include a lot of details from the original story. Keep reading and you'll find out why. It gets pretty dark to be honest and if Ariel had been forced to live this kind of life then I think a lot of kids would have been given some very unique and disturbing nightmares.
The story goes that when a mermaid turns fifteen years of age she is allowed to visit the surface to see what it is like. Ariel is the youngest of six sisters, living with them, her father, and her grandmother. She hears the stories of what it's like on the surface from her sisters and when her time comes goes to the surface during a birthday celebration for a prince. Unfortunately a horrible storm blows in and the boat is sunk and the prince is thrown overboard. So at this point the movie is following the tale pretty closely.
But here's where it starts to diverge. Instead of sticking around to sing to him and be noticed as though she's mirage, Ariel stays with the prince just long enough so that a young woman from a nearby temple and her ladies in waiting can find him. She disappears back into the ocean, lamenting that the prince will think that the young woman saved him instead of her. When asking her grandmother if humans live forever the little mermaid learns that while humans are not long-lived, they do possess an immortal soul that allows them to ascend to heaven. Mermaids on the other hand are turned to sea foam upon their death.
To shorten it up a bit she does go to the dreaded sea witch to obtain the means to change herself into a human since she desires to fall in love with her prince and gain a soul upon marrying him. But the price, as in the movie, is her voice, which makes it difficult to communicate. Also, in the original tale each step she takes after gaining legs is like walking on knives, so she is continuously in great pain as she attempts to gain the prince's favor and dances for him. Upon the announcement that the prince will marry another woman she is given one more chance by her sisters to return to the sea. For the price of their long, beautiful hair they obtain a knife that the mermaid must plunge into the prince's body. Once his blood drips upon her feet she will be a mermaid again and can return to the ocean.
The mermaid cannot think of killing the prince however and instead accepts her fate as she throws herself from the ship and dissolves in to sea foam as dawn breaks. But the trick here is that she doesn't cease to exist. Instead she becomes an earthbound spirit thanks to the redemption she gained by refusing to take another life. She has been given the chance to earn her own soul in return for 300 years of for good deeds gifted to mankind so that she might rise into the kingdom of heaven.
It got pretty dark in the original tale, but at least there was a bright spot on the horizon.
Tell us what's wrong with this post? How could we improve it? :)
Let us improve this post!