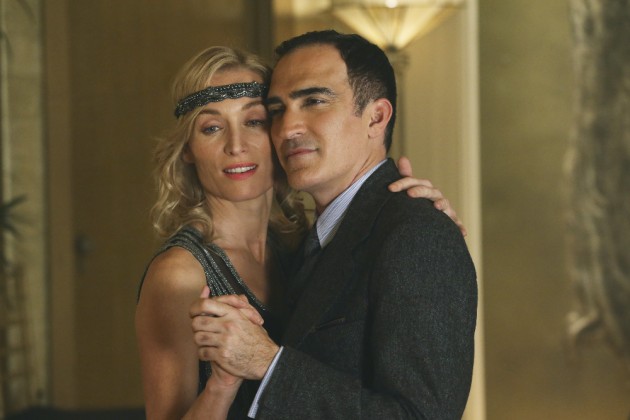 Of the three Queens of Darkness that have made up the central villains in the back half of Once Upon a Time Season 4, Cruella has always been the least defined. Maleficent had her dark past with Charming and Snow, while Ursula had history with Hook; however, Cruella remained someone not yet fully realized, more of a delivery system of one-liners and references than any type of actual character.
That all changed in last night's episode of Once Upon a Time, which provided us with Cruella's backstory, shining more a light on who exactly this evil woman is. Yet while most flashbacks on Once Upon a Time are used to humanize the show's villains, to give some sort of explanation or insight into their darkness, "Sympathy for the De Vil" doesn't follow that basic model. What initially appears to be another story of one of the show's central characters enduring an awful childhood, courtesy of an evil stepmother, of course, actually turns out to be a look at the most truly evil individual to ever appear on the series, as we quickly discover that no one and nothing molded Cruella into the villain she is today–her desire for killing and chaos were ingrained in her, a darkness embedded deep in her heart since before she was born.
And because of how intrinsically evil she is, Cruella doesn't get the chance at a happy ending. She doesn't get to ride off into the sunset, reunited with her father, like Ursula, or have the hope of seeing her daughter again like Maleficent. No, instead Cruella ends up getting pushed off a cliff by Emma, who believes she's protecting Henry, but as it turns out, Cruella could have never actually done any harm to Emma and Regina's son–Emma's killing of the villain was all just part of Rumple's plan.
What works surprisingly well in "Sympathy for the De Vil," much more so than in last week's episode of Once Upon a Time (still not sure I'm buying Zelena's return–that's one heck of a long con she was playing), is that the twists and turns the episode takes feel organic and believable. We gain more insight into exactly what Rumpelstiltskin is trying to do–save the remaining the bit of light in his almost entirely blackened heart, before he's unable to feel love or goodness again–and Cruella's flashback scenes with the Author (whose name we learn is Isaac) offer details that are both significant to the story and its characters. For example, it's just as important that we discover that Isaac wanted to live life more fully instead of just recording it as it is that we learn that Cruella cannot take a life. We leave "Sympathy for the De Vil" with a better understanding of two characters that were pretty much blank slates up until this point, and we also have a better grasp on what the remainder of the season will focus on.
And it will be quite interesting to see how both Emma and those who are closest to her react to her killing of Cruella in these final few episodes. Sure, it was to, in Emma's mind, protect Henry, and the use of her magic here wasn't anything as vicious as we've seen from many of the show's villains (even including Regina and her threat to crush Belle's heart earlier in the episode). However, as Rumple had planned, this action will certainly begin to darken Emma's heart, and with Storybrooke's savior already feeling so disconnected from her parents, who committed such a terrible act to ensure she would be a good person, it's very likely that this could be the beginning of a major change for Emma, one could very well see her embracing her darker side and transforming from one of the show's heroes into one of its more powerful villains.
Other thoughts:
– "Sympathy for the De Vil" wins the award for best Once Upon a Time episode title.
– Cruella having her stepmother's own Dalmatians kill her and then killing said Dalmatians in order to make her coat was some of the darker stuff we've seen from Once Upon a Time. It worked well, though. It actually made Cruella feel like a true villain.
– Fun drinking game: re-watch the episode and take a drink/shot every time Cruella says "darling." You may not make through the full hour, but hey, what's life without a little risk?
– One thing that bothered me so much about this episode was that we weren't given an exact name/place/time for where Cruella was from. The Author just says that it's realm that is timeless, and to be honest, that's a pretty crappy explanation. Plus, we still have no idea how Cruella ends up in the Enchanted Forest with the rest of the characters.
What did everyone else think about this week's episode of Once Upon a Time? Did you like it as much as I did?
[Photo via ABC]