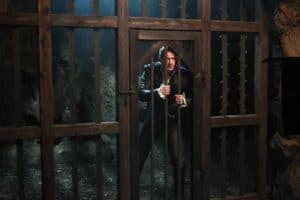 Once Upon a Time delivered on its penultimate episode as events circled back to the pilot episode of the show.
In the fairytale world, Charming was about to be executed by King George when the Evil Queen swooped in and bought him. While the Queen used Charming as a trap for Snow, Snow White met with Red, Granny and the dwarves to come up with a plan to save Charming. Grumpy called in a favor from the faeries and Snow had her army. They stormed King George's castle and Snow made it all the way into the dungeon before realizing that Charming's presence there was just an illusion through a mirror because he had been taken to the Queen's castle.
The Queen's image appeared and she proposed a temporary truce so that they might negotiate. The two women met in Regina's family's stables and Regina finally told Snow the truth about Daniel's death all those years ago. Snow tried to defend her actions back then (justifiably, frankly), but the Queen was having none of it. She proposed a deal: Snow would eat the poisonous apple and the Queen would allow Charming to live. Determined to protect the man she loved, Snow bit the fruit, falling into a coma. Her friends gathered, thinking she was dead.
In Storybrooke, Regina had what may turn out to be a prophetic dream with the residents of the town discovering her true identity, tying her to a tree and beheading her. Quickly realizing that her apple tree was dying – a sign of the weakening curse – she turned to Mr. Gold for help. He revealed a crucial fact: killing Emma would break the curse. Desperate to keep the curse intact, but also find a way to stop Emma once and for all, she attempted to bargain with him, but he shot her down.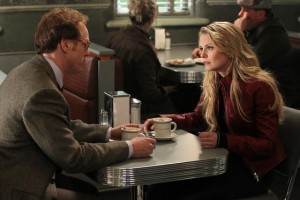 Meanwhile, Emma had attempted to run away with Henry, but he forced her to turn back, begging her to help the other Once Upon a Time characters in Storybrooke. She reluctantly returned and faced an angry Mary Margaret, who told her she needed to make a real choice about her future with Henry, instead of just running. More words with Archie convinced her of her course of action. Henry, meanwhile, went to August, telling him that Emma wanted to leave. The mysterious writer revealed his true identity to Henry and showed him that his condition was deteriorating. Wanting to spend the rest of his time with his father, he tasked Henry with putting Emma back on the right path.
While Emma was on a path to self-discovery, Regina turned to plan B: have Jefferson retrieve the poison apple from the fairytale world so that she could put Emma to sleep forever. He agreed to help when his daughter's happiness was thrown into the bargain and Regina pulled out his hat, asking him to use it with the little bit of magic she was able to bring over from the fairytale world. Unfortunately, her plan wasn't entirely successful. Despite sacrificing the ring Daniel had given her to the hat, they were unable to generate the amount of magic necessary to travel to the fairytale world. But Jefferson was able to reach through the portal and retrieve a single item: the magic apple that Snow White dropped when she bit into it.
Emma visited Regina, telling her that she was prepared to leave Storybrooke once and for all, but only if Regina would allow her to visit Henry. Regina seemingly agreed with the plan, but gave Emma an apple turnover made from the poisonous apple. Back at home, Emma told Henry about her plan to leave. Angry that she was leaving town, Henry noticed the turnover and tried to convince her that Regina was trying to kill her. Telling Emma that he wanted to prove the curse was real, he bit into the dessert, trusting her to save him. A moment later, Henry collapsed.
Once Upon a Time dazzled this week. The fairytale world was full of epic battles and I loved the synchronicity with the pilot episode. We know how this story ends – Charming awakens Snow with a kiss and the curse eventually comes about – but it feels fitting that this is where the fairytale story should end up at the end of the first season. It was also pretty amazing to see a strung out Regina in Storybrooke, no longer in control. And it looks like that control won't return anytime soon as Henry battles for his life in the finale. Emma's unwillingness to take on the responsibility of saving the town – or her unwillingness to believe Henry – frustrates me just a little bit. At 21 episodes in, you would think she would at least start getting a bit suspicious about what's happening in the town, but I'm hoping that Henry's actions will finally wake her up.
The season finale of Once Upon a Time will air on May 13. With Henry's life in the balance, will magic finally come to Storybrooke? Watch a preview for the finale here.
For more coverage of the show, including reviews, photos, spoilers and sneak peeks, browse and bookmark our Once Upon a Time page.