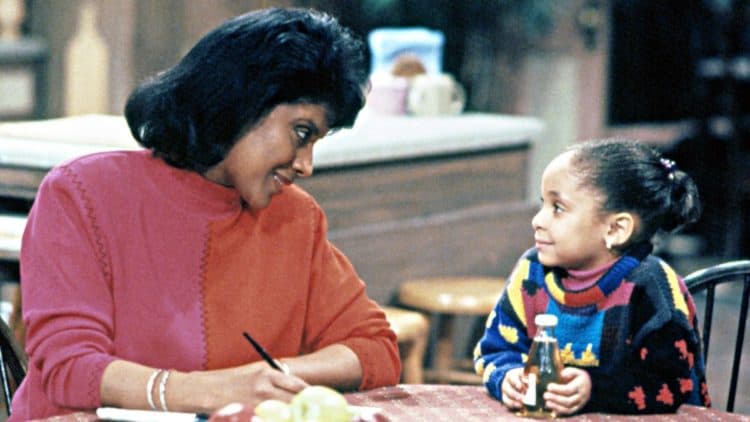 When Denise (Lisa Bonet) bombarded her parents with the news that she was newly married on The Cosby Show, her father, Dr. Huxtable (Bill Cosby), was tongue-tied. Denise had not only become a navy wife, but she also had the sweetest little girl to take care of, Olivia Kendall ( Raven Symone). Even though the news of her marriage was a shocker, the price it came with, Olivia, was worth the risk. The little girl quickly became a fan favorite for her fun and naughty, yet adorable way of living with the Huxtables. When she wasn't performing for guests in the living room, Olivia was ganging with her stepmom to prank Dr. Huxtable. Here are some of her adorable moments:
1. Olivia Knew Exactly Where Babies Came From
Between Olivia and Dr. Huxtable, one would wonder who knew more about babies. Little Olivia visited Dr. Huxtable's office, where he explained his job; delivering babies. She couldn't believe him, not a single bit, because she knew exactly where babies came from. " Everybody knows that the stock brings the baby…The stock brings the baby to the hospital, drops it in the bassinet," Olivia explained. Asked why the mother got bigger, Olivia said it was because she ate a lot of food. Mommy's job, according to Olivia, was to go to the hospital and get the baby. The stock couldn't bring the baby to the mother's house because its wings would get tired after flying all the way from heaven. On which baby would go to which mommy, the stock wasn't confused because they were "all in a line…you know like you go to the bakery and get a number?"
2. She Was More Than Eager For Her First Day Of School
Denise was worried about Olivia's first day of school. " Today is her first day of pre-school you know. I mean remember my first day, mum, dad, you guys were with me the whole day!" a concerned Denise reminisced. She had given it a lot of thought and knew that if she dropped Olivia off she was going to cry from the moment Denise left until she came back to get her. "I mean, this could scar her for the rest of her life," she added. Denise had spoken too soon. No sooner had she finished voicing her worries than Olivia emerged from the steps with her backpack firmly in place. With utmost confidence, she said," Denise! Just point me in the direction of that school and I'm out of here." Olivia marched to the front door ready to leave. She had not even taken breakfast.
3. She Fooled Dr. Huxtable Into Thinking She Had Grown An Inch Taller
Olivia had a way of getting Dr. Huxtable right where she wanted him, and sometimes her stepmom Denise and step-grandmother Clair Huxtable joined on the fun. Not even twenty-four hours had passed since Dr. Huxtable had measured Olivia's height when she came to him with a reveal: She had grown taller. In the eyes of Dr. Huxtable, that was impossible. " Measure me! I can feel it! I know my body!" Olivia insisted. Dr. Huxtable gave in, and couldn't believe that she had grown an inch taller. He walked into the room to announce this discovery to Denise and Mrs. Huxtable, who were nonchalant about it. " I measured her yesterday, I measured her just now, she's an inch taller than yesterday," Dr. Huxtable said. While Mrs. Huxtable thought Olivia was an exceptional child, Dr. Huxtable was worried that she would grow up to be ten feet tall by April. It turned out that Clair and Denise had put tissue in Olivia's shoes.
4. Theo Used Olivia To Get Girls' Numbers
Olivia was seated on the couch, bored to death. When Theo ( Malcolm Jamal-Warner) walked in, he saw that she was in a sad mood. While Olivia was eager to do splits and perform 'Blue Suede Shoes', Theo was not so keen on being her audience. At the insistence of Dr. Huxtable ( Bill Cosby), Theo took Olivia to the restaurant, where she unleashed her power. Olivia's urge for an audience was satisfied. The girls flocked to see her perform. When she was done, Theo suggested that they should leave their numbers because he would be taking Olivia to the park next. He almost got away with it, but his girlfriend, Justine ( Michelle Thomas) caught him red-handed.
5. Olivia Performed For Guests In The Living Room
Performing at restaurants was not Olivia's only specialty. She was not limited to the girls Theo wanted to go out with even though he had a girlfriend. When times called for it, Olivia gave her grandma's guest a full-on lip-sync concert. Her family would be her backup, with Mrs. Huxtable playing announcer, Dr. Huxtable coming in as a guitarist, and Rudy being the DJ. With such sass and confidence, Olivia would rush down the stairs, strike a pose, and belt out a tune as soon as Rudy pressed the button. She would channel her inner Koko Taylor, dancing and lip-syncing as her audience clapped along. When a note got too strong and needed to be expressed, Olivia closed her eyes, twisted her body to the side, and bent her knees as if she were on a big stage. Rudy, who doubled on the drums and looked like a best-selling musician in her sunglasses, watched in awe.
6. She Stayed Up Late To Watch A Horror Movie
Olivia stayed up late to watch a horror movie in the company of Rudy ( Keshia Knight Pulliam). Rudy was getting babysitting all wrong, given Olivia's age. She tried to get the little girl to go to sleep, but Olivia wouldn't. She wanted to see how the movie would end, but at the same time was afraid that the vampire wolves were going to get her. Young Olivia kept watching, all while covering herself with a blanket. Rudy switched off the television so that she would go to bed. All of a sudden, a strong wind blew the back gate. Olivia was scared. She wanted to be with her dad and Denise, but they were in Washington. She began crying, forcing Rudy to offer her ice cream. " Vanilla." Olivia declared as her tears instantly dried.Bill Cosby