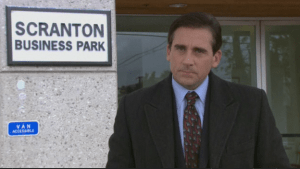 The return of The Office was a tale of two halves. While its first fifteen was a rather dull effort (perhaps trying a little too hard), the second half of "Ultimatum" made up for it with Daryl (Craig Robinson) and Creed (Creed Bratton) stealing the show.
This was the first time I can ever remember The Office pulling out multiple curse words in a single episode but perhaps it should do so more often. Creed's F-bombs as Erin (Ellie Kemper) flaunted her gymnastic skills was the funniest moment of the night by far. The only disappointment was that we didn't get to see Creed do an actual cartwheel of his own.
For the first time in perhaps, well ever, Michael's (Steve Carell) insecurity laced tirade actually worked. Michael's apology to Kevin (Brian Baumgartner) and Creed was a squeamish case of excellent subtext where everyone (except Kevin and Creed) knew who Michael was really talking about. You could really feel for Holly (Amy Ryan) as her self-denial wilted faster than the broccoli stem in Kevin's mouth. It certainly appears that Holly will be the key to Michael's exit, at least at this point. The minds behind The Office said last week that Michael will get "the ending that he deserves." Do you think he deserves Holly?
With the increased focus on Daryl, it appears he's the front runner for Michael's position. I'd love to see it. Craig Robinson has impeccable delivery and comedic timing, making ordinary lines funny. Once again he came away with the funniest line of the night: "The day shift at a strip club. You can't unsee that."
The Resolution Board was a genius idea because it served as the perfect vehicle to get to the core of each character in a single line. It also showcased Pam's (Jenna Fischer) desperation to find some degree of self-importance. Which resolution was your favorite?
The second half of the season is off to a solid start. Now bring on Ricky Gervais.
Grade: B
Tell us what's wrong with this post? How could we improve it? :)
Let us improve this post!