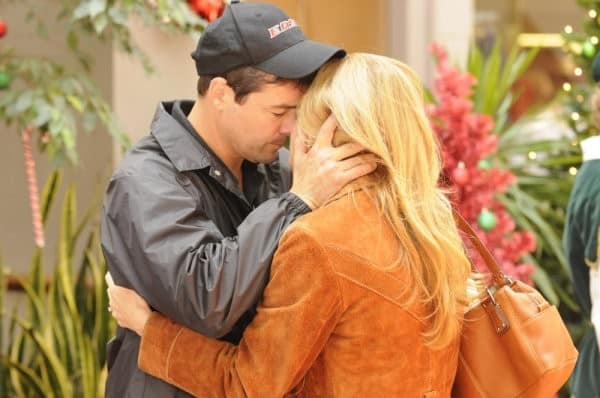 It has almost been four years since the final football was thrown at East Dillon High School on Friday Night Lights. The series, which debuted on NBC in 2006, was never a ratings winner but was very loved by the critics and we here at TVOvermind. Kyle Chandler and Connie Britton played the parents we wish we all had and were successful television actors before joining the show. The actors that played the teenagers on Friday Night Lights were virtually unknown before being cast on the awesome series. Now that the show has been off the air since 2011, you may have seen one of these talented actors on another one of your beloved TV series, or even starring in a blockbuster film. Here is what the cast of Friday Night Lights has been up to in the last four years.
Kyle Chandler as Coach Eric Taylor
Kyle Chandler was not stranger to the world of television before taking on the role of Coach Eric Taylor on Friday Night Lights. He was a star on the CBS drama Early Edition that ran from 1996 to 2000. When Friday Night Lights concluded in 2011, the Emmy Award-winning actor made a transition to the big screen, starring in such films as Super 8, Argo, The Wolf on Wall Street, and Zero Dark Thirty. In 2014, Chandler lent his voice to both American Dad! and Robot Chicken. Chandler will make his return to TV this March in the Netflix drama Bloodline, which is about the story of siblings whose secrets are revealed when their brother returns to town.
Connie Britton as Tami Taylor
Connie Britton played the character of Tami Taylor so well that the actress received two Emmy nominations for her work. When the show concluded, Britton headed over to FX and starred in the first season of Ryan Murphy's thriller American Horror Story. She would play Vivien Harmon, a woman who moves into a haunted house. This role would also earn the actress an Emmy nomination. Britton has not been back on the FX series, because she has been starring in the ABC drama Nashville, which is currently in its third season. This role also earned her an Emmy nomination in 2013. Britton recently starred in the film This is Where I Leave You, which also featured notable TV stars, such as Tina Fey and Jason Bateman.
Amiee Teegarden as Julie Taylor
Amiee Teegarden was unknown prior to starring on Friday Night Lights. When the show concluded, Teegarden would move to the big screen and star in Scream 4, Prom, and Beneath the Darkness. In 2013, Teegarden would return to television (sort of) and star in the web series Aim High, which is about a teenage girl who lives a double life as a secret spy. In 2014, she starred in the short-lived CW drama Star-Crossed. This year, Teegarden will appear in the film My Bakery in Brooklyn.
Taylor Kitsch as Tim Riggins
The future is looking very bright for Taylor Kitsch, who was also an unknown prior to starring on Friday Night Lights. When the show ended, Kitsch went on to appear in several box office flops including Battleship and John Carter. Then in 2013, Kitsch appeared in the hit movie Lone Survivor alongside Mark Whalberg. He also had a role in the 2014 Emmy-winning HBO movie The Normal Heart. It was recently announced that Kitsch would appear in the second season of the series True Detective, which is slated to premiere later this year.
Zach Gilford as Matt Saracen
After Friday Night Lights ended, Zach Gilford tried to make the switch from NBC to ABC with the Shonda Rhimes drama Off the Map, which centered on doctors working in a remote region of the world. It was cancelled after one season. The following year Gilford would appear in the atrocious drama The Mob Doctor, which was cancelled after 13 episodes. In 2014, Gilford starred in two horror films: Devil's Due and The Purge: Anarchy. He also played Jim Abbott in an episode of Drunk History.
Minka Kelly as Lyla Garrity
Minka Kelly would leave Friday Night Lights as a series regular after the third season and would be featured on Jason Katims' other series Parenthood. In 2011, she was a part of the ABC reboot of Charlie's Angels, which would only survive for eight episodes. In 2013, she portrayed Jacqueline Kennedy in the Lee Daniels' film The Butler. Last year, Kelly played Detective Valerie Stahl on the FOX drama Almost Human, which would only last for 13 episodes before being cancelled.
Adrianne Palicki as Tyra Collette
Like Kelly, Adrianne Palicki would part ways with Friday Night Lights after the conclusion of the third season, though she would appear in several episodes during the final two seasons. Palicki was slated to play Wonder Woman in the NBC reboot in 2011. However, the show was never picked up for a series and the pilot remains unaired. In 2013, Palicki played Jaye in the film G.I. Joe: Retaliation and was Ms. Perkins in the 2014 film John Wick. That same year Palicki would be featured on both About a Boy and in Marvel's Agents of S.H.I.E.L.D., where she plays the iconic comic book character Bobbi Morse, a.k.a. Mockingbird.
Jesse Plemons as Landry Clarke
Jesse Plemons was one of the few Friday Night Lights cast members to actually be a teenager who was playing a teenager. Most of Plemons castmates were in their mid-twenties when the series debuted. Plemons would remain on the series for all five seasons and would star in the 2012 film Battleship, alongside fellow FNL alum Taylor Kitsch. He has continued to work in television, starring in both Bent and Breaking Bad. It was announced late last year that Plemons would star in the second season of the FX drama Fargo with Kirsten Dunst.
Gaius Charles as Brian "Smash" Williams
Gaius Charles spent two seasons playing Brian 'Smash' Williams. He briefly appeared in season three and then Charles decided to take a break from acting to focus on religion. The break would be short-lived, as he would appear in the Woody Harrelson film The Messenger in 2009. Charles would return to TV in 2012 on Necessary Roughness, which was followed by a two-season stint on Grey's Anatomy.
Who was your favorite character on Friday Night Lights? Let us know in the comments section below.
[Photo via NBC]
Tell us what's wrong with this post? How could we improve it? :)
Let us improve this post!