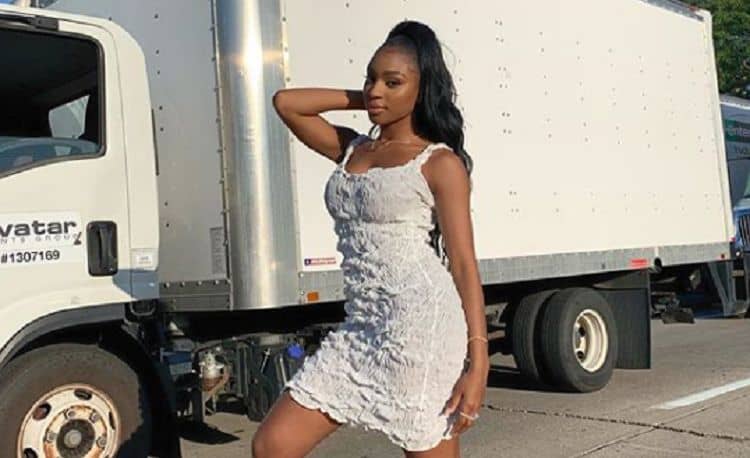 Normani made a splash recently with her chart topping, headline grabbing debut single, "Motivation". As her first true solo effort, the song has picked up both awards and recognition. It's also earned her plenty of new fans. For many, Normani was an unexpected surprise. Most of her career thus far has been spent as part of the girl group, Fifth Harmony. It wasn't until the group went on hiatus that she started pursuing solo work in earnest. Now, as her own artist, Normani is proving that she isn't one to fade into the background. Her first single has proven that she has the skills to make it as an entertainer. If you're one of her new fans, here are ten things you didn't know about Normani:
1. She's multitalented
Normani is a well rounded entertainer, having done dancing, gymnastics, and pageants since a young age. Although she often dances as a part of her music career, she's shown that she's capable with ballroom dancing too. She competed in a recent season of Dancing With the Stars, on which she placed third. She's even gotten into acting. One of her projects is the short film Book, which is dedicated to informing people about bullying and prejudice. She also had a part in the HBO show Treme. Although her roles have been small, it's clear that Normani has potential as an actress. Many fans are waiting to see if she'll continue to develop her acting skills in the future.
2. She's a southern girl
Normani is a true southern girl. Born in Georgia, Normani's family moved to New Orleans, and then again to Houston, after Hurricane Katrina. Her southern roots are clear in her singing style, which can verge into bluesy. And there's plenty of southern influence in the sound of her music as well.
3. She's a Beyonce superfan
Normani has talked multiple times about her enduring love for Queen Bey. She's even shown off the Beyonce fan accounts she follows during an interview. Not only does she find Beyonce inspirational, but it's her dream to one day collaborate with the megastar. Undoubtedly, the two stars would have plenty to talk about. They have a surprising amount in common: both are successful African American women with power vocals, from Houston. They also both got their starts in girl groups before eventually going solo.
4. She's shy
Despite being an artist, Normani refers to herself as shy, and credits Beyonce for paving the way for her to be successful. Normani has done a variety of projects and television shows, which makes it surprising to hear that she's shy. But it's clear from a lot of her work that she has her own struggles with fame. Not only did she star in an anti-bullying short film, but she does anti-bullying charity work as well. She was announced the Diversity Ambassador for an anti-cyberbullying foundation, after having received a lot of online hate. Despite facing insecurity and hardship because of her race, Normani continues to rise above and help others.
5. She's a Christian
Normani was raised a Christian, and continues to practice her faith. In fact, one of her earliest experiences singing was actually with Gospel music. Like many southern artists, she was able to test out her vocal ability through the genre. Today, the style of Gospel music still influences her work.
6. She supports important causes
In addition to her anti-bullying efforts, Normani works as an ambassador for a number of important organizations. In 2017, she worked for A Place Called Home, a non-profit that helps children in Los Angeles. She also supported The American Cancer Society by promoting awareness about HPV vaccinations, and breast cancer.
7. She's had plenty of solo success
Through her many collaborations, Normani surpassed one billion Spotify streams, all in the first year of going solo. Her solo debut, a collaboration with Kahlid titled "Love Lies" even went triple platinum. The song stayed in the top twenty of the charts for so many weeks, that she broke records. Her first true solo single, "Motivation" has been both a critically and commercially successful hit, further proving her star power.
8. She's surprisingly young
Given her numerous achievements, it would be safe to assume that Normani is already well into her career. In reality, the young singer is just 23 years old (as of this writing). Her success began at just 16 years old, after joining Fifth Harmony. Even more surprising, she made her debut before that, releasing a song at the age of 13. Luckily, all her early success has not diminished her current potential. There are many more things to expect from this rising artist.
9. She's also a model
Normani was just announced as the first brand ambassador for Savage X Fenty, adding modeling to her list of talents. Lingerie modeling seems difficult for her given her shyness, however she's said that Savage X makes her feel empowered. The company is also run by Rihanna, who is a role model for her. It's easy to understand why. As a black woman artist, Rihanna has dominated in music, fashion, and beauty. For Normani, who has faced prejudice due to her skin color, surely this would be inspirational. Apart from Savage X, Normani has also done modeling work for Target and other companies.
10. She hasn't even released a full album yet
That's right, there's plenty more to expect from Normani in the future. Although she released a 2 song EP collaboration with Calvin Harris, she has yet to drop a full LP. Luckily, that will change in 2020. She has stated that she plans to drop her first album sometime in early 2020. Not only that, but she's been working behind the scenes on the music as well, songwriting and generating ideas. The album will be personal to her, and a true testament to her talent. Fans will certainly be looking forward to it.