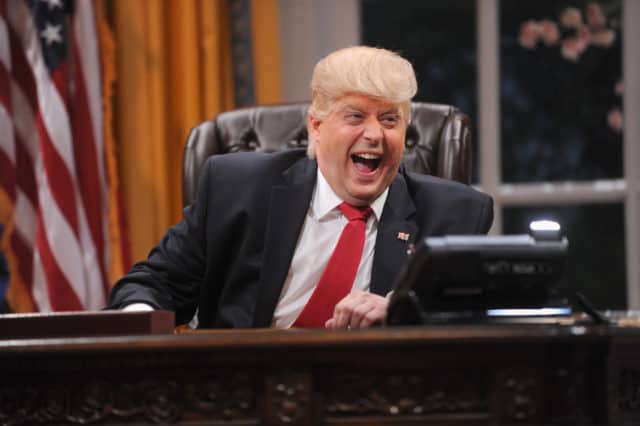 The president has been extremely busy lately hastening the downfall of our republic, but the host of The President Show will still make time to return to Comedy Central for big, hour-long specials. Following the hugest, most successful and best reviewed Christmas special of all time, it was announced today the team from The President Show is back with an all-new hour-long special. Make America Great-A-Thon: A President Show Special will debut on Tuesday, April 3 at 11:00 p.m. ET/PT.
President Trump, played by creator/executive producer Anthony Atamanuik, is hosting a telethon to raise money for all of the projects he can't get anyone in Congress to fund — like the wall and infrastructure (plus these mouthy porn stars aren't going to pay themselves off!). Along with his sidekick, Vice President Mike Pence, played by executive producer Peter Grosz, Trump takes to the Oval Office to raise funds via a good old-fashioned telethon.
Said the host of Make America Great-A-Thon: A President Show Special, "Since Robert Mueller won't let me do my show any more (WITCH HUNT!), failing Comedy Central BEGGED me to keep doing specials. And I know how to make money, I have been making money my whole life. Which is why I've declared bankruptcy four times."
"We thought it'd be fun to have the president host a telethon" says Atamanuik. "Taking money from the American people is what Trump does best." Meanwhile, Comedy Central President Kent Alterman said, "What can I say about Donald Trump that hasn't already been said before… except that Anthony Atamanuik is a genius. A stable, creative genius."
Make America Great-A-Thon: A President Show Special is executive produced by Anthony Atamanuik, Peter Grosz, Adam Pally, Jason Ross, and 3 Arts Entertainment's Olivia Gerke, Josh Lieberman and Greg Walter with Emmy Blotnick and Suzanne Fagel as co-executive producers. The special is produced by Pally's Clone Wolf Productions and 3 Arts Entertainment and is directed by Andre Allen. Sarah Babineau, Ari Pearce and Jose Acevedo are the executives in charge of production for Comedy Central.