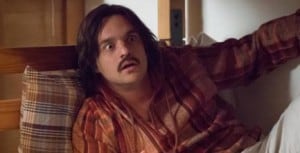 As I've been saying in what feels like every review I write about New Girl, the best decision Liz Meriwether and the show's writers ever made was to have this season focus on the relationship between Nick and Jess. Even more impressively, New Girl has been able to amplify the connection and tension between these two main characters and continue to make each interaction between them feel new and fresh by not ignoring or back-footing away from big developments between Nick and Jess and by not shying away from the consequences of the pair's actions. It's because of this consistently strong character work that the huge moment in "Virgins" (Nick and Jess finally sleeping together) feels earned and exciting. We've seen all that has needed to happen to get these two to this moment, and we know that New Girl will fully tackle the aftermath of this decision next week, especially with Jess's closing words before the end of the episode being a Scooby Doo "Ruh roh."
But let's back up, because there was a lot of great stuff in tonight's New Girl, especially from those hilarious flashbacks. "Virgins" starts with Jess receiving a text from Teddy, who we (and Nick, who sometimes just sits in the stall in the bathroom and listens to people) learn is the guy she lost her virginity to. This revelation about Jess leads each member of the gang to tell how he or she lost their virginity in order to see which person had the worst experience.
Through flashbacks, we see Cece lose her virginity to Mick Jagger on her prom night (Yes, that Mick Jagger). Schmidt loses his to Elizabeth in a ridiculously hilarious bit of physical comedy between Max Greenfield (as Fat Schmidt) and Jake Johnson, as Schmidt ends up shooting Elizabeth in the eye with his bottle of lube and then proceeds to fall off the top bunk of his bed and essentially "lube wrestle" with Nick, all while Nick is high on mushrooms.Winston loses his to a prostitute named Mysteria (Winston only just realizes in the present that Mysteria was a prostitute, which definitely dampens the glorious memory of his and Mysteria's ten amazing seconds together), one of two "lovely ladies" that Nick's dad (returning guest star Dennis Farina) brings for Nick and Winston. Finally, in a long, overly detailed story, we find out that Jess lost her virginity to Teddy, who was an attractive firefighter, only after he rescues after she gets stuck in a playground overnight while attempting to sleep with a good looking stranger that she had previously met (played by Teen Wolf's Dylan O'Brien). As far as which experience is the worst, for me, it's definitely a tie between Winston and Schmidt; both of theirs are just horrible but also hilarious.
Despite the humor that they provide, these flashback stories just act as the backdrop to the most important part of "Virgins": Nick and Jess's decision to finally "go for it" and sleep together. Throughout the episode, we see little signs of jealousy from Nick towards Jess about her past with Teddy, and it's extremely telling when everyone else shares their horror stories about their "first times" but Nick remains silent. He waits to tell Jess when they are alone. For Nick, when it comes to Jess, sex isn't a joke, or some story competition about how horrible it could be; it means more than that.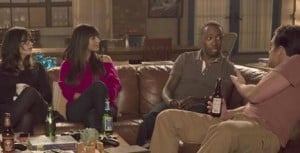 However, all this thinking that Nick has been doing has been his biggest obstacle in actually "going there" with Jess. He can only fully act on his feelings after he embraces his dad's words of wisdom from when he was younger: "You think too much about everything…Listen, Nicky, you don't have to do anything you don't wanna do. I just wanna make sure that you don't miss out on things in life that are happening when you're not thinking. Because believe you me, those are the best things in life." Thus, when Nick runs to the elevator, carries Jess out, and tells her, "Let's not think about it" (all while Ellie Goulding's "Anything Can Happen" plays in the background), it's an absolutely thrilling scene, a moment that has been built up through past episodes, while also being a worthy ending to this specific episode. Simply put, it's one of the best scenes New Girl has ever done, right up there with "The Kiss" from "Cooler."
With the overall strength of an episode like "Virgins," combined with its even more amazing conclusion (I especially loved the silence in the scene where we see the happiness mixed with worry etched across Nick and Jess's faces as they lay in bed after sleeping together), it's impossible not to be excited about what New Girl has in store for Nick, Jess, and everyone else in its final two episodes of season two.
Other thoughts:
– Aside from Nick and Jess finally sleeping together, the best thing about this episode is Nick's mushroom-induced responses to Schmidt's questions about sex. I couldn't stop laughing.
– Jake Johnson, and especially Lamorne Morris, did a great job at playing teenage versions of Nick and Winston. Their speaking voices were extremely funny.
– I'm really happy Elizabeth is sticking around, and I love how Schmidt is trying to change for her. He's still the same old guy, but he's trying to be more respectful and mature and that's a little something that I really appreciate: character development.
– Loved that Nick told his dad that he really liked drinking and his dad enthusiastically approved.
– Also really enjoyed that Jess first sees Nick, Schmidt, and Winston years before she moves in with them at the bar but is obviously disgusted with them. Not too sure how I felt about Cece just dismissing Schmidt like that though.
– I know I've been praising their performances all season long, but yet again, in their final scenes together tonight, Zooey Deschanel and Jake Johnson absolutely knock it out of the park New Girl has the best romantic duo on TV right now and that's due in large part to the immense talent of its two leads.