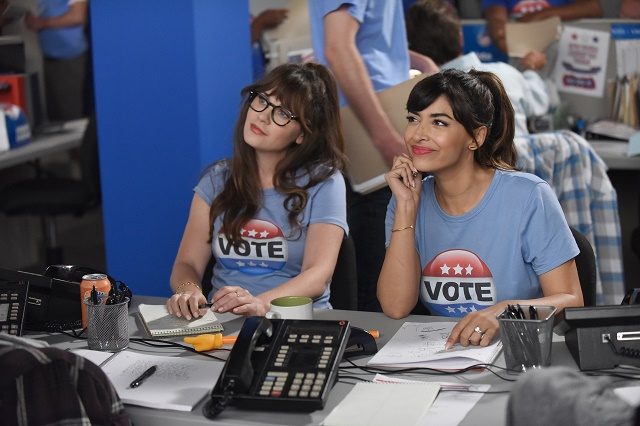 As evidenced by last night's presidential debate between Hillary Clinton and Donald Trump, the 2016 election has been crazier and more outrageous than any one to come before it. There's so much distraction surrounding both candidates' campaigns that it's challenging to discover what they actually stand for, and it's easy to get lost in the noise of it all. Fortunately, tonight's New Girl cuts through the scandals and controversies and focuses on what the most important part of any election should be: the people voting. Despite Schmidt's proclamation that democracy is dead, Jess and Cece, both Hillary Clinton supporters, remain determined to find new, young voters and get them to register; for them, it's all about making a difference.
And really, that's what "Hubbedy Bubby" is all about as well, or more so, Cece's realization that she wants to be a part of that difference-making movement. Even though her acceptance into a four-year university is pushed into the background for most of the episode, as she and Jess attempt to convince a sorority house full of girls to register to vote, it hangs over the half hour until she finally admits to both Jess and Schmidt that sitting in a classroom for the next few years isn't what she wants to do. Cece wants to go out into the world and work with people to make a difference, and her and Jess's attempt to recruit new voters only reaffirms that desire.
So does Cece abandoning college after working towards her degree for the past two years (and two seasons of New Girl) kind of feel like a cheat? Yes and no. New Girl never really had us spend any time with Cece in the classroom, so while viewers understood she was going on this journey, it was never presented to us in a way that would make us feel connected to it on a real emotional level. We cared because Cece wanted to do more than just model; she hoped to achieve more with her life and saw college as a means of doing it.
While it's disappointing to see the New Girl writers simply drop this storyline without really giving it the attention it deserved, hopefully this reset allows them to find more organic and entertaining ways for Cece to grow as she decides what she wants to do next. Even though the method or tool she's using to evolve has changed, her desire to be more and do more hasn't. Cece still remains motivated to become a more complete person, and if her way of doing that isn't in a classroom, that feels even more true to her character. I'm excited for what's next.
With Jess and Cece getting the more weighty storyline during "Hubbedy Bubby," Nick and Winston's plot was much more comedic (Schmidt, meanwhile, kept drifting through both stories at entertaining points). Nick seeks Winston's assistance when it comes to keeping the long-distance spark alive between him and Reagan. Winston, of course, has experience in this department, since Aly has been away at Quantico, and is determined to help Nick face his fears when he and Reagan are supposed to have phone sex.
Since it's Winston we're talking about here, things obviously get weird and hilarious pretty quickly, as he introduces Nick to his video sex room, which features several different costumes and a green screen. And, of course, since it's Nick Miller were talking about here, things get even worse when his fears turn into a full-fledged nightmare after he accidentally strips down from his astronaut uniform in front of Aly instead of Reagan.
As I said above, this storyline is mostly just here for laughs, and there are plenty of big ones, from Nick and Winston's conversation about "The Long D" to the brief look we get into one of Winston and Aly's video sex sessions. However, I really appreciate how New Girl is still doing its best to mine drama and conflict from the Nick/Reagan relationship, even with Megan Fox being unable to appear due to the fact that she's pregnant. Is Nick's fear of talking on the phone goofy? Of course it is, but it's also completely a Nick Miller thing to be afraid of, and his worries about being able to connect with Reagan despite how far away they are from each other are real, authentic anxieties that everyone in a long-distance relationship has at some point. By having Nick address these concerns, New Girl ensures that his and Reagan's relationship still feels like a vital part of the show, even though the two of them aren't onscreen together.
"Hubbedy Bubby" didn't reach the emotional heights of last week's premiere, but it's still another solid installment of New Girl, one that does a pretty wonderful job at exploring the insecurities of both Cece and Nick. In Season 5, New Girl gave Hannah Simone a lot more to do, as Cece and Schmidt prepared for their wedding. With Cece now seeking a new vocation in life, I hope that the show's sixth season finds even more time for Simone to shine. "Hubbedy Bubby" is a pretty good start.
Other thoughts:
Schmidt isn't voting in this year's election because he's holding out for Paul Ryan to run in 2020. Of course he is.
Although Schmidt wasn't involved in either of the episode's main stories, Max Greenfield still had plenty of standout moments. Even little things, such as the way Schmidt says "drawer" and the fact that he calls envelopes "lopes," had me cracking up.
Also, Schmidt delivers one of the funniest lines of the episode (no surprise there) when Nick bursts into the loft to tell Winston that he showed Reagan his "turdpipe." "I don't know what's going on in your lives," Schmidt tells them both, "but we need to start eating dinner together again."
I'm still trying to decide what's better: Winston's imitation of what phone sex used to be, or the glimpse we get of he and Aly actually having video sex. Also, did you guys catch that one of Winston's green screen backgrounds is just a bunch of cats? Such a fantastic little detail.
I thought I was done with any and all Trump impressions, but I'd be lying if I said I didn't enjoy Zooey Deschanel's take on The Donald. I also laughed out loud at the Bernie Sanders' lookalike.
What did everyone else think of this week's episode of New Girl? Comment below and let me know.
[Photo credit: Ray Mickshaw/FOX]
New Girl Season 6 Episode 2 Review: "Hubbedy Bubby"
Summary
Jess and Cece try to recruit new voters, while Winston helps Nick deal with his long-distance relationship in a solid episode of New Girl.