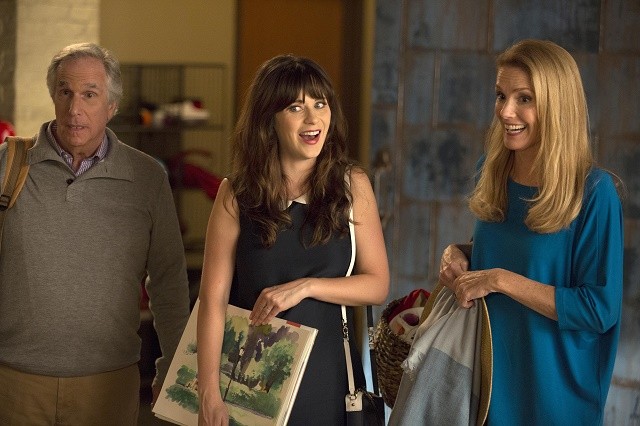 "What About Fred?" is certainly a funnier episode of New Girl than last week's season opener, and how could it not be when you have Nick Miller attempting to act like a boss, Taran Killiam being ordered to almost break dance by Nasim Perdad, and Harry Winkler and Julie Hagerty as the most likable parents on the planet? Still though, it's a slight step down after last week's moving premiere, as New Girl tries to make up for the weightlessness of most of its stories with some fantastic humor.
"What About Fred?" had so much potential to be more than what it was. While having Jess connect with Fred's (Taran Killiam) parents is an interesting and new way to approach her desire for a real, fleshed-out relationship, New Girl fails to truly engage with that idea. Jess and Winston are both obviously searching for meaningful romances after watching one of their roommates move to New York to start a new life with his girlfriend and two of their other best friends get engaged. There's real emotional heft to this story, but New Girl ignores it for the most part, instead utilizing Fred's inanely boring nature to great comedic effect.
And from the aforementioned almost break dancing to Fred's never-ending monologue about model trains, the comedy is wonderful throughout "What About Fred?" As always, everything involving Winston and Ferguson worked like gangbusters (you can find more on the two of them in the "Other thoughts" section below), but Zooey Deschanel really killed it tonight as Jess struggles to break things off with Fred, despite how amazing his parents are. She particularly shines near the end of the episode, when Jess says no to Flip and Nancy's proposition, rejecting picnics in the park and the Vermont house and choosing instead to search for something real with another person.
While Jess's story provides much of the comedy throughout the episode, Schmidt and Nick's storyline had a surprising amount of depth given how goofy it appeared to be in the half hour's opening moments. Don't get me wrong, there's still a lot of laughs to be found in Nick learning to become a boss (I loved the recurring bit of him and Javier telling "Your Mother" jokes, which had a great payoff when Schmidt took it too far at the end), but the main takeaway from this plot is how much Nick is continuing to grow as a character. We saw the beginning of this journey in Season 4, when he and Schmidt went into business together and gained part ownership of the bar, and watching Nick figure out how to run the place on his own (although he does use Schmidt's tip regarding napkins) feels like a natural progression.
Furthermore, it's immensely satisfying to see Nick mature as a person while still keeping many of his quirky and zany personality traits. He still panic moonwalks away from problems and gets angry very easily (Jake Johnson can yell anything and make it funny), but he's also willing to listen and learn from others while still having faith in himself. We're starting to see a more balanced version of Nick Miller, and while that may come at the cost of some very amusing moments of him being extremely lazy, it's a smart and authentic direction in which to take his character.
Throughout the first two episodes of New Girl Season 5, we're witnessing the loftmates take huge steps forward as they deal with major developments in their lives. While it's been so much fun to watch them all goof around for the past four years, I'm really enjoying how Season 5 is slowly but surely showing the maturation of these characters. Let's hope the writers can continue telling this story this well throughout the rest of the season.
Other thoughts:
Everything involving Winston trying to get the knot out of Ferguson's fur was hysterical, but it was Lamorne Morris's delivery of "We are in a hairy situation, my friend" that absolutely killed me.
Schmidt apparently wasn't a fan of Birdman. I think it's an overrated movie, too, Schmidt.
I mentioned them already, but I need to say again just how much fun Harry Winkler and Julie Hagerty were in this episode as Flip and Nancy.
So happy to have Nasim Perdad back as Aly, even if it's only for this one episode. She and Winston getting Fred to do every ridiculous thing they said was so funny and a great closing tag to end the episode on.
Winston's "hairy situation" comment to Ferguson may have been my biggest laugh of the night, but a close second was Nick looking over the bar's books. "Oh, this is very terrible."
"It's like making a risotto. A risotto in your heart."
What did everyone else think about this week's episode of New Girl? Comment below and let me know.
[Photo credit: John P. Fleenor/FOX]
New Girl Season 5 Episode 2 Review:
Summary
Jess wants to spend more time with her date's parents than with him in an uneven but entertaining episode of New Girl.