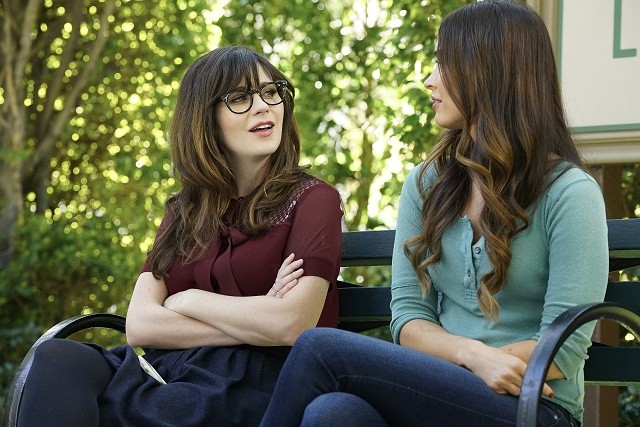 Most shows use their 100th episodes to try and tell a big, elaborate stories, or to parade a bunch of old characters in for cameos (this isn't a knock against Once Upon a Time, but that's exactly what that show did for its 100th episode on Sunday). "Goosebumps Walkaway" is more low-key, though, while still being completely and totally New Girl. While far from a flawless episode, this half hour perfectly illustrates what this show is about and what has allowed it to run for 100 episodes and five seasons: the chemistry of its cast and the friendship between its characters.
The two main stories of "Goosebumps Walkaway" are pretty simple. Nick and Reagan struggle to say goodbye to each other, with Jess attempting to help them as she searches for the juror that she had a connection with during the trial. Meanwhile, Winston and Cece teach Schmidt a lesson in letting loose and not worrying about what other people think. Like I said, compared to most 100th episodes, which typically center on a wedding or some type of other "major event," New Girl keeps things fairly simple, and that's exactly how it should be.
New Girl hasn't been a successful and beloved comedy for 100 episodes because it tries to reinvent the wheel. At its core, the show is a hangout sitcom combined with elements of a romantic comedy, a series about how friendship can help you navigate the rough waters of life, and how these relationships can become something more, whether that means romantically or in a more familial way. And that's what the loftmates on New Girl have become over the course of 100 episodes; they are a family, and "Goosebumps Walkaway" reminds us of that with two simple scenes.
Both of these scenes come near the end of the episode, and the first one is the conversation between Nick and Jess in her bedroom. It's not a stretch for some viewers to see a rekindling of the romantic spark between the two roommates here, as both of them reflect on their possible romances with Reagan and Gary and how and why they didn't work out. However, more than that, it's reaffirmation of New Girl's central relationship, the true heart of the show, which has always been Nick and Jess, even before they got together and after they broke up. There's incredible sincerity and warmth in how Jake Johnson and Zooey Deschanel play these scenes together, and the little exchange that their characters have ("I missed ya, kid." "I missed you, too") says so much about the power of their relationship in just a few words.
The other scene that really represents what New Girl has always been about is the final one of "Goosebumps Walkaway," where Cece, Jess, Winston, and Nick all join Schmidt as he freestyle dances to "The Hustle." It's a goofy, silly scene, one that's reminiscent of other sequences from past seasons of New Girl, such as the group line dancing with Coach in the bar last season, or even the guys coming together to sing "Time Of My Life" to Jess in the show's pilot. It showcases the series' sense of fun, but it also proves that this is a group of people that have done and will continue to do everything together, no matter how awkward or stupid it may seem. If that's not true love, then what is?
I focus on these two scenes because they're the best parts of "Goosebumps Walkaway," which is a fun but somewhat chaotic episode. Jess' return and her interactions with Reagan aren't as smooth as one could hope, and although the Schmidt/Winston B-plot was a nice change-up from Schmidt or Cece always having to help each other through their problems, it needed a little more time and attention to fully work for me.
Still though, it's terrific to see Winston having more of a serious role in storylines as of late, and the resolution of Nick and Reagan's romance (for now, at least–there's a chance Megan Fox could come back) was certainly satisfying, particularly their sweet, matching goodbyes ("Sayonara, Sammy"). Plus, as wonderful as Fox has been as Reagan over the past few weeks, it's so great to have Deschanel back on the show; I didn't realize how much I missed Jess until she started singing a "Thank you" song to Reagan in the same tune as the Golden Girls theme song.
"Goosebumps Walkaway" isn't a flawless episode of New Girl, but it perfectly represents what this show is: wacky, messy, funny, heartwarming, and incredibly entertaining. It's been a marvelous run of 100 episodes for the FOX sitcom, and I can't wait to see what New Girl has in store for us as this fantastic fifth season continues.
Other thoughts:
Jess getting all of her friends shirts after she comes back from jury duty is such a perfectly Jess thing to do. Also, for those who couldn't catch what was written on them, they read "My Roommate Found the Defendant Guilty on All Four Counts, and All I Got Was This Lousy T-Shirt."
Nick getting creeped out by his own reflection was the biggest laugh of the night for me.
I really appreciated the scenes between Jess and Reagan, particularly when they were discussing their mutual attraction to Nick. Not only was it a lot of fun have seeing Zooey Deschanel and Megan Fox share the screen, but their exchanges featured some nice callbacks to past episodes (like Jess mentioning her and Nick in the air ducts during Cece's wedding in the Season 2 finale) and allowed for a more vulnerable Reagan than we're used to seeing.
Gotta love the fact Winston's natural weirdness makes him pretty much impervious to insults. I was very happy with how the New Girl writers tied his strength into Schmidt's insecurity.
Schmidt isn't sure what Nick means by a "goosebumps walkaway." "I don't know who that is. Is he an old-fashioned baseball player?"
Nick calls Jess and Reagan top-shelf ladies and relates hooking up with both of them to picking cookies from the cookie jar. "I grabbed a chocolate chip and an oatmeal, and I'm not saying who's who."
"But he kisses you like a coal miner greeting his wife." "After a day in the caves. Did they go into caves?"
"Man, they sound like Cookie Monster's parents!"
What did everyone else think about New Girl's 100th episode? What's your favorite episode of the show? Comment below and let me know.
[Photo credit: Greg Gayne/FOX]
New Girl Season 5 Episode 10 Review: "Goosebumps Walkaway"
Summary
Jess returns and Reagan says goodbye in New Girl's fun-filled 100th episode.