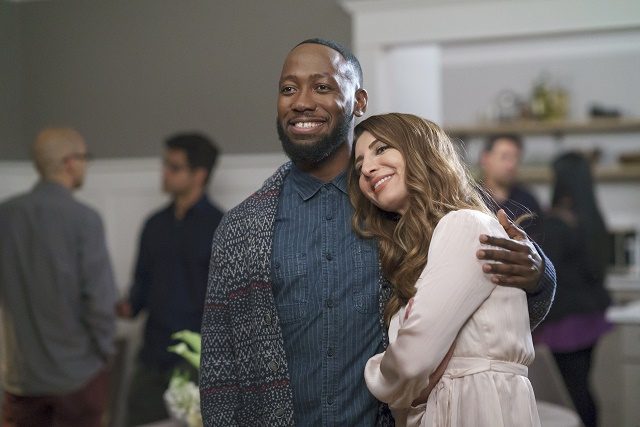 "The Hike" is another interesting Season 6 episode of New Girl. Like so much of this season something feels a little off about it; the installment is a little haphazard and lacking when it comes to story and character moments. I mean, the titular hike of the episode feels like an afterthought, a convenient and occasionally humorous plot device that serves only one function: breaking up Jess and Robby, which could have and should have been done several episodes ago. However, "The Hike" is still a hilarious half hour of New Girl, particularly when it focuses on Schmidt and Cece using their new house to host Winston, Aly, and all of her family members; funny moment after funny moment hits, whether it's Schmidt describing what would have happened if Cece had hugged the younger version of him or Nick crafting outrageous stories about Winston to impress Aly's family, and it's all nicely tied together through the more emotional scenes that happen later in the episode between Winston and Aly.
So let's start with the best part of this week's New Girl, which is most definitely Winston and Aly, as the wonderful Nasim Pedrad returns when Winston tries to surprise Aly by hosting a dinner for her family. Of course, Winston doesn't realize just how large Aly's family is, and he also doesn't know that she kind of can't stand them, as we see when she gets into a major fight with her sister, Leslie (who we met back in the Season 6 premiere). It quickly becomes clear, though, that Aly's nerves about her family have a lot less to do with them and a lot more to do with her; she becomes embarrassed in front of Winston after he witnesses her clash with Leslie, and she immediately thinks that he's going to break up with her. However, because it's Winston, nothing could be further from the truth, as Winnie the Bish stands up on a table and shares every little weird detail about himself that he can with Aly's family, showing her and them that he's just as crazy as she is.
Winston and Aly's relationship hasn't received a ton of focus throughout New Girl Season 6, but anytime the show is able to put Lamorne Morris and Nasim Pedrad on screen together is a highlight for me. The slow and steady build of Winston and Aly's romance throughout New Girl's fifth season was one of the best parts of the series last year, and now that the two of them are a full-fledged couple, their connection is even goofier and sweeter than it was before. It's very telling that I not only laughed at Winston's speech near the end of this episode but that I was also clinging to every single word he said. Like Schmidt and Cece, or Nick and Jess in their best days, Winston and Aly possess the perfect amount of humor and heart as a couple, and no matter how serious or strange their storyline is, whenever they're together in an episode, I'm always excited to watch and see what happens next.
Furthermore, while it's always fun to see how Winston and Aly deal with challenges as a couple, it's also been incredibly entertaining to watch Schmidt and Cece adjust to married life, especially when it comes to their new house. In "The Hike," the two of them struggle to be the "fun house" with no rules, as the amount of people in Aly's family begins to overwhelm them, and it ultimately becomes so stressful that they end up calling the cops on their own party (to no avail, since both Winston and Aly know the officers that arrive). Is there much meat to this story? Not really, as it doesn't add anything new to Schmidt and Cece's dynamic, or cause them to really reflect hard on their lives. What it does offer us, though, is a look into how Schmidt and Cece will operate as hosts of their own house, when they no longer have to share a home with their three friends and can instead do things their own way all the time.
Lastly, while most of the roommates are trying to help Winston, Jess goes on a hike with Robby, as it's one of the many activities the two of them can agree on since they're so eerily similar. These similarities are poked fun at for most of this week's pisode, from how the two of them both don't like raisins in their trail mix to the fact that they both have the same prescription for their glasses. But instead of making this simple, boring dynamic the main problem that causes a break-up between Jess and Robby, the New Girl writers take it one step further: they actually reveal that Jess and Robby are third cousins.
After that reveal, the Jess/Robby storyline becomes significantly weirder, which in New Girl's case, just makes it all that much funnier. Plus, their break-up has been a long time coming, so it's honestly just a relief that the New Girl team ensures that there will be no rekindling of the Jess/Robby romance now that they're officially related. Not to mention, with that not-so-subtle hint at the end of "The Hike" (the fact that Nick likes raisins), it seems like the show's writers are finally ready to stage a Nick/Jess reunion after teasing it for so much of Season 6. Sure, Reagan is still in the picture and Nick certainly cares about her, but with Jess now single and her feelings for Nick still present, things are definitely going to get complicated very soon. And even if you're not a fan of Nick and Jess as a couple, the drama caused by a love triangle with the two of them and Reagan has to sound like a better option than another lifeless Jess/Robby conflict.
Other thoughts:
Schmidt is a comedic delight throughout this episode. I'm still not sure what I loved more: his commenting on the dish that Jess and Robby made ("What is this compartment for?") or his response to Cece saying that she wishes she could go back in time and give Young Schmidt a hug ("Yeah, well young me would have greeted that hug with a total collapse and orgasm").
Schmidt continuously comparing himself to Andie MacDowell was also great.
I wouldn't be surprised if Nick's stories about Winston were just Jake Johnson improvising.
Speaking of stories about Winston, Aly seems to be the only one that thinks his bathtub story is funny, and if that doesn't prove why she's the one for him, I don't know what does.
If there's one thing I'll miss about Robby, it will be stupid, corny lines like this: "Hey, Robert Frost, looks like we're going to take the road Jess traveled."
"Who called the police?" "I don't know. I guess we better do whatever they say." "Why are you guys acting like you're in a porno?"
"I am the king of crazy. I have inside jokes with my cat. I am a member of the Puzzling Guild of North America. I shave my face cold, and I brush my teeth hot. On one very late and very desperate night, I used Furguson's cat box as my own box. And yes, it is true what many of you have heard: I once fell asleep in a bathtub."
What did everyone else think about this week's episode of New Girl? Comment below and let me know.
[Photo credit: Jennifer Clasen/FOX]
New Girl Season 6 Episode 14 Review: "The Hike"
Summary
Winston meets Aly's family, and Jess and Robby make a disturbing discovery in a hilarious episode of New Girl.