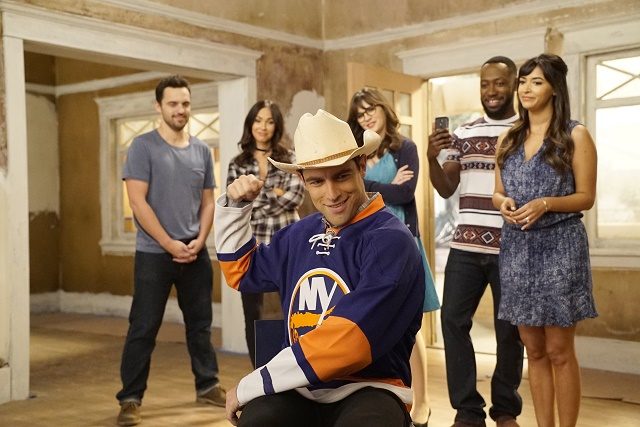 After a pretty fantastic fifth season, New Girl stumbled during the first half of Season 6 this fall, trapping its main character in a lifeless, back-and-forth romance and mainly using its supporting cast for entertaining but frivolous comedic plots that rarely added much to the season's overall arc. New Girl's sixth season has still had some great episodes, especially its season premiere and winter finale, but in between those two half hours has been a lot of wheel spinning and character devolution to the point that I was nervous about how my favorite network sitcom would kick off 2017. Fortunately, "Raisin's Back" is a solid, if not remarkable, installment of New Girl, a half hour that possesses a solid emotional core while also offering a wonderfully goofy and funny storyline as well.
The title "Raisin's Back" is really a reference to Reagan's return to the loft and her new, official status as a roommate. As the New Girl writers remind us, Reagan has decided to relocate from Seattle so that she and Nick can live together, and most of this episode focuses on how both of them aren't fully ready yet for this change in their relationship and how Jess gets dragged into their drama, despite how much she wants to stay out of it. Nick believes that if he's too loving or affectionate to Reagan when she arrives that she'll feel smothered and he'll scare her off, so he finds excuses for why he can't pick her up from the airport or spend time with her, even coming up with a story about a fake shift at the bar. Meanwhile, Reagan has a secret apartment that she's keeping hidden from Nick, and she only spills the beans to Jess about it during a drunken conversation the two of them have when they go out for a girls' night.
New Girl's characters being worried and insecure about their romantic relationships is nothing new for this show, and it's especially not new territory for Nick Miller. However, the show's writers do a very nice job throughout "Raisin's Back" of showing just how intimidated both Nick and Reagan are and that their fears over getting too close to one another don't come from any type of dislike or distrust but out of worry that the other person will leave them. This is especially true for Nick, who only tries to "play it cool" because he knows and understands Reagan's relaxed and easygoing nature, particularly when it comes to relationships, and therefore attempts to scale back his more over-the-top and sometimes downright crazy Nick Miller actions. Even though these problems are predictable, they're also true to these two characters, and they feel very real and authentic in this wacky world that New Girl has created over the past six years.
"Raisin's Back" also smartly brings Jess into the Nick/Reagan drama, and while I'm still not 100% okay with how flip-floppy New Girl is being regarding Jess's feelings for Nick (now that Jess is with Robby, does she really have to dramatically cover her ears while Nick and Reagan have sex?), I'm glad that the show hasn't forgotten about this story thread, which was introduced at the end of last season and heavily focused on in the first couple of episodes of Season 6. Plus, watching Jess, who is such a problem solver, do her very best to remain neutral during Nick and Reagan's fight is entertaining in its own right, and Zooey Deschanel delivers one of her best comedic performances of the season so far in this episode, as she's never better than when Jess is her most awkward or frustrated self.
Meanwhile, although I don't love how New Girl just randomly introduces Schmidt's passion for EDM in "Raisin's Back" (don't get me wrong: it fits with his character, but I just feel like this is something that we would have learned about years ago), I am a fan of how the series uses his bet with Winston and Cece to cause him to have a momentary identity crisis. Ideally, Schmidt questioning his tastes would take up more of the episode than it actually does, but it still works well enough given the limited screen time that Max Greenfield has, especially during that final scene of him in the cowboy hat and Rangers jersey, which is just pure gold.
Plus, how lucky are we that we get yet another marvelous Winston-and-Cece mess-around? They're always such a thing of beauty. I know Schmidt might not be a fan of his wife and friend's new dynamic ("We don't care," Cece tells him in response), but I absolutely love it and hope we get more of the two of them, along with more entertaining episodes like "Raisin's Back," as New Girl Season 6 continues in 2017.
Other thoughts:
Is it bad that I actually enjoyed Winston and Cece's EDM song?
And the two of them aren't just great at making music, but they're also pretty fantastic at wordplay, as evidenced by this exchange that they have with Schmidt: "We got a song to write that's gonna give you the best damn aural you have ever had." "Check yourself." "A-U-R-A-L." "For your ears. Nice!"
What's the funnier Winston moment: the cat-ears painting he has of himself or when he continuously calls Furguson a "gentle lover"?
Nick Miller believes in watches, but he just doesn't trust the people who set them.
On a scale of 1 to 10, how ridiculous is that chair that Schmidt ended up getting for his and Cece's house? It's absolutely perfect for Schmidt, which means that I have to give it at least a 7 on the ridiculous scale.
"As I live and breathe, Raisin?"
"Winston! The least Fonzie move ever. It was borderline Chachi."
What did everyone else think about this week's episode of New Girl? Comment below and let me know.
[Photo credit: Jennifer Clasen/FOX]
New Girl Season 6 Episode 11 Review: "Raisin's Back"
Summary
Jess gets caught up in Nick and Reagan's drama, while Winston and Cece make Schmidt question his taste in a solid episode of New Girl.