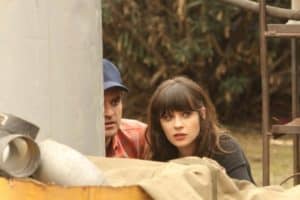 For the second time this season, New Girl disappointed me. Last night's episode, "Pepperwood," failed to do what New Girl has done so amazingly well all season long: provide wacky, funny situations, along with witty dialogue, and ground them with real, genuine character moments.
The main Nick/Jess plot of last night again showed the great chemistry between the two characters, as well as between Jake Johnson and Zooey Deschanel. However, the storyline itself (Nick and Jess trying to discover if one of Jess's students was an actual killer) felt really out-of-place on New Girl. While outlandish and wacky situations are nothing new for New Girl, last night's focus on Nick and Jess's investigation of Edgar was still too broad, especially for a show as good as New Girl, which treats its characters as a real group of friends, not as cartoon characters, and excels at the witty banter between them. For the most part, every joke from this storyline fell flat (aside from Nick's Julius Pepperwood character and the pair's code word being, "apricots"), and we never really got any of those authentic friendship moments that New Girl usually provides on a weekly basis.
Even though it still was not as great as most of the high points of this season, the Winston/Schmidt storyline about the group's "pogoes" (your one flaw that your friends talk about behind your back. "It's a loft thing.") was the funniest part of "Pepperwood." This portion of the episode combined something that felt real and relatable (everyone has specific pet peeves when it comes to certain friends) and, in typical New Girl fashion, molded into something extremely goofy.
Winston deals with the new information that the reason these flaws are named "pogoes" after his penis, which pokes everyone and everything that he walks too close to (from Cece to Nick's pizza). Meanwhile, Schmidt is determined to find out what his "pogo" is, even going as far as to shave his eyebrows into "Audrey Hepburn style" when he believes that they might be his "pogo." This plot also allows Hannah Simone to join in on the comedic fun, as she tries to discover what her "pogo" is and keeps getting told that she doesn't have one (even when she talks in a baby voice).
Overall, "Pepperwood" probably ranks as one of the two weakest episodes of the season for me, along with "Bathtub." Hopefully, New Girl can come back strong next week, bringing both the humor and the heart.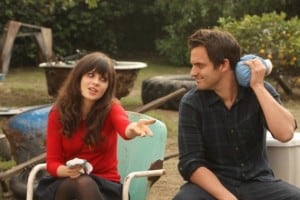 Other thoughts:
– I really liked learning what everyone's "pogoes" are: Jess is a know-it-all, Schmidt's toenails are long and gross, Winston's erections poke people (and things), and Nick's is simply that everyone feels bad for how poor he is and just secretly gives him money when his pants are in the wash. Oh Nick Miller…
– Loved seeing more of Hannah Simone as Cece this week. She's always a welcome sight on my TV screen, and I was really happy to see her testing out her comedic chops again.
– Nick as Julius Pepperwood from Chicago was pretty great, especially in his first scene. "I'm from Chicago. Thin crust pizza? No thanks–I'm from Chicago."
Best New Girl Quotes of the Night
– "What am I supposed to call them? Sweet, tangy balls." — Jess on arguing about using "apricots" as the code word with Nick.
– "What is this font? At least use Palatino." – Nick while reading Edgar's paper.
– "They make shoes for your penis. They're called pants!" — Schmidt to Winston. The night's best line BY FAR.
Tell us what's wrong with this post? How could we improve it? :)
Let us improve this post!