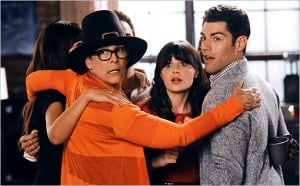 Hey everybody, so I'm actually going to conduct this New Girl review a little differently than I usually do (purely because of a lack of time due to the Thanksgiving holiday) and list what worked for me and what did not in last night's New Girl episode, "Parents." This was another solid entry in New Girl's stellar second season, even though it may not have reached the heights of last year's fantastic and hilarious "Thanksgiving" episode with Justin Long.
What Worked:
– I really enjoyed Jamie Lee Curtis and Rob Reiner as Jess's parents. They had some really funny moments throughout the episode and a great rapport with the rest of the cast.
– Jess's plan to try and get her parents back together was a "classic Jess" move, and I loved all the flashbacks to her botched attempts before.
– Jake Johnson's Nick Miller had two of New Girl's best moments again last night, one with each of Jess's parents. First, Nick's conversation with Jess's dad about his zombie novel and his slow realization that this book was exactly like Twilight was great. Plus, it led to Nick calling the writer of the Twilight series, Stephanie Meyer, "smart." Just perfect. However, Nick's interactions with Jess's mom were also great, as he attempted to hit on her to make Jess's dad jealous. Nick's lines and faces during the turkey baster scene were especially priceless. "I sprayed all over…Clean up time." Comedy gold.
What Didn't Exactly Work:
– You won't find a bigger Schmidt fan out there than me, but his competition with his cousin, also named Schmidt (played by Rob Riggle), to see who was "The One True Schmidt" started off well enough but got old pretty fast. This was the first time in a LONG time that I didn't love a Schmidt storyline.
– While Jess's Parent Trap antics with her parents were pretty great, I don't know if I really bought the motivation for it. I know Jess is a "hopeless romantic" type, but the fact that she thought her parents being alone meant that she might end up alone is something that I thought that her character would have come to grips with a long time ago. I especially think this after the last episode of New Girl, which saw her finally find a new job, forget about romantic pursuits, and start to get back into her old groove.
– This isn't a huge complaint about last night's episode specifically, but overall, I do think the New Girl writers need to try and develop Winston better as a character. I love his one-liners and think he's a great companion to the central stories of Jess, Nick, and Schmidt. However, I really want to see him have some solid stories of his own. New Girl tried to do that last week with his depression over breaking up with Shelby and had tried to do it earlier this season with his relationship with Shelby and his landing of a new job, but those plots have not exactly clicked together like the other characters have.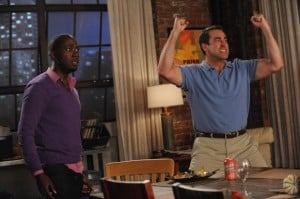 Best New Girl quotes of the episode:
– Cece: "The movie you made me watch a million times?" Jess: "Rocky IV?"
– "Come on, you guys both bailed on the fifth testicle punch!" – Winston to the two Schmidts about their competition.
– "Do I regret it? Yes. Would I do it again? Probably." – Nick explaining his attraction and advances towards Jess's mom.
– "God, your mom is hot. That could've been me." – Nick as he, Cece, and Jess watch Jess's parents make out in the bathroom. This line was followed by a slap from Jess and a slap from Cece. It was all great.
– Jess: "Why do you ruin things, Nick?" Nick: "I don't know I've got something bad inside of me…I ruin things."
– And my favorite quote of the night goes to Jess for this awesome line to her dad about his behavior after his girlfriend had cheated on him: "I'm sorry. I thought everyone knew. You grieved so publicly on Instagram. All those pictures of sad trees and your lunches…"
Tell us what's wrong with this post? How could we improve it? :)
Let us improve this post!