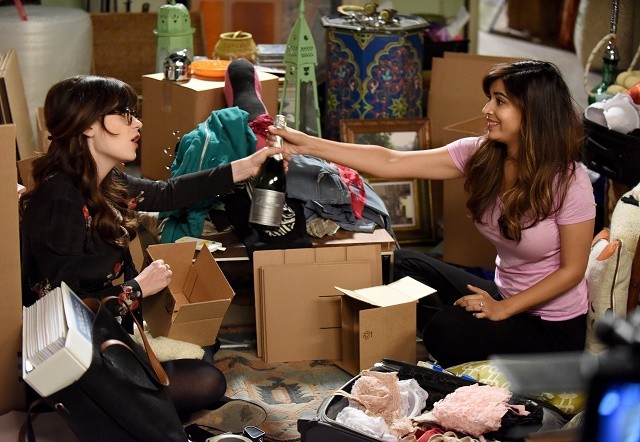 One of the best parts of watching any TV show is witnessing the transformation of a great supporting player into a major character. Throughout New Girl's four-plus seasons, that character has been Cece, who has been given more attention than ever in Season 5 as she and Schmidt prepare for their wedding. However, the really wonderful thing about "The Apartment" is that it isn't just about Cece and Schmidt or Cece and Jess; instead, this episode of New Girl just gives us a Cece-centric story with the many important people in her life playing secondary roles in it.
Cece's story works on an emotional and comedic level throughout "The Apartment," and it even mocks a little bit of the show's sentimentality about her moving when both Nick and Winston comment about how they've barely ever been to her place. No, Cece's apartment isn't the most memorable or significant of the locations that we typically see on New Girl; not as much has happened there as it has in the bar or certainly the loft.
Still though, Cece's apartment represents her last connection to her life before Schmidt and before marriage, and as New Girl perfectly captures, it's not about how much she loves Schmidt or how much she wants to marry him but about the inherent terror and uncertainty of change in all people's lives. Everyone becomes familiar and comfortable with their situations in life; even if they're not the best they can be, most people make the best of them. However, whenever change is on the horizon, even if it's something good like in Cece and Schmidt's case, it can still be nerve-wracking. Shaking up your status quo is never easy, if you're excited for what lies ahead, and I appreciate the fact that New Girl provides us with an honest and authentic depiction of that in "The Apartment."
Not to mention, this episode serves as a terrific reminder for how much the character of Cece and the performance of Hannah Simone have brought to this comedy throughout its five seasons. Cece was originally just Jess' hot, model friend, there to give her advice, intimidate the guys, and make Schmidt act ridiculous. However, as New Girl has continued, Cece has proven that she's a strong, complex, and unique character, one that can add more to the show's wacky world, like anytime Nadia would show up, or help ground the series in more of a real, relatable storyline, such as any of her disagreements with Jess or even her recent conflict with her mother. Plus, Hannah Simone has been marvelous throughout her time on New Girl, and she's shined in every single opportunity, comedic or dramatic, that the show has given her.
While Cece is the main focus of "The Apartment," there are other characters going through some changes as well. Winston teams up with a new partner after he tells Aly he can't work with her anymore, even though he doesn't reveal the true reason why, which is that she constantly talks about her boyfriend. Dunston (played by Veep's Sam Richardson) is a lot of fun throughout the half hour, as he proves to be even too incompetent for Winston. Although I would have enjoyed more movement on the Winston/Aly front (he really should have told her why he split up with her to begin with), Dunston's weird, goofy antics and deficiencies, such as his night blindness and his inability to find the bathroom at the bar, at least made him a fun distraction from Winston's more important storyline.
Additionally, after being treated terribly by her school's new principal, Becky (played by Elizabeth Berkley), Jess receives some inspiring words from Cece and quits her job. While Becky is truly awful to Jess and it makes sense for her to want to escape such unfair treatment, this storyline is definitely given the least attention and care within the episode, and ultimately, it all feels a bit rushed. Jess quitting her job as vice principal is a huge deal, and even with Cece's advice, it still doesn't feel completely earned here.
But even if there are minor problems with Jess and Winston's storylines, everything involving Cece in "The Apartment" makes up for it. Here's hoping that now that she's officially a member of the loft that we'll get more Cece-centric episodes in the future.
Other thoughts:
I didn't mention Nick and or Schmidt much in my main review, but their plot involving the flasher at the bar is hilarious. From Nick being concerned for the guy's emotional state ("He never comes in twice a night. I hope he's okay") to Winston and Dunston failing to arrest him, everything about that storyline is gold, with the absolutely best part being Nick describing to Schmidt how his encounters with the flasher used to be "more interactive." That was a glorious piece of physical comedy by Jake Johnson.
So many great little moments between Jess and Cece as they reflect on the good times in her apartment, from her George Bunny sweater to Jess' first impressions of the place when she walks in ("Someone left a spoon with some rock candy in it. I wonder what flavor it is!"). However, my favorite part had to be when the two of them find the "yarndom" that Jess knitted the last time she was unemployed. Schmidt's reaction to it later in the episode is also fantastic.
The box of stuff that Aly gives back to Winston so perfectly describes the character of Winston Bishop.
Similarly, Nick picking up all his deliveries at the port is so perfectly Nick Miller.
Winston apparently has another cat. I hope we meet him soon.
Not gonna lie, that quick flashback to before Jess movies into the loft hit me right in the feels. I freaking love this show, guys.
"I'm gone for two months, and Winston's a bridesmaid!"
What did everyone else think of this week's New Girl? Did you enjoy the more Cece-centric episode? Comment below and let me know.
[Photo credit: Ray Mickshaw/FOX]
Tell us what's wrong with this post? How could we improve it? :)
Let us improve this post!