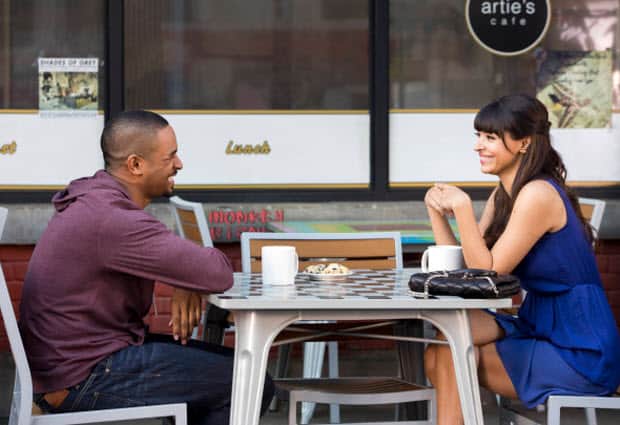 "Sister III" is an improvement over the first two "Sister" installments of New Girl, but in some ways, it's the most frustrating episode of the bunch because it illustrates how much untapped potential there was to explore in the relationship between Jess and Abby. Simply look at the pair's final scene together, where Zooey Deschanel and Linda Cardellini act the heck out of a sweet, genuine sisterly moment, as Jess tells her sister, "You're Abby Freaking Day. You can do whatever you want. Except vote." It's touching, a little funny, and incredibly honest, and it makes me a little sad and frustrated with New Girl because this is what I wanted more of from Abby's time on the series, an exploration of her relationship with Jess rather than any ridiculous shenanigans with Schmidt.
In fact, the only situation that Abby has any real major impact on during her time on New Girl doesn't have anything to do with her sister. Abby's entanglement with Schmidt only further highlights the reestablished connection that has been formed between Cece and Schmidt, as Cece (along with her new best bud, Coach, but more on that later) goes to any and all lengths during the episode to prove that Abby is taking advantage of him.
The conversation between Cece and Schmidt, where she points out how he would do anything for the people he cares about is unlike anything I've seen shared between the two of them before on New Girl. As a couple, Cece and Schmidt were always rooted more in physical attraction to one another than a genuine understanding of each other's personalities and emotions. However, here in this moment, we see the recognition spread across Cece's face about how good of a guy Schmidt can be (and really is) underneath his superficial, selfish exterior. In some ways, Schmidt is the most selfless character on New Girl, and it's a new, interesting, and enjoyable trait for the writers to focus on and explore. It's a quality that helps repair Schmidt's brutally damaged image from earlier this season and also something that Cece clearly misses having in her life, making the pair's (hopefully) soon-to-be reconciliation feel more earned.
And although Abby's presence may have been partly wasted on simply shoving Cece and Schmidt closer together, at least New Girl can hopefully make her departure count. After Jess gives her big sister that impassioned speech, Abby decides to head out of Schmidt's apartment and move back in with her and Jess's mom, which leaves Schmidt in so much debt (he leased her out a store that she could sell her hand-made jewelry in) that he needs to sublet his apartment and return to the loft.
Schmidt's moving back into the loft looks like it will force Nick and Jess to have live in the same room together again, an experiment which mostly leads to disastrous results in "Sister III." I appreciate that the New Girl writers didn't make Jess and Nick's reservations about really "living together" into a big couple fight or a re-evaluation of their relationship. Instead, they mostly milk the situation for laughs with things like Nick's long shirt or Jess's arts and craft table taking over Nick's writing desk.
However, I hope that if New Girl continues to explore this new dynamic between Nick and Jess that it sticks to the light heartedness of it. If Jess and Nick break up because they can't share a bed together or because Nick is forced to hide his collection of Garbage Pail Kids cards ("How you gonna put art like this in a box?"), then Abby's appearance on New Girl will be more than just somewhat wasted. It will be a nonsensical excuse to manufacture unnecessary drama, and let's be real here: Linda Cardellini deserves better than that.
Other thoughts:
– Absolutely loved Coach and Cece's new relationship as best friends and how New Girl poked fun at how quickly this development happened. Their friendship is a nice change from the potential Coach-Cece-Schmidt triangle from earlier this season, and plus, it lets Coach embarce his inner Brad Williams from Happy Endings for just a little bit.
– Winston's off training for the physical part of the police academy's test in this week's episode of New Girl but his blurting out the truth to Nick that Jess was staying in a hotel room by herself is one of the most crucial moments of the episode, as it allows for Nick and Jess to actually be honest with each other about sharing a room. Also, Ferguson reappears! Winston tells him, as he continues to train, "You know I'm doing this for you, right?"
– Did you all know that there was a Plymouth Rock Massacre? Nick Miller wrote a thirty-seven page essay about it.
– One of Nick's main worries about living with Jess: changing in front of her. "When you're naked, you're powerful and it's glorious. When you're changing, you're hunched over and cowering–like an animal."
– "You look like a little match girl wandering around Victorian England selling matches for a penny." Zooey Deschanel's delivery of this line was absolute perfection.
What did everyone else think of last night's episode of New Girl? Did you think Abby's time on the show was satisfying?
[Photo via Jennifer Clasen/FOX]