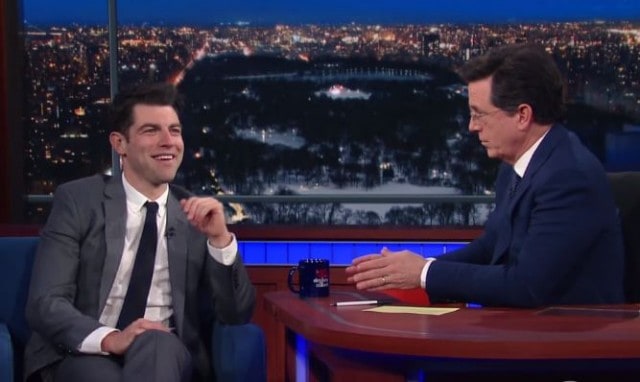 New Girl fans know how talented Max Greenfield is, because on a weekly basis, they watch him strike the perfect balance of charming and ridiculous that is his character Schmidt. However, it turns out that Greenfield has mastered yet another major character on TV; in fact, he's perfected an impression of the most interesting performances on television right now: John Travolta as Robert Shapiro on The People v. O.J. Simpson: American Crime Story.
There's been a lot of talk about Travolta's version of Shapiro, with some viewers calling it a great performance, but just as many, if not more, believing it to be the strangest part of the new series. But the fact that Travolta's performance is so weird and different is what makes it so memorable, and it's why Greenfield was encouraged to do his own version of it on the New Girl set.
"We have a new baby at home, and I've been tired," Greenfield told Stephen Colbert last night on The Late Show. "So I decided that I would do some John Travolta during takes and see if anybody noticed."
Immediately after Greenfield finished his story, explaining how he came up with the Travolta impression, he got into character and looked at Colbert, delivering one of Shapiro's most well-known lines from the show.
"Stephen, before I take any criminal case, I like to ask the client one question," he said to Colbert as Travolta's version of Shapiro. "Now, there won't be any judgments. Stephen, did you do it?"
Watch Max Greenfield's impression below, and then join me in hoping that we get to see him do it as Schmidt on New Girl at some point this season.
[Photo via YouTube]