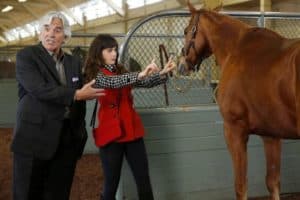 Season two of New Girl has been the season of Nick Miller. After the writers really began hitting their stride with Nick's character in the second half of the first season, Jake Johnson has had plenty of scenes that he has stolen, whether he is playing Nick, the lovable, agitated, goofball (shown in his "angry fixing" of the sink in last night's episode), or is filling in the role of Nick, Jess's earnest advice giver and "shoulder to lean on." Both sides of Nick have given his character some truly fantastic moments during this season of New Girl, both in the comedy department and on the more serious, emotional side as well.
Nick Miller has never been funnier or more relatable than in this season's first thirteen episodes, so it's only fitting that last night (in an episode called "A Father's Love) the New Girl writers' room would want to introduce us to his father, Walt (perfectly portrayed by Dennis Farina), a con man who has been the the main source of Nick's anger and frustration throughout his life. Whether his dad was labeling him as Nick "Little Penis" Miller or bringing home a box full of knockoff Chicago Bulls hats as a gift ("Chica. Go Bulls," which is actually Spanish for "Young girl. Go Bulls," as Jess tells Winston), Walt has always been a constant disappointment for Nick, and his presence allows for another opportunity to show how far Nick and Jess have come as people and friends and how much they care about each other. Nick worries that Jess will fall for one of Walt's cons, because, according to Nick, "She will believe anything," which he proves by instantly getting Jess to accept that his real name is actually Jameel. Nick recognizes Jess's deep trust in others (which some could definitely call naivety) and does not want to see her get hurt by his lousy excuse of a father.
Jess, on the other hand, determinedly tries to ensure that Nick and his dad have an open and honest conversation; they do (albeit, in typical, goofy, New Girl style, they are both pantless at the time), before Walt flees the next morning for Chicago, simply telling her to keep an eye on Nick for him. His departure leads Jess to tell Nick how good of a guy he is again, especially with everything he has had to overcome in the presence of his father. This storyline provides more information about how exactly Nick became the man he is today, but it does an even better job of reinforcing, at least in my opinion, what the major focus of New Girl's second season has been: the ever-evolving relationship of Nick and Jess.
Meanwhile, in this episode's B-plot, Max Greenfield yet again shows that he is New Girl's most integral comedic character. Schmidt's entire storyline with Robby, and their teamwork effort to try and win Cece back, is fantastic and absolutely hysterical. Their scheming and bonding together was definitely the highlight of last night's New Girl, and I couldn't stop smiling when they were both on the screen. Also my sides still hurt from laughing so hard at the "sari-related sexual scenarios" that Schmidt described to Cece ("Monsoon Bedding, "The Best Erotica Maribone Hotel," and, my personal favorite, "Slum Doggy-Style Millionaire"). For me, that scene is now solidified as the funniest Schmidt scene of all time, but if there's anything that New Girl has proven to me over the course of this season, it's that that the show (and its characters) are capable of topping themselves at any point.
Other things: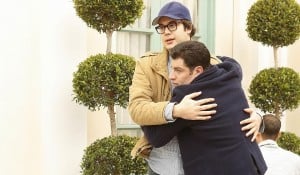 – Not really much of Winston in this episode, although I loved the sight gag of him wearing the knockoff Bills hat at the track and the fact that he kept calling Nick's dad, "Pop Pop."
– After this episode of New Girl, I need to go on record and state the simple fact that no one else on this earth can mumble and yell out random noises and words and make it completely hysterical as well as Jake Johnson can. NO ONE.
– I really liked how Walt kept calling Jess "Blue Eyes." First, because, let's be real, Zooey Deschanel is an absolutely gorgeous woman with absolutely gorgeous (and very large) blue eyes. I also liked it because it reminded me of an episode of one of my all-time favorite shows, Chuck, entitled, "Chuck Versus the Delorean," in which we first meet Sarah's dad, another con man (played by Gary Cole), who keeps calling Chuck "Schnook" throughout the whole episode, similar to how Walt calls Jess "Blue Eyes."
Best New Girl Quotes of the Night (And they are all so good, that I cannot even choose a favorite)
– "That mustache….What? It's like the world's sexiest push broom?" – Winston describing Walt's facial hair.
– "He looks like Hilary Swank mixed with a sad, wet dog." — Jess's description of Nick.
– "Nick hates living things, so it just doesn't seem in line with what I know about him." — Jess in response to the idea that Nick wanted a family horse when he was younger.
– "One billion Indian men is a daunting foe. Now I have sympathy for Pakistan." — Schmidt.
– "For now, let's scheme, broheim." – Schmidt to Robby.
– "I mean, I would say Trojan Horse…" – Schmidt. "In this economy?" – Robby, as he and Schmidt come up with ideas to win Cece back.
– "White guy power!" — Robbie. "You gotta stop with that, man. It's a little racist." – Schmidt.
– "Jess, if you're gonna mess with my sink, put some goggles on. Your eyes are twice the size of normal eyes. It's a bigger target." — Nick.
– "Look, there's a lot I don't tell you. I haven't done laundry in five months. I'm not wearing underwear. I'm just wearing a big sock right now. A big sock. A very big sock." – Nick to Jess, refuting those "Little Penis" rumors.